 On paper, matches against FC Dallas are always tricky. Even with a weakened backline due to callups and injuries, Dallas is a very strong team; this is a team that hung six goals on Real Salt Lake two weekends ago. With the Timbers missing two of their biggest midfield pieces in Darlington Nagbe and David Guzmán, this game had all the signs of being a tricky night at Providence Park.
Except that it wasn't. At all.
The Timbers looked extremely comfortable on both sides of the ball last night. Sebastian Blanco is growing into being the $5 million player we all hoped he would be, particularly with the ball at his feet, and even though the Timbers lost two defenders during the game, the back line didn't miss a beat and absorbed every punch that Dallas threw at them. A Fanendo Adi brace is all the Timbers needed on the night, and Jake Gleeson's second clean sheet in a row sealed the 2-0 win for the home side.
The Good
Zarek Valentin. Valentin has been a very...quiet presence in his time with the Timbers. He hasn't gotten a lot of playing time with the first team in the last season's worth of games, spending a lot of his energy with the USL's Timbers 2. When called upon thus far in MLS, he's been solid if unspectacular, which is kinda what you want from a backup.
But, in the last few games, he is making a very strong case for denying the woefully inconsistent Alvas Powell a return to the starting lineup. Valentin has taken advantage of the opportunity Caleb Porter has handed him in a way that should thrill Timbers fans. Valentin was everywhere on the right side of the pitch Saturday night, breaking up Dallas' fluid attack and forcing them to play further away from the area than they're normally used to.
At no moment during the game was he bigger than when he denied a Dallas goal that seemed to be a foregone conclusion. Roland Lamah took a shot from point blank, maybe a yard or so from Gleeson, which Gleeson was able to get a foot to but didn't know that much about. The ball pinged off Gleeson to the hip of Roy Miller, off which it bounced and headed straight for the goal line. It was trickling over the line when Valentin, who was already inside the goal, had the presence of mind to turn, see the ball, and clear it out of danger.
One play does not make a career, of course, but it's what he did the rest of the game that makes me think Valentin is going to be a regular starter for the Timbers going forward.
Dairon Asprilla. I've talked before about how Asprilla is, if not a disappointment, at least not the player we all hoped he'd be. For whatever reason, he just hasn't meshed well with the Timbers or fit in with their flow at all. But Saturday night, Asprilla played out-of-his-mind well, to a level I don't think we've ever seen him play in a Timbers shirt.
His role is to help create, and he did that, in spades; he was a huge creative presence in the game. Just look at the pass that set up Adi's second goal; so easy, so deadly.
The Bad
Injuries. And more specifically, what those injuries might mean. I think it's fair to start asking hard questions about Liam Ridgewell. He was instrumental in the Timbers' MLS Cup win in 2015, but he has struggled to stay healthy since. He left this game in the 25th minute and didn't even bother to go to the sideline, instead heading, with a trainer, straight in to the locker room.
Ridgewell makes a lot of money for the Timbers, and while I don't care about that fact in and of itself, I care in that the Timbers play in a salary cap league, where dollars must be spent smartly. I think it's time to start wondering whether the Timbers' defensive dollars might be able to be spent more smartly elsewhere. Ridgewell has a year left on his contract, but depending on the severity of his injury, I could easily see this being his last year in Portland, and that's OK. We got some good years out of Liam.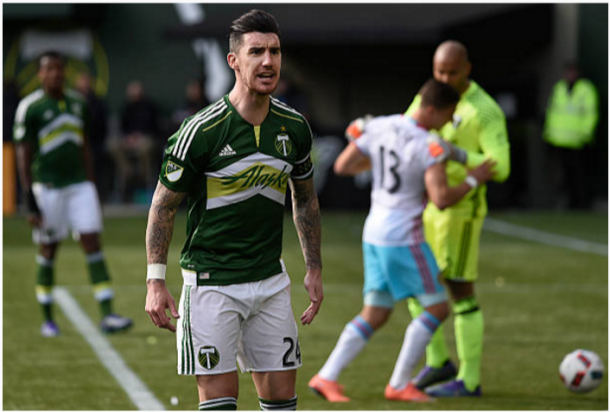 Roy Miller also left the game early, in the 61st minute, after having previously gone to ground with foot problems twice. He left under his own power, and after the game Porter didn't seem terribly concerned (it was referred to as a "bruise"), but what started out as a game where the Timbers had a pretty good defense ended with a couple huge question marks going into next weekend's game against Colorado (neither Miller nor Ridgewell were probably going to feature in the US Open Cup game midweek).
The summer transfer window opens at the end of the month, and the Timbers have already signed a player, but I have a feeling that the Timbers will be looking to buy some defensive cover they didn't think they'd need two weeks ago.
The Ugly
It was a celebration of Pride Week at Providence Park, and even the sky cooperated. There was no ugly anywhere to be found.