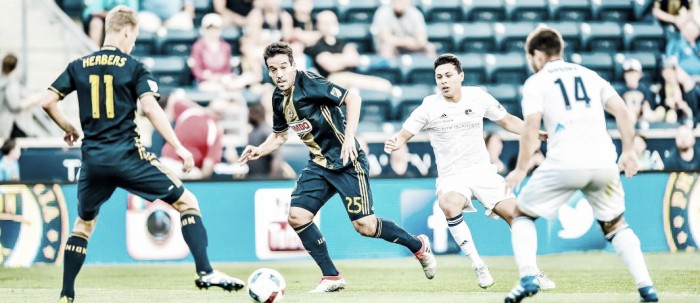 The Philadelphia Union welcome former United Soccer League affiliate side, Harrisburg City Islanders to Talen Energy Stadium on Wednesday for a fourth-round matchup of the 2017 Lamar Hunt US Open Cup.
A repetitive matchup
The Union has faced off against Harrisburg four times in the last six years of Open Cup competition, not to mention countless friendlies over the past six years. This has caused both managers to express their frustration over the "repetitiveness" of the matchup with Union manager, Jim Curtin stating in his midweek press conference, "You wish the Open Cup would be a little more open, and you could have a little more change in the opponents" and Harrisburg manager, Bill Becher wholeheartedly agreeing.
The nature of the high frequency of which these two teams face off against each other comes from a several-year-old restructuring of the competition that saw regional matchups become the norm until the later stages of the competition in order to save travel costs for lower division sides who often cannot afford it.
Fixture History
As previously mentioned, Philadelphia and Harrisburg have faced off against each other in four of the last six years of the Lamar Hunt US Open Cup with Philadelphia holding a 4-0-0 record versus the City Islanders in Open Cup play, most recently in the fourth round of 2016's edition of the tournament. On the day, Philadelphia emerged victorious by a scoreline of 3-2. The match saw goals from Harrisburg's Craig Foster and Bobby Warshaw, as well as Philadelphia's Walter Restrepo and a double from Roland Alberg, including the winning free kick in the 93rd minute. The two sides also came face to face in the 2014 edition of the tournament, in which an 89th-minute equalizer from Maurice Edu and two goals in extra time from Andrew Wenger saw the Union emerge victorious in extra time by a scoreline of 3-1. Philadelphia would go on to reach and host the final, only to lose to the Seattle Sounders by the same scoreline, in extra time.
Injuries and Suspensions
There may be no homecoming for former Philadelphia striker, Aaron Wheeler who came off injured in Harrisburg's 1-0 loss to the Ottawa Fury on June 10th, while duo Jonny Mendoza and Paul Wilson who came off injured against the Union's USL affiliate, Bethlehem Steel saw time off the bench versus Ottawa and may be fit to start versus Philadelphia.
Philadelphia continues to be without the ever absent, Maurice Edu who continues to recover from his left tibia break. Brian Carroll will also be missing as he recovers from a lumbar disc herniation, while Fabian Herbers who did not train during the week, is a couple weeks away from returning to the field following a right adductor partial avulsion injury. Furthermore, Union captain Alejandro Bedoya picked up a hamstring injury while on international duty with the US Men's National Team and won't be available for selection and Warren Creavalle who also did not train during the week is questionable for the match. Finally, Oguchi Onyewu has been cleared to play following his recovery from a concussion and Chris Pontius should also be good to go despite reports of breathing issues earlier in the week. Joshua Yaro and Fafa Picault will also be available for selection.
Predicted Lineups
Harrisburg has an interesting group of players with a number of familiar faces on their squad including former Union forward, Aaron Wheeler who leads the team in goals, Brazilian center back Tiago Calvano, formerly of Minnesota United, former Houston Dynamo midfielder, Rasheed Olabiyi, the former New York Red Bulls duo of Manolo Sanchez and Shawn McLaws, and finally, former Orlando City and Philadelphia Union midfielder/forward Pedro Ribeiro.
In goal, although former Rochester Rhinos standout, Brandon Miller leads all Harrisburg goalkeepers in appearances this season with seven, recent signing Sean Lewis seems to have one the starting spot, for now, having started Harrisburg past three matches. Defensively, the back line has been relatively set all season and while Abass Mohamed started against Ottawa next to Tiago Calvano, Jamie Thomas has typically been Calvano's partner in central defense. In attacking midfield there's been quite a bit of rotation, with Jonny Mendoza, Paul Wilson, and Cardel Benbow the trio with the most appearances. If Wheeler isn't fit to play, expect either Mike Olla or Pedro Ribeiro to start up front. Harrisburg's lineup might look something like this:
​
Meanwhile, Philadelphia historically plays a mix of starters and reserve players in their Open Cup matches, with Walter Restrepo, Ray Gaddis, John McCarthy, and Leo Fernandes all seeing game time against Harrisburg in last year's match. Manager Jim Curtin confirmed that John McCarthy will, in fact, start in goal on Wednesday. Curtin has done this in the past with McCarthy and Andre Blake is on international duty with Jamaica anyway so he wouldn't be available for selection.
While this is by no means an exact science, expect a number of fringe players to see time against Harrisburg injuries. This match is a perfect opportunity for player rotation, particularly for recently displaced or newly fit first team players and could see the recently benched Keegan Rosenberry feature or rookie Aaron Jones who's been playing with the Steel as well as Richie Marquez who's been benched as the result of good play of Onyewu and Jack Elliott. A pairing of Yaro and Marquez wouldn't be foreign to Union fans wit the duo having started almost half of the Union's game together last season. The line-up could look something like this but may feature more starters particularly in defense: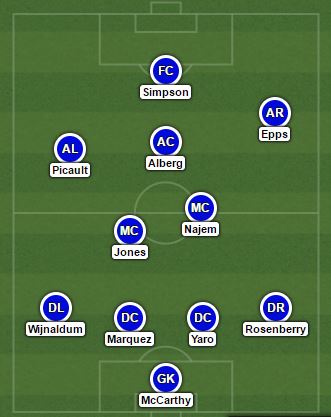 Predicted Result
The Union has yet to lose versus Harrisburg in Open Cup play and typically do quite well in this competition and with Harrisburg sitting 13th in the USL's Eastern Conference, having not won a match since mid-April. As such, predicting a Union win feels relatively straight forward but given how close Harrisburg has run this Union side in past matches expect a close victory for Philadelphia.
Predicted Score: Philadelphia Union 2, Harrisburg City Islanders 1