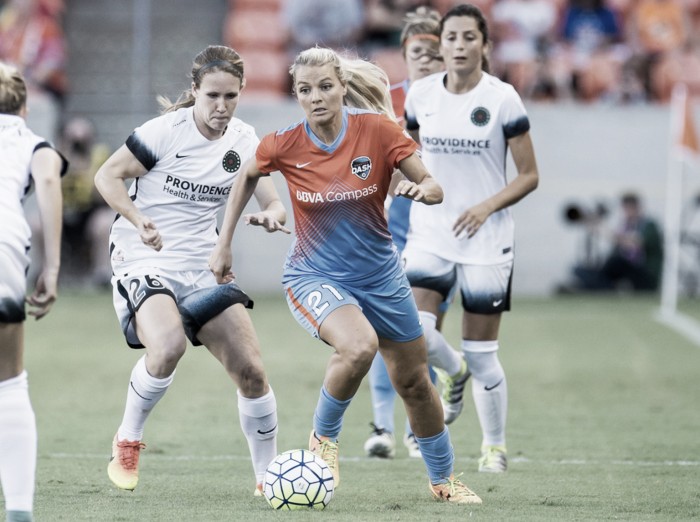 Today, the Houston Dash announced that forward Melissa Henderson has retired.
Henderson has been with the Houston Dash since 2014, when she was traded from FC Kansas City. She appeared in all nine games after joining the expansion club, starting in eight of the matches and totaled 629 minutes. In 2015 the forward started all 20 matches she appeared in, tallying two assists for her club.
Although she initially announced her retirement shortly after the end of the 2015 season, the Notre Dame alum ended up returning to the Dash for the 2016 season that January. She ended the season with four starts in seven games for the Houston Dash, logging 321 minutes.
Henderson made one appearance for the Houston Dash this season when she entered the match as a substitute for forward Nichelle Prince in the 71st minute in the Dash's away match against Sky Blue FC on May 20.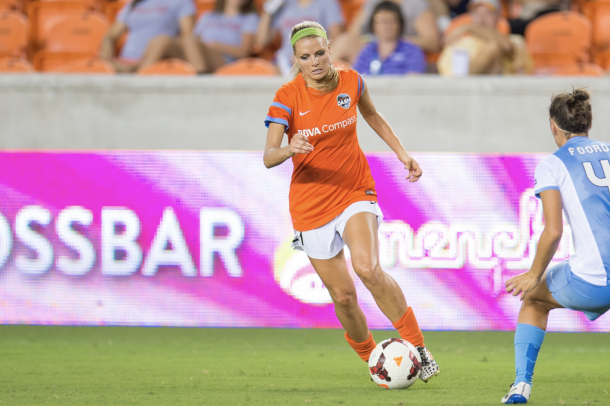 Before joining the Dash, the forward was with FC Kansas City in 2013 and half of the 2014 season. She scored a goal in Kansas City's semifinal match against the eventual inagural champions Portland Thorns in 2013, which ultimately resulted in a 3-2 loss for the Blues.
She has also spent time overseas, playing on loan to Denmark based Fortuna Hjørring in 2014 and on loan to Cyprus' Apollon FC in 2016. She was able to compete in the UEFA Women's Champions League both seasons for her respective teams.
The Houston Dash will continue their 2017 season this weekend as they host the Orlando Pride at BBVA Compass Stadium. Kickoff is schedule for 7:30 PM Eastern Time and will be broadcasted on the go90 app and website.