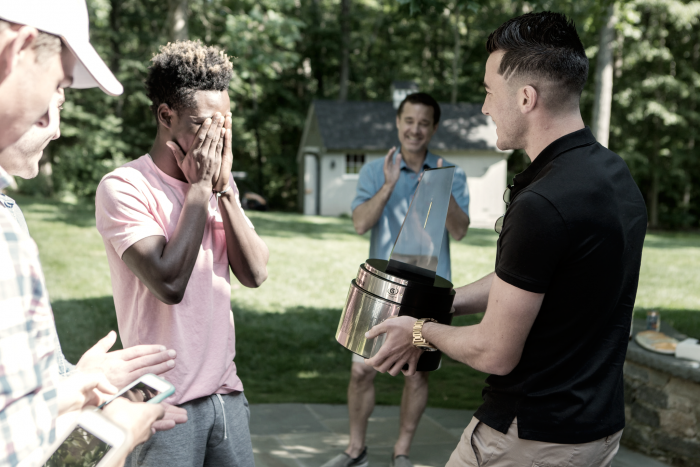 Umar Farouk Osman was having a family BBQ at his house before Jack Harrison of New York City FC walked through the door and presented him with the 2016-2017 Gatorade National Boys Soccer Player of the Year Award. Umar was having a going away party as he will be leaving his home to begin training with the University of Michigan soon.
The kid from The Hotchkiss School won this award for not only being great on the field but off it as well. Osman has volunteered in a fundraising campaign to give kids in his native country of Ghana, backpacks, books, and other things most American kids are fortunate enough to have for school. He did not disappoint in the classroom either, holding an impressive B average.
Osman joins an impressive list of winners as Harrison, Kyle Martino, Lee Nguyen, Cristian Roldan, Claudio Reyna and other great players have all won this award in past years. Osman will look to further his career even beyond college as many winners of this award have become professional athletes.
VAVEL USA: Jack Harrison won this award in 2014-2015, what was it like having him surprise you with the award in your own home?
Umar Farouk Osman: It was awesome, I wasn't expecting it, I was asked who I looked up to yesterday and he was one of my answers. He's somebody I look up to for sure.
VAVEL: Seven of the last eight winners of this award have gone on to play in MLS, would you like to follow in their footsteps?
Osman: Yes, that's my dream, to one day play in Major League Soccer.
VAVEL: What would you say is the biggest strength to your game?
Osman: My speed, and not being afraid to attack defenders and try new things. I'm always trying new things which helps me.
VAVEL: Who or what was your biggest motivation growing up?
Osman: My mom was my biggest motivation because she always wanted me to go to school because there is more in life than just soccer. I had to go to school as well and I respect her a lot for that.
VAVEL: What made you choose the University of Michigan?
Osman: I just liked the school spirit, I went to a game and a lot of fans were there, it is just about the community. The coaches were also a big part because they can help me not only grow as a student but as a soccer player as well.
VAVEL: This award is not only for your performance on the field, but you have also been recognized as an outstanding person off the field. How does it make you feel knowing that you've been awarded not only for being a great player but also being a great person?
Osman: It just makes me feel good about what I've done and the hard work I've already put in. I owe it to myself to help the kids back home. I always have people watching me so I am proud. It is a motivation for me to work hard and achieve my goals in life.
Harrison was also fortunate enough to win this award in 2014-2015. Jack and Umar have similar stories. Both came to America in order to learn even though their dream was always to play soccer professionally. While Jack has already achieved his dream, Umar will be hoping to follow his footsteps.
Both Jack and Umar's moms wanted their sons to study in America to have a backup plan in case soccer didn't work out. Fortunately for them, they're both living out their dream and can lean back on their education if necessary. With Umar's dream being to play in MLS, it almost seems as if Harrison was the perfect person to deliver him the award.
Since winning the award, Harrison had a successful freshman season at Wake Forest. So successful that he was the number one overall pick in the 2016 MLS SuperDraft. Since moving to the New York club, he had an impressive rookie campaign and has shown no signs of slowing down since then as he has not had a "sophomore slump" as many players struggle with.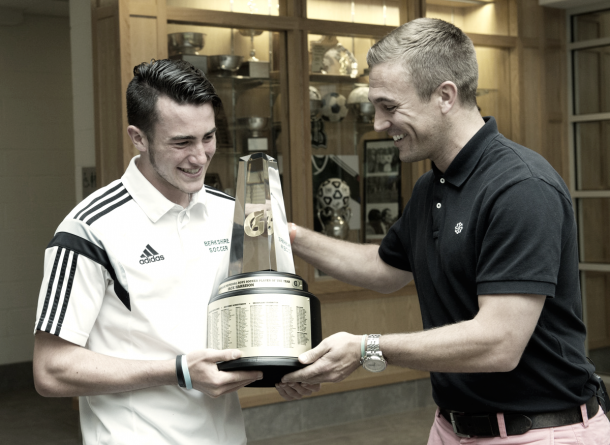 Q&A with NYCFC player Jack Harrison:
VAVEL: When you won the Gatorade Player of the Year award back in 2014-2015, how did it feel knowing that you were recognized not only for your incredible athletic accomplishments but also your academic achievements as well as your exemplary qualities as a human?
Jack Harrison: It's an incredible award. I think it's one of the most prestigious awards you can get in high school. It shows a lot about you as a person off the field and it's a real honor.
VAVEL: You ended the 2016 MLS SuperDraft Day with New York City FC, what has the experience been like playing with David Villa, Frank Lampard, Andrea Pirlo and having Patrick Vieira as your manager?
Harrison: It's an incredible experience, I've learned so much that I would not have learned anywhere else in the world, it's an incredible honor playing with such world class players that have all taken the time out to help me grow.
VAVEL: After winning the Gatorade Player of the Year award in 2015, you attended Wake Forest, what made you pick that school?
Harrison: Wake Forest reminded me a lot of Berkshire, the boarding school I went to when I arrived in America. The way they play soccer was very attractive to me as well. It was all just very appealing.
VAVEL: You were in the Manchester United academy before moving to America at fourteen years old, do you ever wonder what would have happened if you never moved to America?
Harrison: If you had asked me that a few years ago I would say I was always wondering. But since coming to New York, I'm really happy with the decision I made and now I'm just seeing how far that decision can take me.
VAVEL: Would you recommend to your friends from back home in England to take a similar path as you and come to school in America given the opportunity?
Harrison: Yes, definitely. It's not for everyone, it's always tough leaving home. My mom raised me to be an individual person though which made the transition a little easier for me. I would definitely recommend it to people but they just have to know it can be a tough adjustment.
VAVEL: Finally, how far do you see your club NYCFC going in MLS this season?
Harrison: I think we have the potential to win the league for sure, we have a great side this year, good coaching staff as well, we definitely have the potential to do something big.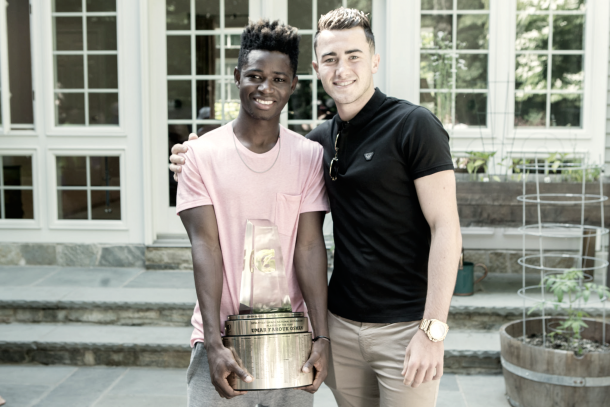 Jack will be the perfect role model for Umar due to the similarity of their stories. Umar now has somebody in MLS that he can try to replicate their story after.