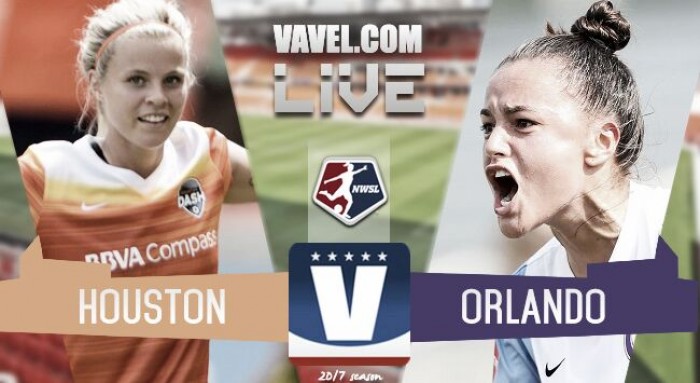 That's all for tonight! Thank you for joining me, I've been Bianca Verar. Catch us next time here on VAVEL USA!
FULL TIME: Houston Dash 2-4 Orlando Pride
90+5' DASH GOAL! Nichelle Prince slips between the defense and slots one past Blesdoe!
90+5' - Evans and Janine go into a hard tackle, Dash earn a free kick
90' - minimum on five minutes added time
90' - The Dash seem to have become more alive, they earn a corner
89' - HOUSTON GOAL! Andressa serves it in and Poliana heads it past Blesdoe!
88' - Dash earn a free kick outside of the box
86' - Beckie tries a shot but it's off target
84' - Williams comes up big, saving a shot from Ubogagu
83' - Dash Substitution: Denise O'Sullivan comes on for Morgan Bian
82' - Spencer goes down hard and the Pride earn a free kick
80' - Pride Substitution: Jamia Fields enters the game for Marta
80' - Van Wyk trips up Marta, earns a yellow
79' - Prince plays a bal across meant for Beckie, but Blesdoe comes off her line to collect
77' - Prince is called offside
76' - Play has resumed
74' - Teams go for a water break
73' - Dash Substitution: Nichelle Prince checks in for Carli Lloyd
70' - Pride Substitution: Chioma Ubogagu enters for Camila
68' - Houston Dash 0-4 Orlando Pride
68' - GOAL ORLANDO! Alanna Kennedy adds to the scoreboard!
67' - Pride earn a corner
65' - Camila earns a yellow for time wasting
64' - Beckie comes in late on a tackle on Catley. The two are the floor, but eventually get up and Beckie is shown a yellow.
62' - Ohai just barely misses goal with a beautiful curler from the top of the box!
60' - Ohai serves the ball in from the left, but it's too much for anyone to get on the end of
58' - Dash earn a corner
58' - Levin is taken down hard and earns the Dash a free kick
57' - GOAL ORLANDO! Marta puts another away!
56'- Dash Substitution: Andressa checks in for Rachel Daly
56' - Poliana trips Camila up and the Pride earn a free kick near their 18-yard box
53' - Dash slowly inching towards goal, but nothing to come out of it just yet
50' - Lloyd cuts the ball past her defender and shoots despite the traffic, but her shot rolls just wide of the goal
47' - Lloyd is fouled earning the Dash a free kick
46' - Second half has kicked off!
HALFTIME: Houston Dash 0-2 Orlando Pride
45+4' - Ball is cleared out by a Pride defender
45+4' - Dash earn a corner
45+4' - Toni Pressely's free kick deflects off of Daly, but Williams is able to collect
45+4' - Pride earn a free kick a few yards past the halfway line
45' - Minimum of 4 minutes added time
43' - Play stops as Lloyd is on the ground. She comes up but is limping
38' - Brooks plays the ball across the box and Poliana heads it, but it's right to Blesdoe
38' - Daly is fouled a few yards from the box
35' - Pride earn a corner kick
35' - They have resumed play and Morgan Brian fouls Marta for a Pride free ick
32' - Teams will be taking a hydration break.
28' - Ohai gets endline and finds Lloyd in the box, but Lloyd's first touch sends it out of bounds
25' - Lloyd leads the counter attack for Houston but after a couple of exchanges between Ohai and Daly, Daly is called offside
23' - Rachel Hill is fouled and the Pride earn a free kick
22' - Houston Dash 0-2 Orlando Pride
22' - GOAL ORLANDO! Pride are quick with a counter once the ball is cleared and Marta makes her way down the field, slotting the ball past Lydia Williams
21' The service goes way out, but Levin collects and finds Carli on the left. her curling shot is saved by a diving Aubrey Blesdoe
21' - Dash earn a corner
20' - Lloyd's free kick bounces around in the box until Daly's half-volley goes out of bounds
19' - Daly is fouled by Kristen Edmonds and the Dash receive a free kick a couple yards outside of the box
16' - GOAL ORLANDO! Camila blasts a shot from way out to give the Pride the 1-0 lead.
15' - Nice attack strung along by the Dash, but Ohai's service is too high for Lloyd
14' - Marta finds the ball and dribbles towards the end line. She plays in a cross but it goes out of bounds
12' - Ohai collects the ball in the car corner and tries a shot near the top corner of the box, but it's way off
11' - Rachel Hill stumbles in the box, but ref doesn't call anything and the Dash are able to see the ball out
8' - Lloyd plays a diagonal ball for Ohai, who drills it into the back of the net, but the referee calls offside
7' - Service of the free kick friends Morgan Brian in the box. She tries for goal, but it bounces off a Pride defender
6' - Carli Lloyd suffers a foul and the Dash earn a free kick
3' - An attack starts to build for the Dash, but Kealia Ohai is called offside
1' - And we have kickoff!
Teams are walking out, anthem to be sung shortly.
Houston Starting XI: Williams; Levin, Van Wyk, Roccaro, Poliana; Brian, Beckie, Brooks; Ohai, Lloyd, Daly.
Orlando Starting XI: Blesdoe, Catley, Pressley, Krieger, Edmonds; Kennedy, Marta, Monica; Camila, Hill, Spencer.
Keys to the Game for Orlando: Orlando has to ride off the momentum found after their win against the Breakers. Individually as separate players, the Pride have some of the strongest and solid defenders in the game. Yet when it comes to show time, they are often finding goals scored behind them. It's important for the back four to be able to be strong and solid together in order to keep a clean sheet and secure a win.
Keys to the Game for Houston: First up: move Kealia Ohai. She's virtually useless when she's on the left, which has been often lately. In their last match, the captain was found often changing sides on her own will. She is most effective on the right side, beating defenders and running down balls in all the open space. Next, the midfield has to be sorted. A certain amount of combinations have been proven to work out up top, but the midfield has always been somewhat of a mystery for the Dash. They haven't been able to find the right balance of players, and with Lloyd back it will be interesting to see what combination Morales and company put out on the field.
Houston Dash vs Orlando Pride Live Stream
Today's visitors enter the weekend with a 2-3-3 (win-loss-tie) record so far. They are seventh in standings, but are only separated from the bottom by a mere three points. They too have been struggling to find results this season, and this match is just as important as any for them.
The Orlando Pride went into the international break with a rather high note, downing the Boston Breakers 2-0. However, they are still without goalkeeper Ashlyn Harris due to a hip injury. As mentioned earlier, Morgan has returned from Lyon, but will not be able to contribute to the on-field product for a few weeks.
They go into this weekend with a record of 2-6-0 (win-loss-tie) on the season and currently last on the table. Randy Waldrum is out and Omar Morales will stand as interim head coach for the remainder of the season. In Morales' first match as head coach against the Spirit, it looked like nothing had changed - the Houston Dash are still struggling to even keep the game at a draw and create threatening chances.
In most recent Houston Dash news, forward Melissa Henderson announced retirement on Wednesday. Henderson leaves just as Lloyd returns, and the roster is still filled. Before the international break, the Dash were struggling. They dropped their most recent match against the Washington Spirit, a team which they beat 1-0 back in May.
After an international break, the NWSL is back in action this weekend. The Houston Dash are done with afternoon games for now, and they will kick off at 7:30 PM Central Time. With the return of Carli Lloyd this week, the Dash are hoping to turn things around. On the other end, the Pride have Alex Morgan back in the states, but she is expected to miss three to four weeks due to an injury while in France.
Houston Dash vs Orlando Pride Live Score and Result
Welcome to VAVEL USA's LIVE coverage of the 2017 National Women's Soccer League match between the Houston Dash and the Orlando Pride. My name is Bianca Verar and I'll be your host for this game. We will provide you with pre-game analysis, roster updates, and news as it happens here on VAVEL. This game will be broadcasted with the go90 app and website.