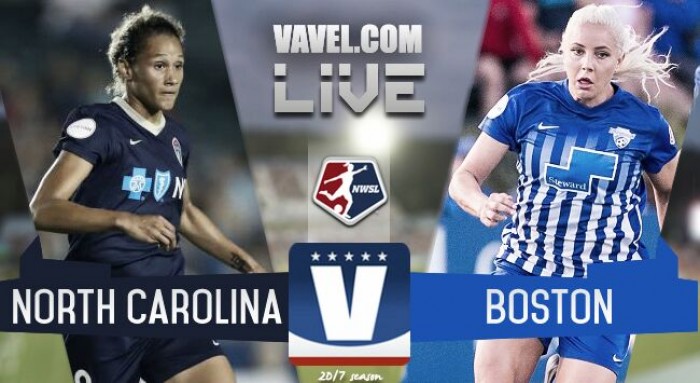 And that's game! The Courage ride a three-goal first half to their second straight win, and their second straight win over the Breakers.
There will be two minutes of additional time.
Hamilton gets a standing ovation from the crowd for her performance. Ochs makes her first appearance for the Courage after being acquired this week.
86' North Carolina Substitution: Stephanie Ochs comes into the game for Kristen Hamilton
83' Purce gets a foot to the corner but can't keep her shot under the crossbar.
82' Onumonu is immediately involved as she sprints down the sideline and earns a corner kick.
81' Boston Substitution: Ifeoma Onumonu replaces Adriana Leon
80' North Carolina Substitution: Meredith Speck enters the game for Debinha.
79' Scary moment for White as she collides with the oncoming Rowland, but the Kiwi is up and walking.
73' GOAL Boston! Adriana Leon's cross takes a massive deflection off Jaelene Hinkle and sails over Rowland for Boston's first goal. They trail 3-1.
71' Boston finding more joy these last five minutes. They're starting to connect more.
69' North Carolina Substitution: Samantha Witteman replaces Makenzy Doniak
68' Boston Substitution: Amanda Da Costa comes on for Angela Salem
63' Smith comes up big for Boston again. Zerboni had played in Hamilton, who cut between two defenders and found Hatch in the box. Smith stayed big in goal and stonewalled the striker as she looked for her second of the evening.
62' White lofts a free kick and Julie King tries to get a head on it, but she can't redirect it on frame.
60' Purce's addition has enlivened the Breakers. She's created some dangerous crosses and pressure on the sideline.
Tonight's Attendance: 3,780
57' Zerboni picks up the ball and looks for the defensive pressure, but it never arrives so she has a go from distance. The shot goes wide.
56' Substitution for Boston: Midge Purce enters the game for Emilie Haavi.
55' North Carolina are keeping the pressure on and keeping possession. Boston look tired.
51' Doniak tries to weight a ball through for Hatch, but Smith reads it well and gets there first.
48' Rosie White finds Dowie in space between the North Carolina center-backs, but the forward isn't able to convert.
45' And the second-half is underway. The Courage are quick on the offense, with Hatch trying to connect with Hamilton for the hat trick.
Boston have a lot of repairs to do at half. There wasn't a position on the field where they weren't outmatched. Leon and White had some positive bursts, but they haven't found an answer to North Carolina's pressure and are really struggling to build possession. Rookie Morgan Andrews has been effective, but too quiet for a team missing a spark in the midfield.
And that's halftime! North Carolina are firmly in the driver's seat here in Cary, taking a 3-0 lead into the half off a 2-goal performance by Kristen Hamilton.
45' What a save by Smith! Mewis turned the corner and laid a perfect ball across the six yard line. Hatch was crashing at the back post, and Smith was quick off her line to stuff the golden opportunity.
There will be two minutes of stoppage time in the first half.
42' Hamilton boxes out Oyster and earns the free kick. North Carolina are looking comfortable with the 3-0 lead.
Abby Smith got caught out of the box. Hatch won the ball, collected the ricochet off Doniak, and finished into the far netting from 20 yards out for her second career goal.
38' GOAL North Carolina! Hatch makes it 3-0 for the Courage.
37' Boston goes on the counter-attack. White gets a chance on a header in the box but it's wide.
36' Doniak gets around a defender and dribbles into the box. She takes contact from behind and goes down, but the refee says no penalty.
34' Abby Smith steps up to take a free kick from just inside midfield. Rowland comes out to claim it, but she loses out and Salem gets away a volley that sails wide.
32' Rosie White tried to start a run in behind, but she's a step in front of Dahlkemper and the flag goes up for offside.
31' Haavi cuts past Debinha and gets off a cross, but it's straight at Rowland.
28' Incredible cross from Hatch, who beats everybody with a perfect ball to Debinha in the box. The Brazilian's touch is off and Boston clear the danger for the moment.
25' Boston lets a free kick opportunity slide. Haavi and White are not on the same page, and the ball is passed straight out of bounds.
22' Andrews whips in a freee kick that's cleared by Erceg.
21' Inch-perfect tackle by Dahlkemper to prevent an open run by Haavi. Boston are showing signs of life after an initial shell-shock.
19' North Carolina still dominant in possession. Erceg is able to send in a long ball to Hatch, whose header is saved by Abby Smith.
17' Boston don't have an answer to North Carolina's pressure. Their flank players are getting lapped by North Carolina's attackers.
Erceg won the initial header off a corner, but her shot deflected off the goalpost and Hamilton finished at the far post.
13' GOAL North Carolina! It's Hamilton again with her second of the game! North Carolina lead 2-0.
10' Now Mewis is briefly down as Dowie undercut her on a header. Dowie gets a word from the referee, but no card is awarded.
8' Play has stopped as Hatch took a blow to the face. Both teams are taking the opportunity to grab some water, and Boston players are holding mini-conferences all over the field.
7' Shot from distance by Haavi, and it produces a diving save from Rowland.
5' North Carolina's early pressure has paid off, and Boston are struggling to get any real spell of possession.
The play started when the Courage forced a turnover in the Breakers' final third. Mewis received the ball, and Hamilton peeled off her defender and held her run, giving Mewis a seam to slip the ball through. Hamilton finished calmly in the back post.
2' Goal North Carolina Courage! Kristen Hamilton gets the first of the game off a beautiful slip ball from Sam Mewis
1' Early shot from Hatch, who picks up a sloppy touch by Oyster at the top of the box and takes a shot. It's comfortably saved by Abby Smith.
1' And we're underway from Cary, N.C.! The Courage take the kick-off and Mewis immdiately goes on the attck, trying to play Doniak in wide.
Another roster note as we await kick-off: Williams and McDonald are both listed as available subs, but neither participated in warmups.
We're about 20 minutes away from kick-off. Boston enters the match on the back of two straight losses and winless in their last five. North Carolina won their last game, but have a 2-3 record in their last five.
These teams last met back on May 7, with the Courage taking a 1-0 win courtesy of a Jess McDonald goal in the 32nd minute.
Megan Oyster, who was listed as questionable on the official NWSL injury report, gets the start for the Breakers.
Boston Breakers Subs: Prudhomme, Frisbie, Strom, Da Costa, Weimer, Purce, Onumonu
Boston Breakers Starting XI: Smith; King (captain), Oyster, Westphal, Elby, Salem, Andrews, White, Haavi, Dowie, Leon
Katelyn Rowland gets her second consecutive start in goal. With Lynn Williams and Jess McDonald both questionable due to injury, Ashley Hatch also gets her second consecutive start after scoring her first goal against FC Kansas City.
North Carolina Subs: D'Angelo, Eddy, Williams, McDonald, Ochs, Speck, Witteman
North Carolina Starting XI: Rowland; Erceg (captain), Dahlkemper, Hinkle, Doniak, Mewis, Zerboni, Debinha, Smith, Hatch, Hamilton
Check back for updates and our official preview of Saturday's game.
Key Player for Boston Breakers: Angela Salem. The Courage have managed to run roughshod over almost every midfield in the league, and their relentless attacking pressure can overpower most teams. That's why Boston's holding midfielder, Angela Salem, has a big task in front of her, and her team stands a good chance of doing well is she's up to it. Salem is a savvy possessor and navigator out of pressure, so her role in breaking up play and redistributing the ball could make the difference for Boston in the center of the park.
North Carolina Courage vs Boston Breakers Live Stream
Key Player for NC Courage: Abby Dahlkemper. The defender has been an anchor in the back, but also a vital force in front of goal as the Courage's principal corner kick taker. The Courage have scored four goals off corners, including one each in their last three games. This Saturday she'll have to deal with pacy and dynamic attackers like Natasha Dowie, Midge Purce, and Adriana Leon, so the centerback will have to be on the top of her game.
The 8th place team, the Boston Breakers (2-4-2), were sent into the break with a 0-2 loss to the Orlando Pride. The Breakers will be looking to get pack to their positive start of season form, but they will have to do so without their breakout rookie, Rose Lavelle. The #1 draft pick in 2017 NWSL College Draft picked up a pulled a hamstring on the USWNT's trip to Scandinavia and is expected to be out of commission for 4-6 weeks. Lavelle had made herself vital in terms of possessing the ball and dictating the Breakers' pace of play, so her absence will surely be felt in the center of the park, where Boston will have to contend with some combination of Sam Mewis, McCall Zerboni, and Debinha. The rookie also gave the Breakers a huge offensive spark. Her two goals and one assist output so far this season will be missed considering Boston have not scored since May 19. The trip to North Carolina could exacerbate that problem as the Breakers have not won away from home in their last six road games.
The North Carolina Courage (6-3-0) come into the games still atop the NWSL standings, courtesy of a 2-0 win over FC Kansas City before the break. A spot of concern will be Lynn Williams, one of the several players to pick up an injury while on duty with the US Women's National Team this past week, and who may not be available for Saturday's game. The Courage are not short on attacking depth, however, and if Williams is injured or needs to be rested rookie Ashley Hatch is waiting in the wings. The Courage's first round draft pick scored her first NWSL goal in Week 8 and picked up another whilst on international duty with the U23 WNT.
Hello and welcome to VAVEL USA's live coverage of the NWSL. The North Carolina Courage host the Boston Breakers in Week 9 of NWSL regular season play. The game kicks off at 7:30 pm ET, but we'll have live updates, including analysis, news, and roster announcements right here on VAVEL USA. My name is Willa Grefe and I'll be taking you through this game live from Sahlen's Stadium at WakeMed Soccer Park in Cary, North Carolina. Fans can catch the game live on go90, NWSLsoccer.com, or the NWSL app. Keep checking back for updates!