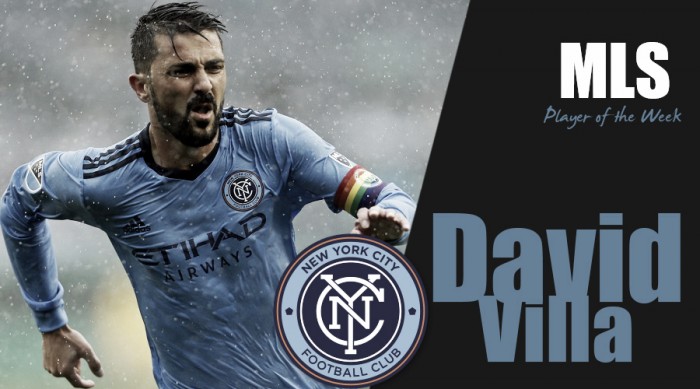 David Villa found his goal-scoring touch again at just the right time for New York City FC. After not finding the back of the net in three games, the former Spain international produced two goals to give his team all three points against Seattle Sounders FC on a wet, warm day in New York City. His performance earned him MLS Player of the Week honors for Week 16 and you can expect more to come from the striker as the season progresses.
Villa hits 50 goals in the league
Saturday afternoon's game against the Sounders saw Villa reach his 50th and 51st goals in Major League Soccer since he first arrived on these shores in 2015. His first arrived in the 52nd minute when he placed a penalty kick right down the middle to draw NYCFC level with the Sounders who had taken a first-half lead. The goal made Villa the fifth-fastest player in MLS history to reach 50 goals and he did so in 78 regular season appearances. The second, and the game-winner, arrived in the 77th minute when he was found at the back post by Jack Harrison and Villa volleyed home his second goal to give NYCFC a 2-1 win.
Villa continues to perform at a very high standard
At 35 years old, David Villa continues to play at a level very few could dream of and he leads by example for NYCFC every time he steps onto the field. The reigning MLS MVP now has 10 goals for the season and six assists to his name as he looks to help his team reach the playoffs once again.
From the minute he joined the team, Villa has been the star performer for a team that is still fairly new to the MLS. His 51 goals in 71 starts tell a story by themselves but his 18 assists in the same time frame also show that can be a creative spark for his team if needed. The aim this season will be to reach the MLS Cup final after faltering in the playoffs last year. Villa can most certainly help his team achieve that goal if he continues to find the back of the net at a regular pace.
The MLS Player of the Week is selected each week of the regular season by a panel of journalists from NASR. The group consists of members of print, television, radio and online media.