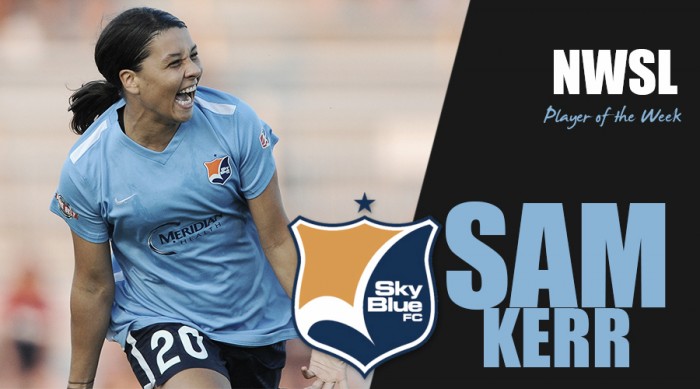 Sky Blue FC's Sam Kerr has been having a good last few weeks. Coming off being named NWSL Player of the Month for the Month of May, Kerr added another award to the list for the 2017 NWSL season. After scoring a brace and assisting on another goal against Portland Thorns FC, Kerr was named NWSL Player of the Week for Week 9.
Kerr immediately helped her team jump out front on the Thorns. She assisted on midfielder Raquel Rodriguez's first-minute goal. Kerr sent a ball in front of Portland's goal that was cleared right back to her. She played the ball back to Rodriguez who was in the middle of Portland's penalty area. Rodriguez made no mistake in sending the ball to the far post to give them an early 1-0 lead.
Kerr doubled Sky Blue's lead in the 70th minute. After Kelley O'Hara cleared a Thorns free kick, it found the head on Maya Hayes. Hayes flicked the ball onto Kerr, who was at midfield, and she off to the races. With the Portland defense all near midfield, Kerr had only goalkeeper Adrianna Franch to beat. She was able to easily get past Franch to double the New Jersey-based clubs lead.
In the 88th minute, Kerr put Portland away for good. Madison Tiernan sent Kerr past the Thorns backline with a lovely over the top through ball. Franch came out to meet her but Kerr was able to flick the ball around here and score in the open net to give Sky Blue a commanding 3-0 lead.
This is the third time Kerr has been named NWSL Player of the Week. The first time came when she was a member of the Western New York Flash, also against the Thorns when she scored two goals and assisted on another. The last time came in week 18 of the 2016 season against the Orlando Pride when she scored two goals.
Kerr is now one of three ladies to hit the 30 goal mark in her NWSL career, joining former Seattle Reign FC midfielder Kim Little and North Carolina Courage forward Jessica McDonald.
Previous Winners
The NWSL Player of the Week is selected each week of the regular season by the NWSL Media Association, a collection of writers that cover the league on a consistent basis. For more information on the NWSL Media Association.