 There are soccer games that you want to keep. Games that you want to put on some sort of impermeable, timeproof media, so you can pull them out at any time and watch them and be amazed by how awesome they are. Games full of technical skill, fire, passion, amazing play, goals, and all the other things that make soccer so much fun.
Then, there was Wednesday night's Portland Timbers and Minnesota United FC game.
This game had a bit of everything. Two own goals, two straight red cards, a whole lot of garbage defending, and, for the second time in a week, the Timbers making a bad team look a lot better than they are. Minnesota United scored two of the most pillowy soft goals you'll ever see on the way to a 3-2 win over a Portland team that really should be embarrassed at the way they played.
The Good
MLS parity. It's a stretch to find anything good about this game, so as I am wont to do, I'll take comfort in context. The Timbers have played like garbage two games in a row now, haven't really convinced since late April, and yet, thanks to MLS and its salary cap and roster rules, sit in third place in the West and are still in good position to make the playoffs. Are they a playoff-caliber team? Not right now. Does a team that wins the MLS Cup automatically become the best team in MLS? No. But that's the great thing about playoffs - they don't reward the best team of the season, they reward the best team of two months in the fall. As long as the Timbers stay above the red line, they'll be OK.
The Bad
Adin Brown. Saturday night, Jake Gleeson made a really dumb error that cost the Timbers a goal. Wednesday night, Gleeson was benched for Jeff Attinella, and guess what? Attinella made two really bad errors that gifted MNU two goals - one of which was a near-carbon copy of the Gleeson miscue from the weekend. While I certainly hold both Gleeson and Attinella responsible, I also hold Timbers GK coach Adin Brown responsible for both Gleeson and Attinella.
It's on a coach to make sure that mistakes are identified and drilled out of a player as much as possible. When two different keepers make an identical mistake in two consecutive games, it's not the biggest stretch in the world to think that better coaching might help get those bugs out of the system, as it were.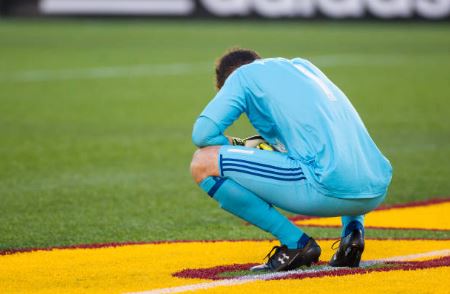 Defending. While Attinella holds a lot of the blame, particularly for the Ramirez goal, both that goal and the Abu Danladi goal were also essentially gifts from a Timbers defense that looked uninterested in actually defending. They gave MNU acres of room in which to operate and never really closed down a ballcarrier at all, and thus it was that life was generally all too easy on the attacking end for one of the worst teams in MLS.
The Ugly
Roster construction. Going into Sunday's rescheduled Seattle match (kickoff's at 7.30 instead of 1 PM), both Sebastian Blanco and Roy Miller will miss the match through suspension. Blanco misses the game for this kick on Abu Danladi, who returned fire and will also be suspended. Miller, meanwhile, picked up his fifth yellow card and will miss the Seattle game due to accumulated yellows.
Travelin' blues. For all the "Timbers can't win on the road" snark earned after last year's 0-for-away record, the Timbers won twice on the road early this season...and then haven't won since. April 8 at the Philadelphia Union was their last road win, and for a team that wants to make a deep run into the season and the playoffs, that's just not good enough. The Timbers need to develop a killer instinct on the road, and they need it quickly.