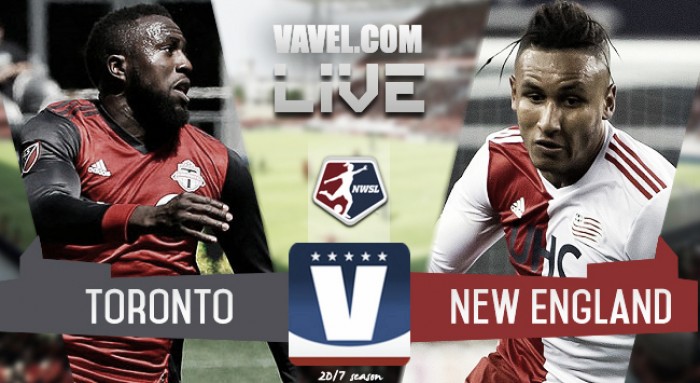 Toronto FC 2, New England Revolution 0.
Full-time: And that's that! Giovinco's late goal doesn't tell the whole story as Toronto had to work very hard against a resilient New England side tonight to get all three points. Greg Vanney will be happy with how his players responded to a second game in three days while Jay Heaps will look back on some missed chances for his team that could have at least tied the game up for New England.
Toronto FC 2 - 0 New England Revolution
Hernandez plays a long ball over the top which Giovinco gets to. The Italian then rounds Koffie before finishing into the bottom far corner and effectively ending the tie.
90+6' GOAL! Giovinco seals all three points for Toronto!
90+5' Bunbury has a chance in the box but he fouls Hernandez and the opportunity goes away.
90+3' Vázquez keeps the ball in play and finds Alitdore at the top of the box. He lays it off for Giovinco who's shot is blocked by some defenders.
90+2' New England are controlling possession now as they look for the equalizer.
88' CHANCE! Nguyen picks out Bunbury in the box and he gets a great header on target but Bono stretches and keeps the ball out of the back of the net. Fantastic save by the goalkeeper.
87' Play resumes and Chapman outs in a cross that Cropper gets to easily.
86' The flow of the game has stopped and started now due to Mavinga and now Angoua needing medical assistance.
84' Giovinco tries to find Altidore but Cropper reaches the ball first before either Altidore or Chapman could.
83' Kamara has Bono diving at full stretch but it goes just wide.
82' Toronto are trying to find the second goal but New England are defending well.
79' SUBSTITUTION: Teal Bunbury comes in for Mlinar Delamea.
78' SUBSTITUTION: Jay Chapman comes in for Endoh as Toronto's last change of the game.
75' Play stops as Mlinar Delamea and Koffie clash in the air. Mlinar Delamea's momentum brings is header right onto the back of Koffie's head and both players are getting medical treatment right now.
74' CHANCE! The Revs push forward again and Nguyen tries to bend his shot into the far post but it goes just wide. Bono was frozen and had that been on target, would not have gotten to it.
71' Vázquez almost slips Altidore through but Mlinar Delamea makes a crucial stop.
70' SUBSTITUTION: Chris Tierney comes in for Woodberry.
70' Agudelo squares up on Morgan and heads towards the byline but his cut back goes straight to Bono.
68' SUBSTITUTION: Jonathan Osorio comes in for Cooper and Ashtone Morgan comes in for Mavinga.
68' CHANCE! The cross comes in and Hernandez misses it which puts off Kamara from scoring an easy goal.
66' CHANCE! First Woodberry and then Agudelo have chances at goal but Toronto get a body in front of each shot and the Revs have to settle for another corner.
65' Kamara earns New England a corner kick after a strong run towards the byline.
63' Toronto play a free-kick quickly and Giovinco tries to spring away from Angoua but the defenders stays with him until Woodberry arrives to help clear the danger away.
62' Apart from a few flashes here and there for Toronto, New England are still controlling the tempo here.
59' The ball is flashed across the area but no one is able to take advantage of the delivery and the Revs look to break quickly. Mavinga steps in to stop the counter.
58' Giovinco wins another free-kick in a good spot for Toronto on the right-hand side of the box.
57' CHANCE! Nguyen runs back to the goal line and is in the right place to stop Giovinco from curling in Toronto's second of the night. Great instincts by the New England captain.
56' The battle between Mlinar Delamea and Altidore continues on and this time, Toronto's frontman wins the free-kick in a dangerous position for Toronto. Giovinco is probably lining this one up.
54' Nguyen's free-kick finds Woodberry who gets a touch on the ball but it's not enough to get past Bono.
54' SUBSTITUTION: Kei Kamara comes in for Watson for New England's first change.
52' YELLOW CARD: Altidore is the next player in the book after clashing with Mlinar Delamea off the ball.
51' CHANCE! Vázquez almost fools Cropper with his corner kick but the goalkeeper gets a hand to it and parries it off the near post. The Revs break quickly but the final pass is off and Moor is able to clear Toronto's lines.
50' YELLOW CARD: Mlinar Delamea tugs Cooper's jersey back and earns the second booking of the night. Giovinco puts in a great cross that is just cleared away for a corner by the Revs.
49' Wow! Farrell is seemingly brought down by Hernandez in the box and the referee waves that appeal as well. That's two penalty calls that Hilario Grajeda has got wrong in this game.
48' The delivery is poor and it floats right into Bono's hands.
47' New England work the ball in and around the Toronto penalty area but don't make any headway. They eventually earn a free-kick which Nguyen steps over to take.
46' New England gets us started here in the second half.
Toronto FC 1 - 0 New England Revolution
Half-time: After a strong start which resulted in the opening goal, Toronto have faded from the game and New England have begun to control the tempo. Toronto will feel aggrieved after not being awarded a penalty kick by the referee on what looked like a clear foul on Altidore in the box so it will be interesting to see what Greg Vanney will say to his troops at half time.
45+1' Only one minute of added time here after an enthralling first half.
44' Rowe thinks he's in on goal here but he's called back for offside.
40' Fagundez and Farrell combine well on the left flank but the play breaks down when Cheyrou intercepts the pass and Agudelo fouls him as he tries to win the ball back.
38' Agudelo tries to get past Moor but the defender holds his ground and earns a free-kick.
36' Rowe swings it in and Mlinar Delamea almost gets to it but it's just too far for him to reach at the back post.
34' Cheyrou brings down Nguyen about 50 yards and the Revs look to make the most of this free-kick. The delivery goes to the far post and Bono has to be quick off his line to cut out the knock back but it goes off a defender and the Revs have a corner.
33' Well, well, well. The referee just made a big call here. Giovinco combined with Altidore who got away from his first maker but went down after a shoulder challenge by Mlinar Delamea. The US international pleads his case but the referee is unmoved. Replays show that it was a penalty so Hilario Grajeda got that one wrong.
32' CHANCE! Toronto give the ball away at midfield and The Revs have a three-on-two situation. Agudelo finds Nguyen who goes for goal but it's straight at Bono and Toronto survive their error.
30' Vázquez tries a no-look cut back into the box but it doesn't find a Toronto jersey and New England regain possession.
27' New England try to build another attack but Agudelo's touch flips the ball into the air and he's called for a foul after a high kick on Endoh.
26' After a strong start by the home side, New England have found some rhythm going forward but they haven't troubled Bono in Toronto's goal as of yet.
24' Vázquez nutmegs Koffie and springs forward on a great break for Toronto. He finds Endoh out wide and the wing-back tries to pick out Giovinco but again Cropper gets his angles right and cuts out the pass. The parry misses Vázquez and New England are able to move out of their area.
22' YELLOW CARD: Giovinco gets the first of the match after taking a kick at Koffie in an attempt to win the ball and ends up hitting him in a painful area for the midfielder.
21' Fagundez tries to take on Jason Hernandez one-on-one but the defender does enough to put the ball out for a corner. The set piece comes out to Gershon Koffie who tries a long range effort but it curls wide of the goal.
20' Rowe tries from a long, long way out and Bono makes the dive but it doesn't trouble his goal at all.
18' Rowe plays a short diagonal ball towards Juan Agudelo but it was just too long for the striker and it goes out for a Toronto throw-in.
17' Altidore is brought down in a good position for a Toronto free-kick. Vázquez sends it in and it's initially cleared by Andrew Farrell but the ball is sent back in by Toronto. The Revs do enough to deal with the threat and Cropper gets the ball.
16' The Revs almost capitalize on a mistake by the Toronto midfield. Cheyrou is caught in possession near his own area and New England work the ball around to set up Lee Nguyen who tries to volley it home but it comes off of Moor and Alex Bono makes an easy save.
14' CHANCE! Cropper makes a fantastic kick save to stop Altidore form close range! Moor is found out wide again in space and this time he sends in a first time ball to Altidore who made a great near post run. His connection was good but Cropper was able to stretch his leg and stop the goal.
12' Altidore slides a great ball through to Giovinco but the Italian's first touch lets him down and Benjamin Angoua is able to remove the danger.
Toronto FC 1 - 0 New England Revolution
Armando Cooper gets to the rebound after the corner and manages to nutmeg Je-Vaughn Watson before sending in a delicious cross that Drew Moor gets onto the end of and knocks in from close range.
11' GOAL! Toronto take the lead through Moor!
11' Another corner is incoming for Toronto as they pen the Revs back in the first ten minutes.
10' Morrow is found in space by Cheyrou and all he has to do is slide the ball across to a teammate but he hesitates, cuts inside and shoots with his weaker foot. His effort is woeful and Altidore shows his frustration and not being picked out by his teammate.
8' Toronto get forward again and Morrow nods the ball down towards Víctor Vázquez but his pass is intercepted.
7' Diego Fagundez and Kelyn Rowe combine well and Fagundez gets a shot off that's blocked by two Toronto defenders.
6' Benoit Cheyrou finds Tsubasah Endoh out wide in space and the wing back wins another corner for Toronto. The set piece finds Altidore but his connection isn't clean and New England clear their lines.
4' London Woodberry fouls Justin Morrow and he gets a few stern words from the referee. Toronto send the ball in and earn their first corner of the game.
3' Giovinco and Altidore combine again and Altidore tries to cut back onto his right foot inside the box but Antonio Mlinar Delamea gets a touch on the ball and stops Altidore from getting a clean shot on goal inside the box.
2' Sebastian Giovinco chases down a ball, holds it up well before cutting inside and sending the ball towards Jozy Altidore. The cross is just too short and Cody Cropper gets to the ball easily.
1' Toronto starts us off!
Xavier Kouassi won't feature for New England tonight due to injury while Daigo Kobayashi has recovered from his hamstring injury but has not travelled with the team tonight as a precaution.
Michael Bradley misses out on tonight's game due to yellow card accumulation while Nick Hagglund and Tosaint Ricketts are both out due to injury for Toronto FC.
Starting XI for New England Revolution (4-3-3): Cropper; Woodberry, Mlinar Delamea, Angoua, Farrell; Rowe, Koffie, Watson; Nguyen, Agudelo, Fagundez.
Starting XI for Toronto FC (3-5-2): Bono; Hernandez, Moor, Mavinga; Endoh, Cooper, Cheyrou, Vázquez, Morrow; Altidore, Giovinco.
Hello once again to VAVEL USA's LIVE coverage of tonight's MLS game between Toronto FC and the New England Revolution. The rain has finally let up here in Toronto so we should get a warm evening of soccer ahead of us.
Toronto FC 2, New England Revolution 1.
Prediction: Midweek game or not, Toronto will want to get the win tonight and have enough quality within the starting eleven and the bench to get exactly that. New England has the threat to cause an upset should Toronto not be fully prepared for this match up but I suspect that Vanney will remember that 3-0 defeat earlier this season and want to make up for it tonight.
Projected Lineup for New England Revolution: Cropper; Tierney, Mlinar Delamea, Angoua, Farrell; Caldwell, Koffie; Fagundez, Nguyen, Rowe; Agudelo.
Projected Lineup for Toronto FC: Bono; Zavaleta, Moor, Hernandez; Beitashour, Vázquez, Cheyrou, Cooper, Morrow; Altidore, Giovinco.
The match will be played at BMO Field in Toronto, Canada on June 23th, 2017. The game will kick off at 8:00 PM ET and will be broadcast on TSN, MLS Live, and CSN-NE.
The match officials assigned to this game will be Hilario Grajeda as the center official, Claudiu Badea and Gianni Facchini as the linesmen, and Geoff Gamble as the fourth official.
The Revs' defensive record is not good reading for head coach Jay Heaps. With 23 goals conceded and their poor away record, New England has not managed to rise to the expectations they had set out for themselves this weekend. When you concede almost as many goals as you score, you cannot expect your team to win games especially on the road and if New England want to come away from BMO Field with more than just a draw, they will need to shut the door on their opponents and try to catch them on the break.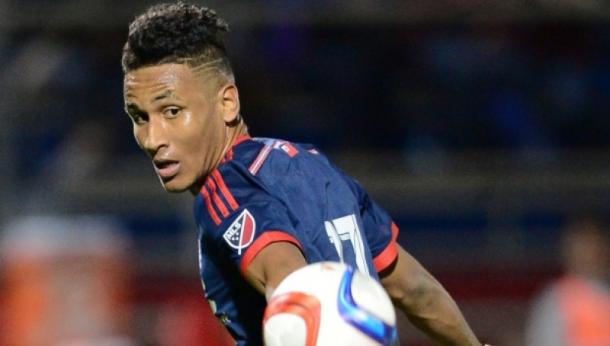 The New England Revolution have had a different start to the season than Toronto have had. They have not managed a single win away from home and currently sit in eighth in the Eastern conference table. Their main focal point has been the performances of Juan Agudelo and Lee Nguyen. Nguyen has always risen to the task for New England but Agudelo's goals this season have been a welcome reprieve from some of the less inspiring performances that New England has produced away from Gillette Stadium.
Toronto's Achilles heel has always been their defense and this season is no different. Although the number of goals they have conceded is less than this time last season, head coach Greg Vanney will not want to add too much more to their current total of 15. It will be up to the likes of Eriq Zavaleta and Drew Moor to marshall that backline and prevent New England from having too many opportunities to test Alex Bono in goal.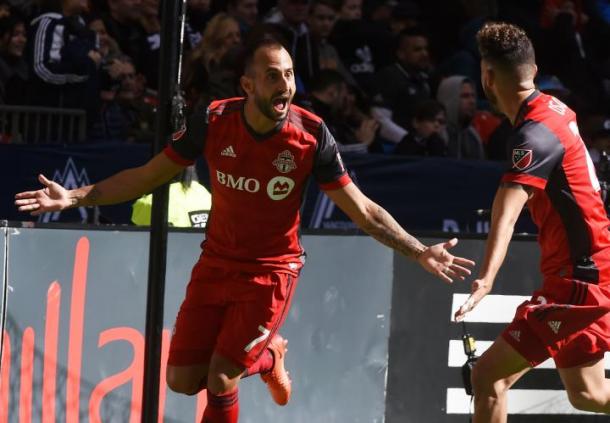 Toronto FC has the better quality players on paper and up top, the likes of Jozy Altidore and Sebastian Giovinco will look to cause the Revs problems all night long. What has made Toronto a more dangerous team this season is the addition of Víctor Vázquez into their midfield. The Spanish midfielder has given Toronto a little more creativity from their middle and has taken some pressure off of Michael Bradley to be the constant supply for Altidore and Giovinco. In his 12 starts, Vázquez has notched up three goals and eight assists and will look to add to his total against New England this evening if possible.
The last time that these two teams faced each other, the New England Revolution produced a shock 3-0 win at home against Toronto FC and they will be looking to do the same once again tonight. The hosts this time will want to keep what has been a great start to their season going and produce a good result after their midweek excursions. It should be a fascinating encounter for both fans and neutrals alike.
Hello everyone and welcome to VAVEL USA where we will be covering the match between Toronto FC and the New England Revolution in Major League Soccer. My name is Kudzi Musarurwa and I will be your host this evening for what should be another great encounter.