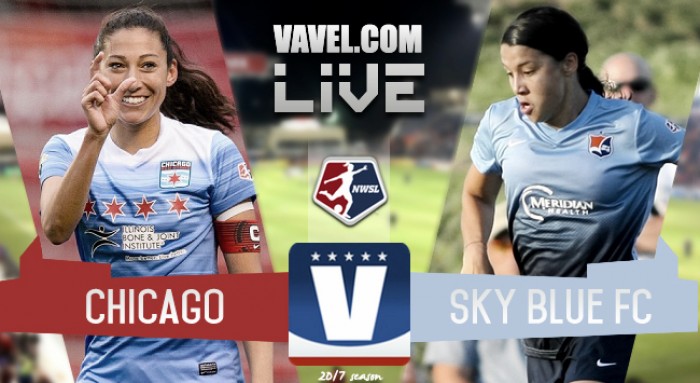 Chicago Red Stars 2, Sky Blue FC 1
Thanks to everyone who joined me this Sunday night and enjoy what's left of your weekend. This is Kudzi Musarurwa signing out!
Full-time: That's it here at Toyota Park. A four minute second half flurry of action sees Chicago take all three points today after Sky Blue had gotten an early lead.
90+4' Huerta gets onto a loose ball and tries to get around Pearce but the veteran holds her off. Unfortunately for Sky Blue, Pearce can't find Sheridan on the back pass and Chicago get a corner kick right at the end of the game.
90' Sky Blue have four minutes to get an equalizer here. SO far, Chicago is holding them off easily.
90' Freeman dispossesses Huerta as Chicago were looking to break quickly and Sky Blue regain the ball.
87' SUBSTITUTION: Maya Hayes is the third change for Sky Blue is she comes in for Rodriguez.
86' Chicago get forward with Press who tries to find Huerta in the box but her accuracy is off and Sheridan gets to the ball first.
86' Sky Blue has a series of crosses into the box but none of create much for the visitors.
81' Mautz, Press and Huerta look to create another opportunity for Chicago but play s called back for offside.
76' SUBSTITUTION: Chicago brings in Taylor Comeau for Colaprico who seems to have suffered some kind of injury.
73' CHANCE! Kerr finds Meehan around the penalty spot but she skies her first time volley. After doing all of the hard work to bring the ball forward and finding Kerr out wide, Meehan's effort was disappointing.
71' SUBSTITUTION: Daphne Corboz comes in for Lytle as Sky Blue's second change of the day.
68' Lytle sends in a great ball in that reaches Meehan but she swings ta it and doesn't get the right connection. Kerr is complaining to the referee about being held down as she jumped for that cross but the referee waves away her complaints.
Chicago Red Stars 2 - 1 Sky Blue FC
Short gets forward once again and finds Huerta with her pass. The striker holds off her marker, takes a touch and fires into the far corner of the goal. What a turnaround here!
67' GOAL! Chicago take the lead!
64' Sky Blue get up the field quickly and Tiernan gets a shot off that's deflected safely into Naeher's hands.
Chicago Red Stars 1 - 1 Sky Blue FC
The Red Stars holds off Killion's challenge in midfield, drives forward and takes a touch to separate away from Pearce before unleashing an absolute screamer into the top corner!
63' GOAL! DiBernardo scores an absolute rocket!
62' Mautz swings a cross towards Press but it's too long for the striker and Sheridan comes out to get it under no pressure.
59' Tiernan earns another corner kick but the play stops after a foul on Naeher. The goalkeeper is still down after the challenge in the box and is now receiving some treatment.
58' Chicago gets two consecutive corners but Sheridan is able to back-peddle and collect the second one at the far post.
57' CHANCE! Mautz almost makes an impact as she forces Sheridan into a big save. Corner kick coming up for Chicago.
55' Kerr tries to set Meehan free with a great long ball but Gilliland is there on the cover and knocks the ball away from the Sky Blue attacker.
52' SUBSTITUTION: Erica Skroski comes in for SImon as Sky Blue's first change of the game.
50' Pearce breaks forward from the back and goes a long way before earning a corner for Sky Blue. The set piece is defended well by Chicago.
46' The second half starts as Sky Blue look to preserve their lead while Chicago need to find a way back into this game.
46' SUBSTITUTION: Alyssa Mautz comes in for Hoy as the first change of the game.
Chicago Red Stars 0 - 1 Sky Blue FC
Half-time: With no extra time added on, we've reached the end of the first 45 minutes. Sky Blue will be delighted with how the game has gone so far while Chicago will need to dig deep like they did last weekend to get a result here.
43' Press and Pearce go head-to-head and Pearce gets a foot to the ball but Press regains. The Red Stars forward tries to curl the ball into the corner but it goes too high.
42' Sky Blue get another set piece and Kerr goes down under a challenge in the box but the referee doesn't see any wrong-doing and the game goes on.
41' Short goes by Simon with ease using her pace and strength and plays the ball out to Press. Press cuts inside onto her right foot and tries to get a shot away but Pearce challenges her and the ball is cleared away by Sky Blue.
38' Mandy Freeman plays the ball into space for Kerr to get onto, which she does, but her shot goes wide of the goal. The danger of Kerr on the break is a constant here.
35' Chicago earn a free-kick close to midfield. Colaprico sends it towards Short but it's too high. Chicago still have possession of the ball but eventually concede a throw-in to Sky Blue through DiBernardo.
31' CHANCE! Chicago work the ball well and Hoy gets an opportunity to turn and shot but it goes just wide of the goal.
29' Sky Blue get forward well as Kerr finds Lytle out wide but Short does her job and stops the Sky Blue midfielder from being able to get a cross into the box.
27' Sarah Killion gets forward and finds Meehan in the box but her shot is deflected by Johnson and Naeher collects the deflected shot.
25' So far, everything is going according to plan for Sky Blue. They've got the early ball and can now use the pace they have up top to counter quickly while they stay compact at the back.
22' CHANCE! Sofia Huerta picks out Jen Hoy unmarked but her header goes just wide of the goal. Hoy should've done better with that opportunity.
20' Meehan combines with Kerr who then plays a good slip pass for Lytle to run onto in the Chicago penalty area. Katie Naughton does a good job of standing tall and allowing the ball to roll out for a goal kick.
18' Kerr uses her speed to win another corner for the visitors. The corner kick doesn't trouble Chicago and the home team regain possession.
17' Chicago try a short corner but it doesn't come off and Sky Blue deal with it well.
16' Sky Blue get forward quickly again but this time, the cross is too high and Alyssa Naeher can pluck it out of the air under no pressure.
13' Christie Pearce stays with Press as she tries to backheel Arin Gilliland's pass into the goal. Chicago has their first corner of the game. Vanessa DiBernardo tries to pick out Julie Ertz but Tiernan rises high enough and heads the ball away from danger.
7' Chicago tries to answer back quickly as Christen Press sends her cross in towards Danielle Colaprico at the far post but it's just to high and the midfielder ends up conceding a free-kick on Erin Simon.
Chicago Red Stars 0 - 1 Sky Blue FC
Taylor Lytle sends the corner kick and it finds Madison Tiernan at the near post. The rookie sends in a strong header and her team is now one-nil up!
3' GOAL! Sky Blue take the lead!
3' Sky Blue attack quickly with Sam Kerr but Sam Johnson stands strong to hold off McKenzie Meehan. Sky Blue get the corner though as Meehan pressures Johnson into kicking the ball out for a corner.
1' Casey Short bombs forward and tries to find a teammate with the cut back but Sky Blue have numbers back and clear the ball away. Chicago still have possession though.
1' Chicago gets things started here tonight!
Interestingly enough, Chrsty Holly has opted to keep Kelley O'Hara on the bench today. Sky Blue do have a midweek game coming up so maybe Holly felt that now was the time to give one of his key players a rest.
No real surprises with the Chicago lineup as Rory Dames looks to find winning ways again with his team.
Starting XI for Sky Blue FC (4-3-3): Sheridan; Simon, Pearce, Freeman, Mills; Rodriguez, Lytle, Killion; Tiernan, Kerr, Meehan.
Starting XI for Chicago Red Stars (4-4-2): Naeher; Gilliland, Naughton, Johnson, Short; Huerta, Ertz, Colaprico, DiBernardo; Press, Hoy.
Hello once again to the VAVEL USA LIVE coverage of the NWSL! We have one more game left this weekend as the Chicago Red Stars host Sky Blue FC.
Chicago Red Stars 2, Sky Blue FC 2.
Prediction: The Red Stars had a dud of a game in their last outing and will not want that to repeat itself this weekend. Sky Blue will also be coming off a long trip to Portland and may not be fully recovered enough to put in a performance as good as the one they put on at Providence Park. The trend for both teams when in Chicago is to eek out a draw and this game looks like it will end the same way as previous matches.
Projected Lineup for Sky Blue FC: Sheridan; O'Hara, Pearce, Freeman, Mills; Lytle, Rodriguez, Killion, Galton; Meehan, Kerr.
Projected Lineup for Chicago Red Stars: Naeher; Kaskie, Naughton, Johnson, Short; Mautz, Ertz, Colaprico; DiBernardo; Press, Huerta.
The match will be played at Toyota Park in Chicago, Illinois on June 25th, 2017. The game will kick off at 6:00 PM EST and will be broadcast on go90 and nwslsoccer.com.
Managing the two respective sides will be Rory Dames for the Red Stars and Christy Holly for Sky Blue FC. The match officials assigned to this game are Karen Abt as the center official, TJ Zablocki and Jeremy Kieso as the linesmen and Calin Radosav as the fourth official.
Sky Blue has had trouble picking up wins in Chicago and as of right now, have only managed to get draws when they visit the Red Stars. Part of that can be attributed to collapses in their defense that leaves their goalkeeper exposed to the likes of Press far too often. Kailee Sheridan has already conceded 14 goals this season because of those lapses and will want her teammates to do more against the Red Stars if Sky Blue want to get their first win ever in Chicago. In Christie Pearce and Kelley O'Hara, the Sky Blue defense does have experience in that backline but it will be up to the likes of Mandy Freeman and Kayla Mills to stop passes getting to Press in their own area.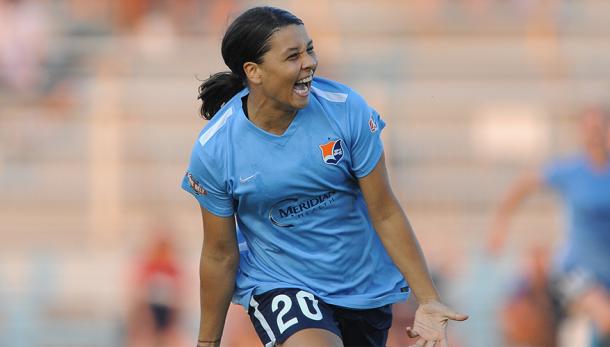 The same can be said for Sky Blue FC when it comes to who makes things tick for them. Chicago has Press while the New Jersey side has Australia's, Sam Kerr. If her performance against the Portland Thorns last weekend was any indication on how Kerr is finding her feet again this season, then defenses in the NWSL need to be on red alert. The back to her very best after her long layoff due to injury. Kerr has a speed that almost no defender in the NWSL can keep up with and her clinical finishing in front of goal has improved this season, making her one of the more dangerous attackers in the league. Kerr has also developed her game intelligence and is able to pick out her teammates with a great pass more often than not. Her performance last weekend also earned her NWSL Player of the Week honors and she will look to keep such a high standard going and help her team get into the playoffs if possible.
Where Chicago has struggled and thus dropped points because of it, is what happens when Press has a bad day. The rest of Chicago's offense has stuttered or become non-existent this season so much so that if Press is unable to find the back of the net, or influence play, no else seems to be able to change the game for Chicago in front of goal. What that has led to is pressure on the Red Stars defense to try and keep other teams from scoring, and even though they have a good defense, two clean sheets all season for goalkeeper Alyssa Naeher is not good enough for a team with Chicago's quality. The entire team has to do more to put goals into the back of the net if they wish to go further than a semi-final berth in the NWSL playoffs. relying on Press to be a one-woman show will not be enough in the business end of the season and players like Sofia Huerta and Vanessa DiBernardo need to find form in order for Chicago to be at their very best.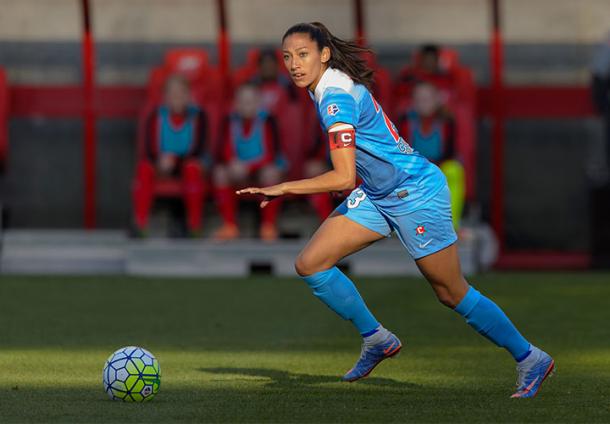 When it comes to what Chicago does best, the answer is keeping the other team from scoring and making sure that Christen Press gets touches on the ball in and around the opponent's penalty area as much as possible. Press' qualities are well-known by now but that does not stop her from being able to produce game-winning or game-saving moments when needed by her team just as she did last weekend against the Spirit. The US international has four goals and two assists so far this season but she has also been directly involved in six of Chicago's last nine goals. Press' influence on the team cannot be overstated and they will need her again against a stout Sky Blue defense.
Since the inception of the league, the Chicago Red Stars have not lost to Sky Blue FC in ten meetings but at home, the Red Stars have only managed one win and four draws against their opponents this weekend. The Red Stars had a poor outing last week when they picked up a 1-1 draw against the Washington Spirit in front of their home fans while Sky Blue put on a fantastic performance to get a 3-1 away to Portland Thorns FC. In short, these are two teams who will be looking to get a win to either re-establish their momentum or in order to keep a good streak going.
Hello everyone and welcome to VAVEL USA where I, Kudzi Musarurwa, will be covering the last game of this weekend in the National Women's Soccer League. The Chicago Red Stars host Sky Blue FC and will be hoping to collect all three points.