 During the Chicago Red Stars versus Sky Blue FC match on Sunday, Danielle Colaprico, the Red Stars midfielder, went down in the 74th minute favoring her right ankle after she was running up the middle as Chicago made a run on the outside towards the Sky Blue FC goal.
The injury required the trainer to come onto the field to assess the injury, and Colaprico was assisted off the field not putting any weight on her ankle. Taylor Comeau, who had suffered a lung contusion a week prior, entered the game in her place in the 76th minute. Chicago went on to win 2-1.
Colaprico, the 24-year-old University of Virginia alum, has played a vital role in the Red Stars' success this season as an outside attacking midfielder, creating more opportunities for Chicago's forwards and assisting the back line when needed. Chicago is in second place in the NWSL standings, four points behind first place North Carolina Courage. Colaprico has started every game this season, including 50 straight NWSL matches for Chicago.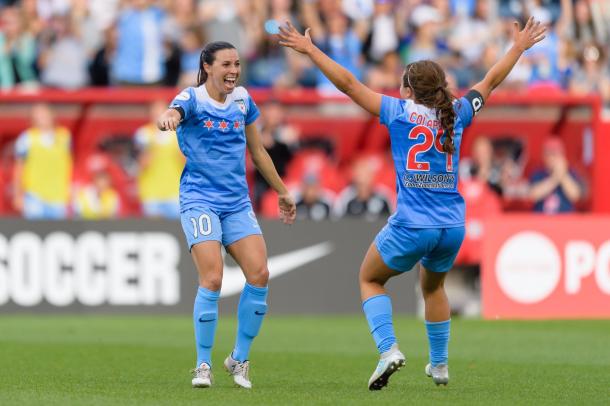 On Monday, the Red Stars announced that Colaprico had suffered a sprained right ankle, easing fears that it could be a more serious injury considering how Colaprico left the field unable to bear weight on her leg. The Chicago club did not give further information on how much time, if any, Colaprico would miss. However, with three games in a seven-day span, it wouldn't be a surprise if Chicago limits her playing time to allow her ankle to fully recover. Chicago is on a seven-game unbeaten streak, and they travel to Seattle for a matchup against the Reign for a mid-week game on Wednesday.
After the match, on crutches and wearing a walking boot, Colaprico went back out to sign autographs for the fans.