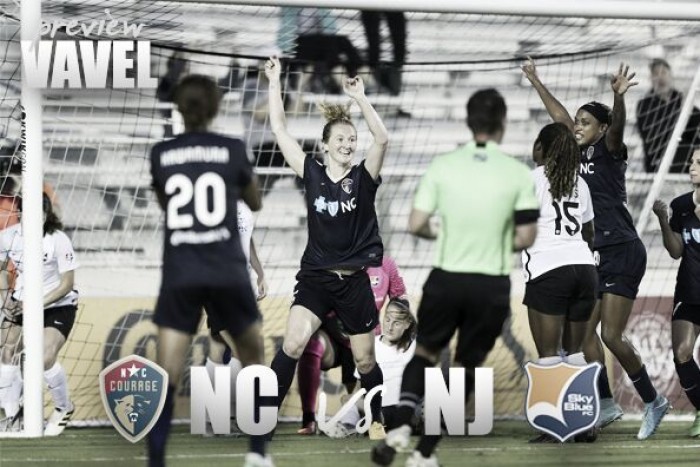 The North Carolina Courage and Sky Blue FC will meet for the second time in Cary, North Carolina for this Week 12 Lifetime Game of the Week. The first time they met, the Courage were able to grab three points on their home field with a shutout against the New Jersey team. Going into this game, Sky Blue is coming off a midweek loss in New Jersey against the Orlando Pride. The top-ranked Courage was one of two teams (the other being the Washington Spirit) who did not play a midweek game.
Courage's High-Powered Offense
NC's offense will prove to be another test for the mostly young Sky Blue defense. In the first meeting, Kailen Sheridan, rookie goalkeeper out of Clemson, tallied a record 11 saves, the most in the history of Sky Blue's time in the NWSL. The Courage leads the league in shots on goal and are second in the league for most goals scored. With speedy and determined scorers like forwards Lynn Williams and Ashley Hatch, who both have three goals apiece this season, North Carolina has proved to have a ruthless attack. Although the Courage has lost three games this season, they are the only team left in the league that has yet to be shutout.
Sam Kerr's Impact
For New Jersey offensively, Australian forward, Sam Kerr has no doubt made an impact on the success of Sky Blue this season. She's the player with the highest amount of shots on goal and is ranked third in goals scored in the league with five so far this season. Recently, Kerr has certainly made her presence known on the field. Against the Portland Thorns on the road, she scored two goals and helped Sky Blue become the first team to beat the Thorns at Providence Park all season. On Wednesday night against the Pride, Kerr showed her skills once again as she scored using a bicycle kick off a pass from another heavy attacking presence, Maya Hayes, to give Sky Blue the lead in the 46th minute.
Against the Courage in Week 7, Kerr made an appearance in the 55th minute. The NWSL Player of the Month for May tried to create chances in the box, but she was quieted by North Carolina's defense and held scoreless. Since that first Courage vs Sky Blue match-up, Kerr has scored four goals in five games. She looks to continue this torrid scoring pace and make quite the impact in Cary on Saturday.
One of the keys to success for victory for Sky Blue in WakeMed on Saturday will be their ability to match the high-intensity, high-energy pace of the top-ranked team in the NWSL. The Courage, having fallen at home just once in 2017, will need to shut down the quick counters and attacks that have made Sky Blue a fierce competitor all season. This Lifetime Game of the Week should definitely be worth the watch.