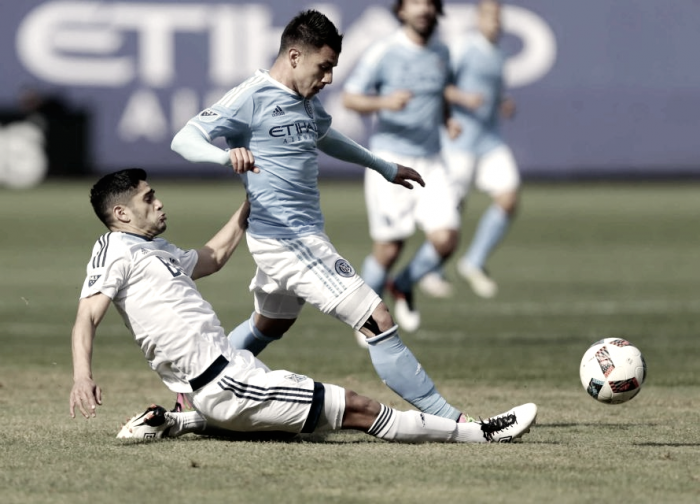 New York City FC will be heading up to Vancouver to face the Whitecaps for the club's third meeting of all time. NYCFC have gotten the better of Vancouver on both occasions in the past. In the two games, David Villa has scored three goals against the Canadian side including a scissor kick in the Yankee Stadium meeting last season.
NYCFC is looking for a club record fifth straight win and Vancouver are hoping to end a three-game winless streak.
Team News
Vancouver Whitecaps: Both teams will be missing a collection of players through injury and international duty. Four of the missing players for the Canadian side will be through international duty. Sam Adekugbe, Marcel de Jong, Alphonso Davies and Russell Teibert will all be missing the game as they have all been called into play with the Canadian national team.
Brett Levis will continue to miss time with his ACL injury and will not be alone as David Edgar (PCL, MCL tear) will also be sidelined. Kendall Waston whose injury is not quite as long-term will also be forced to the sideline as he continues to recover from a left hip strain.
Erik Hurtado, Nicolas Mezquida, Yordy Reyna, Christian Bolanos and Christian Dean are all listed as questionable with various injuries. Matias Laba was shown a red card after a nasty challenge on a Chicago Fire player in the club's last game and will miss this game through suspension.
New York City FC: While Vancouver is missing plenty of players, they will not be alone. Khiry Shelton is still recovering from a hamstring injury and will welcome back an old friend from the injury list as Ronald Matarrita picked up an injury vs Minnesota in the clubs last match and will likely be out for a lengthy period.
Three players will join their national teams as Miguel Camargo joins Panama, Sean Johnson earned a spot back on the USMNT roster and winger Rodney Wallace finds himself with the Costa Rican national team.
The newest NYCFC DP, Maxi Moralez, is listed as questionable. Maxi picked up an injury in the U.S. Open Cup game against the New York Red Bulls. The NYCFC playmaker has missed three games since the injury occurred but is hoping he'll have an impact on Wednesday in Vancouver.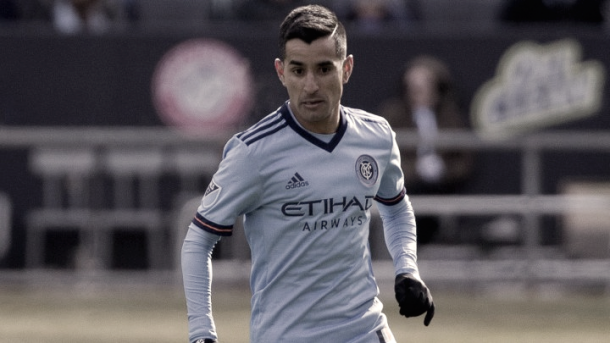 Key Facts
NYCFC's +13 goal differential is the second best amongst all clubs in MLS and they'll be hoping to improve that even more on Wednesday. David Villa continues to score goals and fight hard for his team. The NYCFC captain showed his class by scoring a wonderful goal against Minnesota less than a week ago proving age is not a factor for him. Despite scoring his 11th goal of the season, Jack Harrison is not far behind. The young Englishman has already scored eight goals which is double his tally from last season. The increase in Jack's goal output is taking the heavy load off of David Villa's shoulders and the side looks more dangerous every game they play together.
While NYCFC is in great form, Vancouver are not enjoying the same spell. The Whitecaps are winless in their last three games and are hoping they'll be able to turn things around against a tough NYCFC team despite never beating them before. A win for NYCFC could also see them head into the break as second place in MLS. Both sides will feel they desperately need the three points for different reasons on Wednesday.