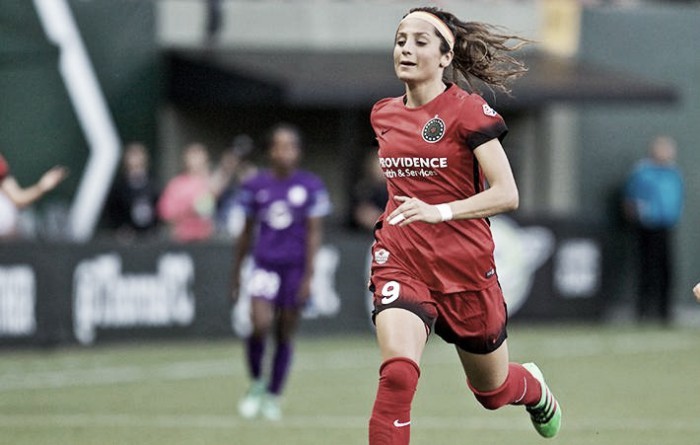 As a kid, Nadia Nadim had a dream to one day be a Nike Athlete, part of the Nike family of athletes who Nike sponsors to use and promote their products, athletes Nadim once looked up to playing in Nike soccer cleats. This week, in an Instagram post, Nadim announced that her dream had come true, becoming the first female player from Denmark to sign with Nike.
In the announcement, Nadim used the hashtag #startedfromthebottomnowwehere to add significance to the news, recognizing her roots as a native of Afghanistan to living as a refugee to becoming a Danish citizen to life as a professional soccer player.
Nadia Nadim was 12 years old when she escaped war-torn Afghanistan. Her father, a general in the Afghan army, was murdered by the Taliban. Devastated and frightened, her mother realized that their home country was not safe, nor that it could provide a future for her five young daughters. Women in Afghanistan, under Taliban rule, were not allowed to work or seek an education, and sports for women were unimaginable. Still, her father introduced her to soccer, and Nadim would kick the soccer ball in her family's backyard in Kabul that was protected by high walls, but any evidence of her playing a sport beyond those walls was dangerous for her since it was forbidden by the Taliban.

Nadim's mother hired a human smuggler to get them out of the country to England where the family had relatives living there. Instead, they ended up in a refugee camp in Copenhagen, Denmark. At the refugee camp, as she and her family waited for a decision on their future, Nadim learned to play soccer with other refugee children, and there she fell in love with the Beautiful Game.

"We were just out and running after that ball," she told ESPNW in a 2014 interview. "I think that's how we improved our skills. We didn't, like train, we just played, having fun. That's the best way to learn."
The Nadim family settled in Denmark, offering Nadia the opportunity to freely play the sport that would have been highly forbidden for her in her home country. A coach from a soccer club invited her to play on his team. From that moment, Nadim's career as a soccer player began, even if it wasn't her initial goal.

"For me, at that point, it was just a game. I wasn't analyzing. It wasn't like it was my way to cope with the problems or the stuff I've experienced. I've never thought about that way. It was for me – I just had fun. It made me happy. That was the best thing I knew at that point," she said in that 2014 ESPNW interview.
The sport that brought her so much joy led her to play professionally for women's teams in Europe, including B52 Aalborg, Team Viborg, IK Skovbakken, and Fortuna Hjørring. In 2008, Nadim was granted Danish citizenship. However, FIFA eligibility rules, ones that required Nadim to be a resident in Denmark for five years after turning 18, blocked her from officially playing on the national team. The Danish Football Association (DBU) challenged FIFA to make an exception to the rule for Nadim, which they eventually did.

Nadim made her national team debut in the 2009 Algarve Cup against the United States, becoming the first naturalized Dane to play for the senior national team. Since then, Nadim has earned 66 international caps, scoring 19 goals for Denmark. This summer, Nadim will join Denmark for the UEFA Women's Euro 2017.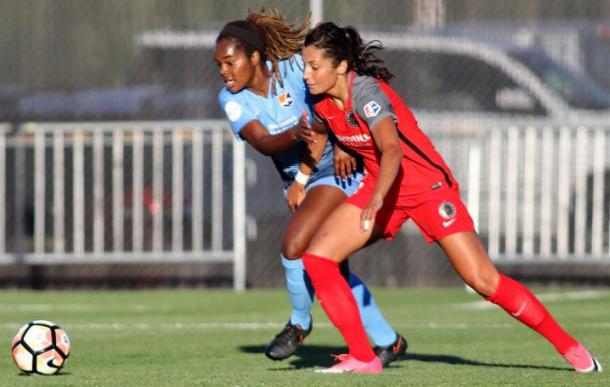 In 2014, Nadim made her way to the National Women's Soccer League (NWSL) on a midseason loan joining Sky Blue FC. She scored seven goals in six games. After two seasons with the New Jersey club, Nadim was traded to Portland Thorns FC before the start of the 2016 season. Joining the ranks of Tobin Heath, Allie Long, Christine Sinclair, and Meghan Klingenberg, Nadim finished the season as the team's top scorer. Portland won the 2016 Shield (the team with the season's best record) and came within one game of playing in the NWSL Championship.

This season, Nadim has played in nine games, starting in eight and scoring 4 goals for the Thorns.

And if a soccer career was not enough, Nadim also balances medical school at Denmark's Aarhus University. Dreams do indeed come true.