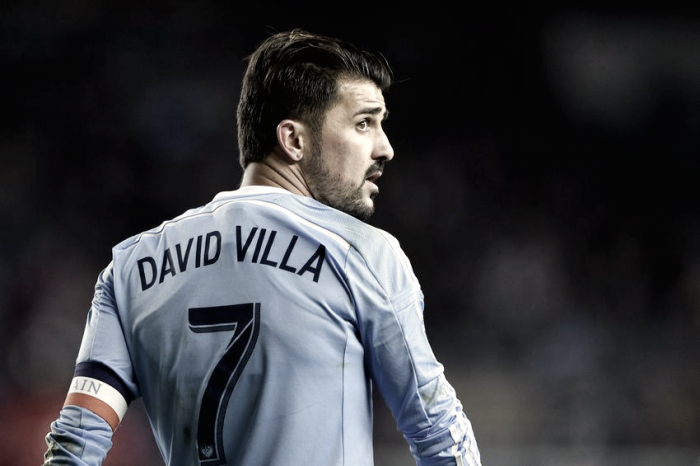 New York City FC's captain David Villa continues to impress people as he has done his entire career. Since arriving at NYCFC for their inaugural 2015 MLS season, he hasn't stopped scoring and June 2017 was no different. Scoring three goals in four games may not surprise anybody who has kept an eye on the 2016 MLS MVP in his MLS career, but thats not all he did. David Villa captained his side to four wins in four MLS games and does not show any signs of slowing down.
Scoring goal number 50
David Villa became the fifth fastest player in MLS history to hit the 50 goal milestone when he scored two goals against the Seattle Sounders on a rainy day in New York City. David Villa grabbed his first goal of the game when he converted a penalty shortly after the second half had begun to draw things level. After dominating for most of the game, David Villa and the rest of his NYCFC teammates didn't want to go home with just on point. David Villa grabbed his second goal of the match when Jack Harrison delivered a perfectly weighted ball to the back post where David Villa was left alone and made no mistake.
While two goals is impressive on it's own, it is even more impressive he he did it. Trailing at halftime in a game where the entire team was getting unlucky, they could have rolled over and accepted defeat but that's not what David Villa does. The NYCFC captain led his team out onto the field and equalized things quickly to get his side back into the game. The most impressive thing about David Villa is his desire to win and it was displayed excellently vs Seattle. Making tackles at midfield to win his side possession is not something a striker has to do, but it is something David Villa does.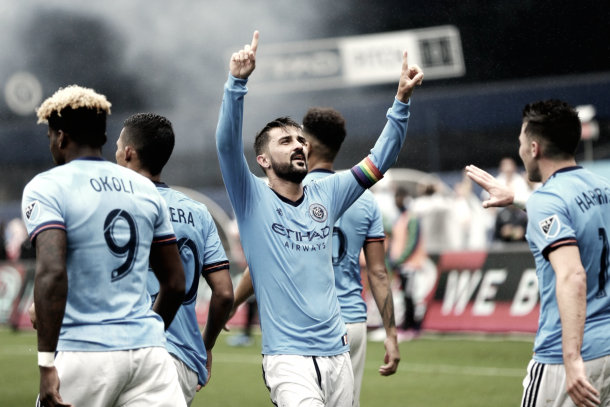 No signs of slowing down
Since grabbing goal number 50 against Seattle, David Villa and his entire NYCFC side don't have any desire to stop what they have started. David Villa himself added to his goal tally since the Seattle game. El Guaje showed his class with some phenomenal dribbling leading up to a fantastic far post finish vs Minnesota to end June. This goal was the last goal in a 3-1 win which sealed the teams fourth straight victory in MLS play.
This goal was David Villa's eleventh of the season to go along with his six assists. The addition of Rodney Wallace and the increase in Jack Harrison's goal output has allowed David Villa to become more of a creator for his side at times. While his six assists may not seem like a lot, it is two off of his MLS career high and the season is just beyond the halfway point. David Villa and the rest of his teammates will hope to carryout their good form for the rest of the season.
What's next for David Villa?
David Villa will head to Vancouver in hopes of starting July right similarly to how June ended. Following the Vancouver game, NYCFC will have a two week break before facing off against second place Toronto FC in a showdown between some of the leagues best. Following the match against Toronto, they will welcome league leading Chicago Fire. Following the two games after the break the club could see themselves at the top of the MLS standings.
Being the team player that he is, David Villa will do whatever it takes to help his side reach the top of the standings rather than focusing on himself reaching the top of the Golden Boot race.