 At the start of this season, the consensus about the Timbers was that they were a team that was going to score a lot of goals, but that they were shaky enough at the back that all those goals would be needed in order to win a few games. What nobody counted on - what nobody ever counts on - is the sheer volume of injuries that the Timbers would have to deal with this season, a toll that ultimately cost head trainer Nik Wald his job.
But even with all those injuries, and the patchwork lineups that result from them, the Timbers aren't terrible. Sure, they're frustrating, and they've dropped a ton of points they shouldn't have dropped (they're winless in five and two of those five were losses to the two worst teams in MLS), but there are some small green shoots of a good team in this mess.
That said, the Timbers, injury- and international callup-decimated, are definitely a mess. Starting Ben Zemanski is never ideal, and the CDM partnership of he and the out of position Darlington Nagbe doesn't inspire a whole lot of confidence. But you know what? They did a job. As did the rest of the Timbers.
Similar to last week against Sporting Kansas City, the Timbers were written off before this game even started by a lot of people, and they came out in the first half like they had something to prove. And for most of the first half, and a good bit of the second, the Timbers were in complete control of the game. They denied the Fire space, shut down their passing lanes, and never really looked like they were troubled by the most rampant team in MLS right now.
But in each half, there was one moment. There's always one moment. That's the story of the Timbers in 2017; good performances that surround one or two moments of complete idiocy that negates any of the good work that gets done.
THE GOOD
Discipline. As mentioned, this patchwork, thrown-together Timbers team did a fantastic job denying Chicago their game. They only had one shot on goal in the entire first half, a shot from well outside the area from Arturo Alvarez which unfortunately caught goalkeeper Jake Gleeson a little flat-footed (he was probably expecting the ball to come off Nemanja Nikolić), but which both Sebastian Blanco and Vytas should have closed down before it was a threat.
Possession (aka control). Possession is one of the most misunderstood and misused stats in the game. What people refer to as "possession" is generally pass volume, or a comparison of passes attempted by one team as compared to the total passes in a game. The underlying principle - the more you have the ball, the better - is right, but using "possession" to measure it doesn't really work. But still, the Timbers bossed the game in the first half, to an extent that I didn't think a largely reserve-at-the-back lineup could.
Sebastian Blanco. He's finally looking 100% comfortable, and his blistering goal in the second half cemented his status as the viable alternative to Fanendo Adi and Diego Valeri that the Timbers' attack desperately needs.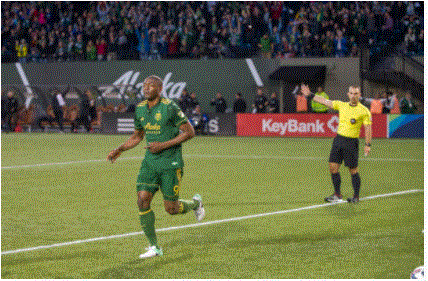 THE BAD
One (un)shining moment. Caleb Porter called the game the Timbers' "best performance of the year". In a game that featured two goals given up thanks to some very shaky defending, though, I would dispute that characterization rather strongly. This game continued the trend of the Timbers seemingly controlling everything and then being the agents of their undoing by switching off, even for a second, in their defensive coverage.
Until the Timbers can sand off those rough edges, they'll struggle to earn points they should be banking. Three points from their last five games isn't good enough, and until they fix those moments of switched-offness, they'll continue to be not good enough.
Finishing. Fanendo Adi scored the Timbers' first goal, but he probably should have had three; he had several quality shots that were either straight at Fire keeper Matt Lampson or just wide of the bar. His final effort was a goal that was correctly disallowed for a two handed shove on a Fire defender that created the space for his header. Eight shots, one PK goal; every striker goes through streaks like this, but if Adi converts even one of those shots, this recap is written very differently.
THE UGLY
Honestly, not that much. On a beautiful night in Portland, the Timbers, who dressed 17 players for this game, took a point off the hottest team in MLS right now. Apart from the issues above, there's not much to complain about. The Timbers just gotta start getting three points instead of one.