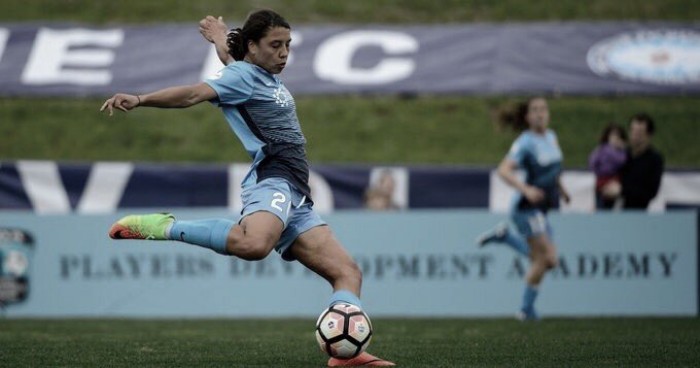 Sky Blue FC was able secure a win against FC Kansas City for their 100th regular season game, the most of any other team in the NWSL. The New Jersey team came back late in the second half to obtain their fourth win at home this season. Goals from Katie Bowen (29') and Christina Gibbons (42') had Sky Blue going into the locker room at halftime with a two-goal deficit to the eighth-ranked team in the league. 
FC Kansas City's Stellar Start
In a back and forth battle in the early minutes of the game, both teams seemed easily matched. Either side engaged in offensive plays that led to close chances. Sky Blue had a chance for an early lead when they were awarded a free kick off a hand ball from Desiree Scott just outside the 18 yard box, but Kelley O'Hara shot it barely over the cross bar. The game remained scoreless until the 29th minute when a deflection off Sky Blue goalkeeper, Kailen Sheridan, laneds at Gibbons's feet who laid it off to Bowen who then scored her first career goal with a missile from about 20 yards out. From there, FC Kansas City remained in almost constant possession in their attacking third, leaving Sky Blue with scarce opportunities to tie the game. In the 42nd minute, Gibbons continued to make an impact as she shouldered off not one, but two defenders to take a shot at Sheridan, who got a piece of the ball but not enough to send it away. FC Kansas City then went up to a two-goal lead against the home team. 
Ready, Set, Kerr!
Despite having given up possession and ending the half maintaining only 50% of control, everything seemed to be going Kansas City's way. That is, until three minutes into stoppage time of the first half. Kansas City forward Shea Groom was issued a red card after she and Erica Skroski got into a brief scuffle that started after a dangerous defensive effort from Skroski which earned her a yellow card. 
Kansas City played the entire second half a player down, and they started to switch their efforts to a more defensive approach in order to maintain their lead. Meanwhile, Sky Blue began the second half with a very frantic attack strategy, where they focused on moving the ball up the field and maintaining possession with the goal in mind to create scoring chances. Throughout the game, Kelley O'hara, who started as an outside back, continually moved up the field until she regularly found herself in line with attacking midfielders. This attacking mindset came in handy in the second half, as O'Hara created a majority of the chances that could've put Sky Blue on the board. One of these chances she created included a wide open net available to forward Maya Hayes, who attempted to lay the ball off into the net but a goal line save from FCKC defender, Becca Moros, kept Sky Blue down two goals. Despite constant near-perfect defensive placement from the visiting team, Sky Blue kept pressuring offensively until it paid off in the 78th minute. A beautiful cross from O'Hara sent the ball directly to the head of none other than Sam Kerr, who met it in a diving header that sends it right past Kansas City keeper, Nicole Barnhart. Not only did this goal give Sky Blue a point and some energy, but this goal also left Kerr tied with the North Carolina Courage's Jessica McDonald for all-time goals scored in the NWSL. But she didn't stop there. In the 82nd minute, Kerr tied the game up with her second goal off a perfect pass from Daphne Corboz. The goal gives Kerr the title of the all-time leading goal scorer of the NWSL. 
As the second half drew on, Sky Blue continued their attacking pressure in efforts to score one last goal to win the game. Kansas City converted their focus to strictly defense, trying to come away from the match with at least a point for the week. Though almost every single Kansas City player remained in their defensive third, Kerr was able to produce one more goal in the 90th minute off a sliding pass from Taylor Lytle.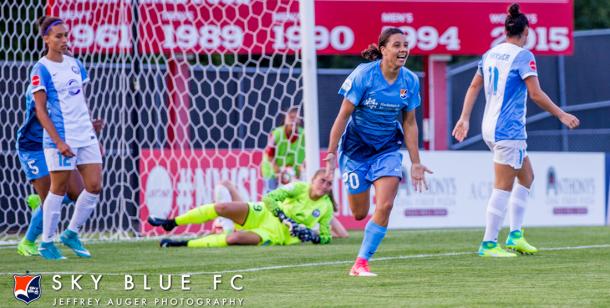 Sky Blue, through constant effort and tireless pressure, were able to come off of Week 12 with three points and motivation that will be important as they gear up to face the Chicago Red Stars in Week 13. FC Kansas City fought hard the whole match but weren't able to clinch the win in New Jersey. They will be on the road again next week, looking to win an away game for the second time all season. Though Sky Blue was able to come away with the victory, both teams proved that they wanted the three points, and it resulted in one of the most exciting matches of the season.