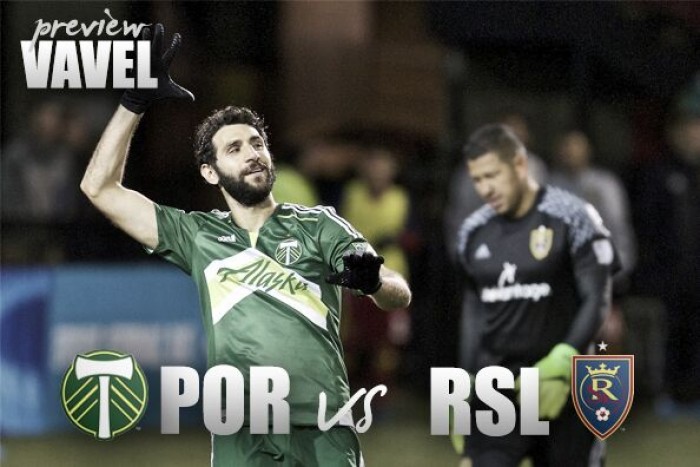 After two weeks off for 2017 Gold Cup matches, MLS returns midweek with a full slate of games, including the Portland Timbers, who start the business half of the 2017 season (well, slightly less than half, but you get the point) welcoming Real Salt Lake to the Rose City.
I would love to be able to tell you that the Timbers have spent the break getting fully healthy and ready to charge back up the table, but I can't; it's only been two weeks, and the Timbers are still as injury-hit as they were a couple weeks ago. Diego Chará is still questionable, and with David Guzmán still away on Gold Cup duty, the defensive side of midfield is, to be generous, very thin indeed.
HEALTH AND OTHER ABSENCES
The Timbers did recently sign a defender, Larrys Mabiala, but what we don't know is if he's match fit or not. His season in Turkey ended a couple months ago, so he's not starting completely from zero, but he did get a break after the season and thus he's been working his way back into 90-minute fitness since joining the Timbers.
With Darlington Nagbe, Darren Mattocks and Guzmán all off on international duty, and with Liam Ridgewell, Chara, Nick Barmby, and Amobi Okugo hurt, the Timbers will be running out their sadly-becoming-usual patchwork quilt of backups, out of position guys, and other depth pieces on Wednesday night. The good news is that Lawrence Olum, one of those depth pieces, has actually been one of the Timbers' best defenders this year, so at least at one position, there shouldn't be too much panic.
TRANSITIONS
Most years, the arrival of Nick Rimando and the rest of the RSL team in Portland would be cause for panic - there were a lot of seasons where RSL had the Timbers' number, and even in Portland it seemed that getting a result against the most unsung goalkeeper in MLS if not the world was never going to happen.
This, however, is not most years. RSL is having a decidedly down year this season, and they're currently in 9th place on 20 points. Their defending has kind of deserted them this year, which is the same problem the Timbers have had, but when you only score 23 goals in 20 games, if you can't keep a few shots out you're not going to succeed. And RSL can't.
They've conceded more goals this season (40 in 20 games, 2 goals/game) than every team except Minnesota United (42 in 19, 2.21), and those two teams are seemingly in a race to see who can break the record of the 1998 Colorado Rapids, who allowed in a nice 69 goals in their 1998 season (32 games, 2.16 g/gm).
So, given that this game features two teams that can't really defend but only one that can score, I expect the final score to be somewhere in the neighborhood of 6-2 Timbers.
TEAM NEWS/LINEUPS
As mentioned, the Timbers have a bunch of absences from both injuries and call-ups. RSL is also a bit short, but like the Timbers, they might be introducing a new CB into their team - 28-year-old Marcelo Silva, late of Real Zaragosa. As with Mabiala, whether Silva plays will depend on his match fitness - since joining RSL, he's only had training and some friendly appearances, so he may not be 90 minutes ready either.
TIMBERS:
Gleeson; Farfan, Mabiala, Miller, Valentin; Zemanski, Olum; Blanco, Valeri, Asprilla; Adi
RSL:
Rimando; Phillips, Maund, Glad, Beltran; Beckerman, Mulholland; Plata, Rusnák, Savarino; Movsisyan
WHAT/WHERE/WHEN/HOW
Timbers vs. Real Salt Lake
Providence Park, Portland
Wednesday, July 19, 2017
7.30 PM PT/8.30 PM MT
PDX: Root Sports
SLC: KMYU
Streaming: MLS Live (subscription, blackout rules apply)
Referee:
Baldomero Toledo