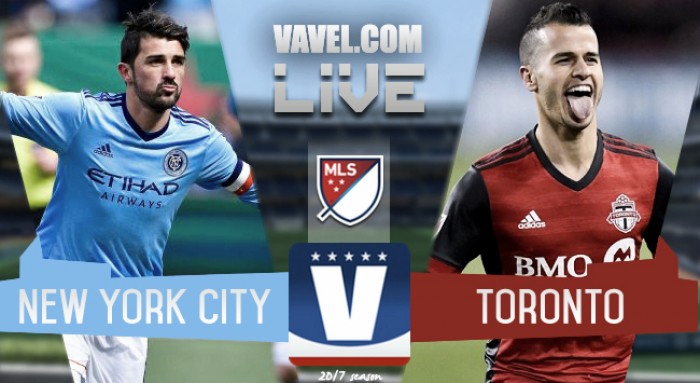 New York City FC 2, Toronto FC 2.
Full-time: And that's the end of this one. Toronto find a second goal late in the game to come away with a point. Full credit to them for not giving up after all the drama in the early part of the second half but Patrick Vieira will not be happy with how his team allowed Toronto to dominate the game with 20 minutes still to go in the match.
90+4' NYCFC win a free-kick which Villa takes quickly to Harrison. The forward chips the ball into the box but it's easy for Bono to collect.
90+2' YELLOW CARD: Allen got a yellow card for dissent in the aftermath of that call.
New York City FC 2 - 2 Toronto FC
The midfielder sends Johnson the wrong way and his penalty comes off the post and in to bring Toronto back into this game.
90+1' GOAL! Vázquez brings Toronto level late in the game!
90' PENALTY! Toronto come forward again and Hamilton makes a great first touch before being brought down by Allen in the box. Victor Vázquez stands over the penalty.
88' Edwards has been inspired since he came on and he uses his pace to get by White but he can't quite pick out Vázquez. Mavinga then fouls Villa and NYCFC get some respite.
87' Vázquez punts the ball into the box from a free-kick that Moor gets to but he can't control the header and it goes out for a goal kick.
85' SUBSTITUTION: Ethan White comes on for Morález.
83' Edwards holds off Chanot and fires off a shot but it's straight at Johnson.
81' CHANCE! Villa plays Herrera through and somehow, he can't quite sort out his feet enough to lift the ball past Bono. The goalkeeper smothers the ball and the chance disappears.
81' Toronto are having the majority of the possession now but haven't made it count yet.
76' Toronto are threatening now as Edwards is finding a lot of space on the left hand side. This time he passes to Vázquez who lays it off for Chapman but his shot hits Hamilton and goes out for a goal kick.
75' Edwards wins a free-kick which Vázquez sends towards the far post. Alseth gets the rebound but he sends his cross straight out of bounds.
73' SUBSTITUTION: Mikey Lopez comes in for McNamara as NYCFC's first change of the game.
72' CHANCE! Toronto build up a great attack and Cheyrou takes a pop at goal but it goes just wide of the far post.
71' SUBSTITUTION: Raheem Edwards replaces Morgan as Toronto's third change of the game.
70' YELLOW CARD: Morgan also gets a yellow card for fouling Morález during the build up to the previous NYCFC attack.
69' A Toronto defender is down and getting some treatment now. It's Morgan who is getting a cut on his forehead looked at.
68' The home side break forward quickly again and Harrison tries his luck from the top of the box but it goes over.
65' NYCFC break with Harrison but his ball towards Villa is cut out by Mavinga.
62' Oh that was close! Morgan and Cheyrou combine on the left flank and Cheyrou sends the cut back towards the substitute Hamilton. The ball comes off of Johnson and deflects onto Hamilton and out for a goal kick, just missing the near post.
61' SUBSTITUTION: Jordan Hamilton comes in for Spencer who should've put his team ahead.
59' The disallowed goal clearly swung momentum back in NYCFC's favour so it'll be interesting to see how Toronto deal with all of this.
New York City FC 2 - 1 Toronto FC
The home side break quickly and Villa takes two defenders with him before finding Morález unmarked in the box. The midfielder doesn't make a great first touch but his shot comes off of Chris Mavinga and Bono can;t adjust quickly enough to the deflection to stop the ball from going in.
56' GOAL! Morález makes it two for NYCFC!
55' NYCFC attack with Morález but Toronto deal with the threat well.
There will certainly be plenty of discussion over Jorge Gonzalez' performance tonight. A questionable call on a first half penalty not given to NYCFC and now taking away a goal from Toronto which, even after replays, seemed like a good goal.
51' The drama continues off the field now as Gonzalez sends Greg Vanney to the stands! That seems harsh as Vanney had every right to question that decision but it seems as though the fourth official didn't like his line of questioning and Gonzalez has sent him away from the bench.
49' GOAL DISALLOWED! NYCFC had had the majority of the possession at the start of the second half but Alexander Callens gave the ball away to Cheyrou who pushed forward. He finds Ben Spencer who makes a hash of his header with an open net in front of him but it comes off Chapman and into the net. Jorge Gonzalez gives the goal at first but after a discussion with his linesman, the goal is disallowed. That is a tight, tight call!
46' The second half starts with Toronto beginning proceedings.
Half-time: That goal had been coming for NYCFC and it's fitting that it's David Villa who finds a way past the Toronto backline. Game on in the second half!
New York City FC 1 - 1 Toronto FC
The NYCFC captain rides a few challenges and loses the ball but it falls kindly to Harrison. Harrison then passes it back to Villa at the top of the box and he finds the bottom corner at the near post to level things up here.
45+2' GOAL! Villa makes the breakthrough for NYCFC!
45' Alexander Ring takes his chances from outside the box and it goes narrowly over the crossbar.
43' CHANCE! Now it's Vázquez' turn to miss a golden opportunity! Cheyrou dinks the ball over the top of the NYCFC defense and the Spanish midfielder is one-on-one with Johnson but can't beat the goalkeeper.
42' Harrison gets to the byline well again and he cuts the ball back towards Villa but Hernandez puts in a great tackle to stop Villa from getting his shot away.
40' SUBSTITUTION: Giovinco's night is done and Jay Chapman comes in.
39' CHANCE! And now Harrison misses a perfect opportunity for the home side. The Englishman gets onto a long ball behind the defense and gets a small tug from Moor but still gets his shot off. Bono gets down quickly to make the save and keep Toronto ahead. If Harrison had gone down it would've been a penalty and Moor could be headed to the locker room right now.
36' Play has resumed after Giovinco received some treatment after getting a knock during that opportunity.
34' CHANCE! Giovinco misses a guilt-edge chance for the visitors! Cheyrou plays a great diagonal ball out to Morgan and he squares the ball on the volley to Giovinco. The Italian skies his shot well over the bar from close range.
34' YELLOW CARD: Bono picks up the third card of the game for time-wasting.
33' CHANCE! Sweat breaks forward and cuts the ball back for McNamara but he can't quite stretch far enough to make clean contact on the pass and the chance goes begging.
31' Herrera goes in hard on Morgan and concedes a free-kick in midfield. No further consequences for the midfielder though.
28' CHANCE! R.J. Allen plays a poor pass that Giovinco picks up and aims towards goal but Sean Johnson gets up into the air well to parry the effort away.
26' Villa takes the set piece and tries to go low but the wall stands firm and concedes a corner.
25' YELLOW CARD: Moor earns a yellow card for that foul.
25' Villa chips the ball for Harrison to get onto in the box but the forward is pushed to the ground by Moor and NYCFC have a great chance to score from a direct free-kick.
24' YELLOW CARD: McNamara is the first name in the referee's book tonight after a foul on Drew Moor.
23' CHANCE! Bono makes a huge block to stop McNamara from equalizing! Harrison takes his man on and tries to feed Villa at the far post. The striker manages to put the ball back into the box where McNamara takes a shot but Bono is there to keep his clean sheet. McNamara then sends the follow up off the post and Toronto survive a big scare.
21' Harrison finds Villa near the penalty spot but the Spaniard slips and can't get any contact on the shot. That was a great opportunity for the home side.
21' NYCFC are pushing forward but they have yet to test Bono in Toronto's goal.
19' Villa is next to try and test Bono from a long way out but it goes wide of the target.
18' Now NYCFC push forward and eventually the ball falls to left back Ben Sweat who rips one in from outside the box but it goes straight to Bono and the goalkeeper makes an easy save.
17' Toronto push forward and Sebastian Giovinco takes a shot on goal but it goes well wide.
16' Villa tries to combine with Thomas McNamara but nothing comes of it. The ball finds it's way back to Villa and he feeds it to Morález who goes down in the box but the referee waves his appeals away.
14' NYCFC try to get one back quickly as Yangel Herrera sends in a cross but it's headed out by Hernandez. The corner kick comes to nothing again for NYCFC.
New York City FC 0 - 1 Toronto FC
Oyvind Alseth loses Jack Harrison and gets to the byline with the ball. He cuts it back and finds Morgan arriving late at the far post and the midfielder tucks it away with ease.
12' GOAL! Ashton Morgan gives Toronto the lead!
9' CHANCE! Maxi Morález wins the ball off of goalkeeper Alex Bono. The midfielder tries to pick out a teammate in the box but the cross is deflected out for a corner. The corner is cleared away well by the Reds' defense.
8' Villa presses his defender well and wins the ball deep in Toronto's half. Jason Hernandez makes a good tackle and wins the throw-in for Toronto.
6' David Villa is all alone in space after a long ball over the top but he's called back due to an offside decision.
6' Marco Delgado has the first shot of the night but it goes over the crossbar from a long way out.
5' As I say that, Benoit Cheyrou gives the ball away cheapily and gives up a foul in midfield. Toronto manage to clear away the resulting attack and regain possession.
5' Neither team has built up any rhythm yet as both teams are giving away possession cheaply.
1' NYCFC start us off!
Kick-off is only minutes away here now.
Toronto FC Starting XI (3-5-2): Bono; Moor, Hernandez, Mavinga; Alseth, Delgado, Cheyrou, Vázquez, Morgan; Spencer, Giovinco.
New York City FC Starting XI (4-3-3): Johnson; Allen, Chanot, Callens, Sweat; Morález, Ring, Herrera; Harrison, Villa, McNamara.
The starting lineups are in and as follows:
Good evening everyone and welcome to the return of MLS action tonight! The East have a great show on hand for us all as New York City FC host Toronto FC in a key match for not only bragging rights, but the opportunity to take a big step towards earning the Supporters Shield this year.
New York City FC 2, Toronto FC 1.
Prediction: With so many players missing due to international duty and injury, Toronto has a task ask ahead of them to win at Yankee Stadium. Giovinco will be key to anything they do and if they can get the Italian involved regularly in their attack, they could pick up at least a point here. NYCFC have the stronger lineup, on paper, and will look to take advantage of all the missing personnel in Toronto's ranks at this point in the season. A win for the home side will take them closer to the top of the conference so I expect them to go all out for the three points and manage to do so.
Projected Lineup for Toronto FC: Bono; Zavaleta, Moor, Mavinga; Alseth, Delgado, Bradley, Cheyrou, Edwards; Hamilton, Giovinco.
Projected Lineup for New York City FC: Johnson; Sweat, Chanot, Callens, Allen; Ring, Herrera; McNamara, Moralez, Harrison; Villa.
The match will be played at Yankee Stadium in New York City, New York on July 19th, 2017. The game will kick off at 7:30 PM EST and will be broadcast on MLS Live, and TSN2.
The match officials assigned to this game will be Jorge Gonzalez as the center official, Jose Da Silva and Danny Thornberry as the linesmen, and Jose Carlos Rivero as the fourth official.
What Toronto may struggle with this time out is the sheer number of key personnel missing from their roster for this game. Armando Cooper, Jonathan Osorio, Tosaint Ricketts, Justin Morrow and Altidore are all unavailable due to international duty, and Nick Hagglund and Steven Beitashour are out due to injury as well. Those are players that Toronto has to come to rely on during the majority of this season to help them win both easy and difficult games and not having them available to start or on the bench will pose a lot of questions for Vanney to solve. It will be a true test of Toronto's depth in almost every part of the field and could be a turning point of their season should they win.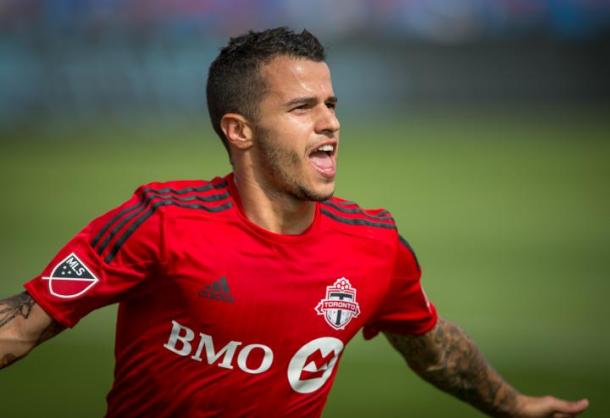 Toronto FC has been on an improbable run since the season began. No matter what has been thrown at them; injuries, a packed schedule, missing players etc. the Canadian side has managed to overcome those obstacles and pick up 38 points out of a possible 57. Sebastian Giovinco has missed time due to injury but when he has been available, he has been just as effective for TFC this season as he was the last. The Italian playmaker has three goals and ten assists in 17 appearances and is in fine form recently. He has been ably backed by the likes of Víctor Vázquez and youngster Raheem Edwards, alongside his usual partner in crime, Jozy Altidore, as the 'Reds' look to make another appearance in the MLS Cup final. If Giovinco gets enough space, he can win any game for Toronto and head coach Greg Vanney will be hoping that this will be the case against NYCFC.
NYCFC are leaking more goals than their opponents this week though, but the return of goalkeeper Sean Johnson should make up for that. Their 24 goals conceded this season shows that their defense is not as miserly as head coach Patrick Vieira would like it to be and against a side as strong as Toronto FC, they will have to be at their very best to keep Toronto quiet. They will not have to contend with the full might of Toronto's offense prowess but even with so many names missing from the away side, those Toronto players available for the match can win games in a single moment if they are not watched constantly.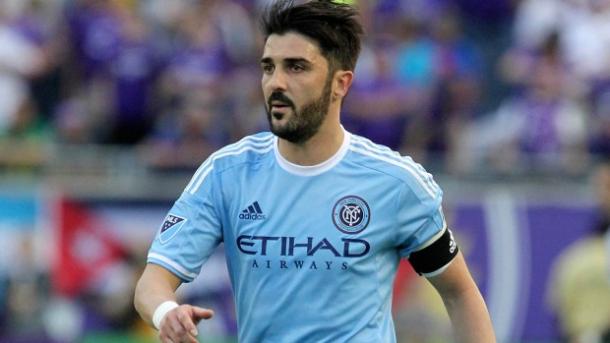 David Villa continues to astound both fans and neutrals alike. His 2017 statistics have not slowed down from where he left off in 2016 and his play is leading the way for his team to make another likely playoff run this season. Villa has 12 goals and six assists so far this season, only four behind the league's top goalscorer right now, and is playing like a man who at 35, should not be able to do what he does. The rest of NYCFC's offense is chipping in goals as well so that they are not heavily reliant on Villa. Jack Harrison has eight goals and five assists so far and shows no signs of letting up as he continues to develop into a top talent for his team.
As we hit the business end of the season in the MLS, both teams know that every point counts if they not only want to make the playoffs but also finish with the Supporters Shield when all things are said and done. The hosts for this game, New York City FC, currently sit in third, five points away from the top of the standings while Toronto FC sits in second, tied on points with leaders the Chicago Fire, but separated due to goal difference. A win for either team will boost their chances of topping the standings by the time the regular season ends.
Hello everyone to VAVEL USA's LIVE coverage of another Major League Soccer match up. New York City FC welcomes Toronto FC in a top of the table clash in the Eastern Conference as both teams look to top the conference. My name is Kudzi Musarurwa and I will be your host this evening for what should be another great encounter.