Opening day, or Matchday 1, at the UEFA Women's Euro 2017 is done and dusted now with most of the pre tournament favourites getting the wins they were predicted to get. Seven National Women's Soccer League players were involved in those opening round of matches but only three managed to gain victories.
Denmark and France struggle but ultimately get their wins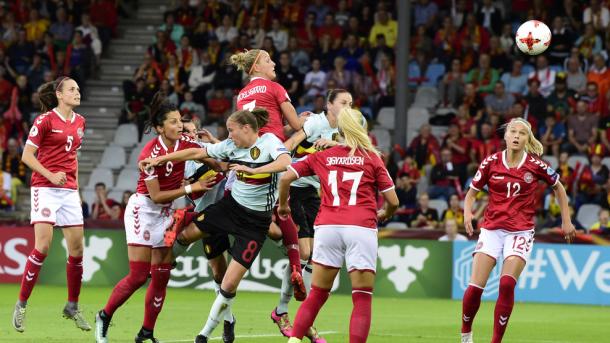 In Group A, Nadia Nadim​ and Line Sigvarsden Jensen featured for Denmark as they found a way to defeat Belgium by one goal to nil. Neither player got onto the scoresheet, as the solitary goal came from Sanne Troelsgaard early on in the match. Nadim, who plays for Portland Thorns FC, featured for 71 minutes but by her standards, had a poor game where she could not get directly involved in many of the attacks Denmark set up. Her best opportunity to get onto the scoresheet came in late in the first half but both her initial shot and her rebound were blocked by a Belgian defender. Jensen, who plays for the Washington Spirit, played for the full 90 minutes and kept the tempo going for the Danish midfield. The second half took a lot out of the Danes as Belgium pushed forward but in the end, Nadim and Jensen saw their team pick up the win.
In Group C, Portland's Amandine Henry played the full 90 minutes in France's 1-0 victory over a stubborn Iceland side which featured her club teammate Dagný Brynjarsdóttir. The French had to work hard all game long to break down the Icelandic backline and had a few scares at the other end of their own. Their solitary goal came from penalty kick by Eugénie Le Sommer late in the second half after Camille Abily had been brought down in the box. It may not have been pretty but France got the job done and sit on top of Group C after one round of matches. Brynjarsdóttir had opportunities to put her team ahead on set pieces but her accuracy was off and she was unable to capitalize on the good delivery her teammates provided her during those set pieces.
Portugal, Norway and Scotland are no match for their opponents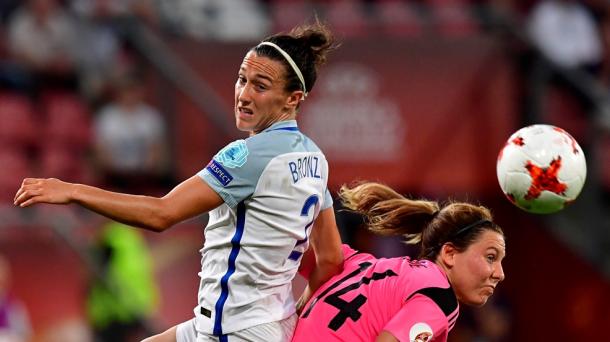 Seattle Reign FC's Rachel Corsie lasted 76 minutes in Scotland's 6-0 thumping at the hands of England and her night may get worse as she was substituted out due to what looked like an injury. Corsie was placed as a defensive midfielder for this game and not her usual center back position but she could do nothing to prevent England from running rampant throughout the game and finishing off the majority of their chances. Scotland will have a lot to do to come back from such a heavy defeat if they still want to make the knock-out stages.
Emilie Haavi, who plays for the Boston Breakers, and Norway did nto far any better against the Netherlands in their Group A opener and went down to a goal by Shanice Van de Sanden. Boston's Amanda Da Costa did not feature at all for Portugal as they went down to a dominant performance by Spain in Group D. Former NWSL player Vicky Losada and Amanda Sampedro were the goal scorers for Spain as they made short work of Portugal to put themselves in a good position going into their second game.