The Portland Timbers took their talents north of the border to Canada, as they faced off against the Vancouver Whitecaps. A very depleted Timbers team took matters into their own hands, winning 2-1 at BC Place.
Jeremy Ebobisse Scores First Goal
Jeremy Ebobisse scored his first goal for the Timbers when he gave the away side the lead in the 14th minute. He then added an assist when the game winning goal came from midfielder Sebastian Blanco.
The victory for Portland snapped their six-game winless. With that, they managed to triumph, despite missing a dozen of field players. This being mainly due to multiple injuries, suspensions, and a number of international call ups.
This result also ended Vancouver's winning streak at two matches.
Head coach Caleb Porter said prior to kickoff "My shorthanded side will simply have to find a way in a road game against an arch-nemesis." Obviously, they answered.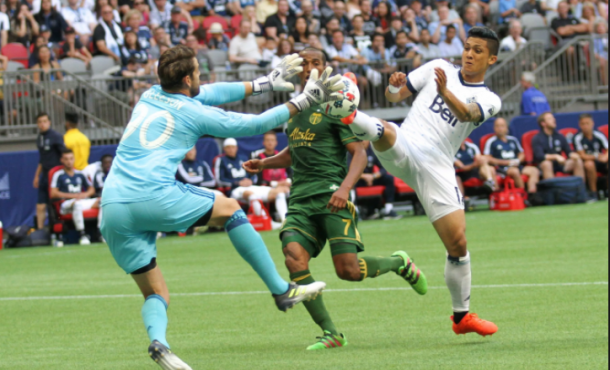 Andrew Jacobson Draws Level
Just at the halftime whistle, Andrew Jacobson leveled the match for the home side. Both teams went into the locker room level, but then the Timbers came out firing on all cylinders.
Who Is Jeremy Ebobisse?
Ebobisse is a 20-year-old forward who not only scored the first goal, nor assisted on the game winner, but he was the reason the Vancouver back line was kept busy. Though he only played 78 minutes, he was truly the difference maker in the match. Drafted fourth overall in the 2017 MLS SuperDraft, he proved his worth as to why the Timbers traded $100,000 in allocation money, an international spot, and their own first round pick to draft him.
"I felt a little bit of pressure. The team was great. They had my back the entire time" said Ebobisse after the match.
The Whitecaps had many chances during the game, but a good portion of them was off of set pieces. Striker Fredy Montero and company struggled a lot but failed to convert against a somewhat B-Squad of the Timbers.
Next, up for the Timbers, they will travel to Houston, Texas as they take on the Houston Dynamo (8 pm ET | MLS Live, ROOT, Sports NW, TSN)). For the Whitecaps they to travel to Texas but will face FC Dallas (8 pm ET | TSN, MLS Live, TXA-21). Both games are crucial for each team, as they battle for playoff spots in the Western Conference. Currently, the Timbers sit in fourth place in the Western Conference with 30 points. Meanwhile, the 'Caps sit just above the red line in sixth place with 27 points with two games in hand on their Cascadia rivals.