 Mexico will be starting its own women's league - Liga MX Femenil - this year.
Imagine you are a Mexican woman who aspires to play professionally. This the perfect opportunity for you: a league in your native country where you can play, get exposure, and grow.
You tryout for one of the clubs, make it through to preseason, only to be short of signing a contract.
One thing stops you: You were not born in the borders of Mexico.
Although there were initial buzzes of excitement from everyone all over the place about this new league, the league itself made a shocking announcement recently in what they call Article 8: only Mexican-born players will be able to participate in the league despite the league's president, Enrique Bonilla, originally saying Mexican-U.S. dual nations would be welcome. This came as a shock to even the clubs across the league, some of which had already made agreements with dual-citizen players.
Two examples of such players are Jazmin Aguas and Olivia Jimenez. 24-year-old Aguas is from southern California and has been spending the last four months preparing herself to play for Chivas in Liga MX Femenil only to find out she is no longer able to participate. Jimenez, who was born in America but raised in Mexico and is part of the Mexico WNT - and also was nominated for the 2012 FIFA Puskas Award, was with Club America for preseason, but when the club tried to register her she was unable to due to Article 8.
Players like Aguas and Jimenez are youngsters trying to find their feet in the professional world, but veteran Veronica Perez, who has represented her country 89 and has even played in the National Women's Soccer League in the states, is just completely stepping away from the game due to the new restriction.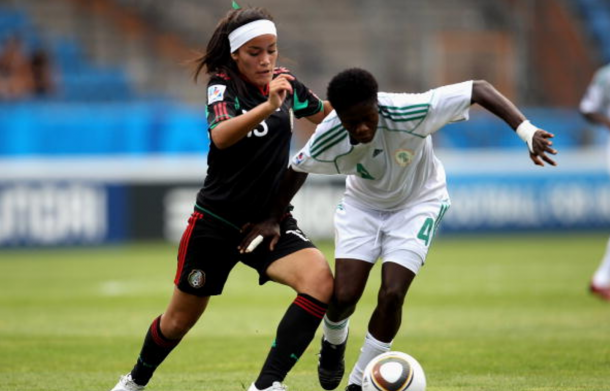 Club OR country
Although the league may have their own reasons for keeping rosters strictly as Mexico-born citizens, it's important to think of what this means for the league. Closing off their teams from dual-citizens leaves a lot to be desired from them. There are many talented players that were in fact born in Mexico, but the amount of talent that lies in dual-citizens adds so many layers to the league.
Examples of these players aside from the ones already mentioned are current Seattle Reign rookie Katie Johnson. The 2016 NCAA Champion, who hails from California, is on the rise in her career and already represents her country on the international level. Arizona native Arianna Romero has been part of the U-20 and full Mexican WNT, starting her professional career with the Houston Dash in 2014 and has been playing overseas in countries such as Iceland, Australia, and Norway ever since. California native Bianca Sierra is a similar story, playing for the Washington Spirit and Boston Breakers before heading overseas.
With players like these, as well as the many other just like the, how in the world is it supposed to make sense to them? They are allowed to represent their country on the international stage, but aren't even allowed to participate in their said country's first-ever women's league - a league that was in fact created to support the Mexico Women's National Team. Although these three players mentioned are currently with other clubs (with the exception of Romero, who has just had surgery and is in the process of recovering), one day any of them could have wanted to switch over and come play in the country they all have represented with pride.
Perhaps it would've made it easier for them, with travel between club and national team duty rough at times due to how far they go to play.
Or, in cases like Augas and Jimenez, stability in having a club to play for every year.
Now, they no longer have that option.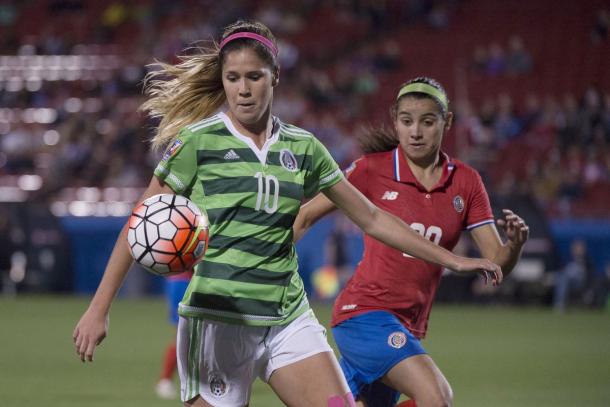 Having dual-citizens in this league would have greatly improved the ranks of a league just starting out. The development of American-born Mexico players is different from those who were born and raised in the same country. They'd not only bring a higher level of play to league, but they'd also be able to bring more awareness of the league to others in different countries. Aside from the playing aspect, they'd also garner more support for this brand new league that's just getting its feet under them.
Internationals a no-go
Article 8 of Liga MX Femenil states, "Only players born in Mexico can participate in Liga MX Femenil tournaments." Which not only excludes those dual citizens, but also any other internationals. Although there may reason to have a league in Mexico just for Mexican players, even Liga MX, the league's male counterpart, allows for internationals on their rosters.
Having international players on rosters helps bring different styles of play to teams, letting them play a different style than what would typically be expected. It would also help players, both native and international, gain experience and learn from others - something that the NWSL isn't extremely good at, but it does happen and it is slowly but surely improving. Look at the Seattle Reign, who arguably play some of the best soccer in the league. Players from various countries, ranging from Jess Fishlock of Wales to Rumi Utsugi of Japan - even for a while Kim Little of Scotland, all bring different elements of the game which result in one of the most talented teams in the league.
If the NWSL had only opened its doors to American-born players - well, they wouldn't be the league that they are today.
Bottom line
Liga MX Femenil closing off its league to only Mexican players may end up hurting them rather than helping them like they may think. It is possible that they might not have the financial stability yet to open their doors to internationals and bring big names in, but closing not even allowing dual citizens to participate is something else.
The league's inaugural opening day is this Friday, July 28. It's a wonder to see if teams will be able to fill their rosters in time, with many of them originally planning to have dual citizens with their club.