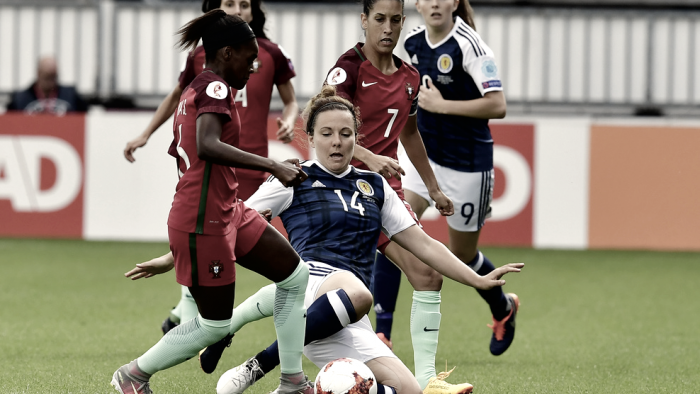 It was a disappointing round two of fixtures for the NWSL's European contingent, with only one player picking up all three points.
Disappointment in Groups A and C
In Group A, a strong performance from the Washington Spirit's Line Sigvardsen Jensen couldn't stop the Danes suffering a second day defeat. They were playing against the hosts Netherlands who seem to have got their game together at exactly the right time - however the teams were only separated by a first half Sherida Spitse penalty. Portland Thorns forward Nadia Nadim also started for Denmark but didn't really make an impact on the Dutch backline.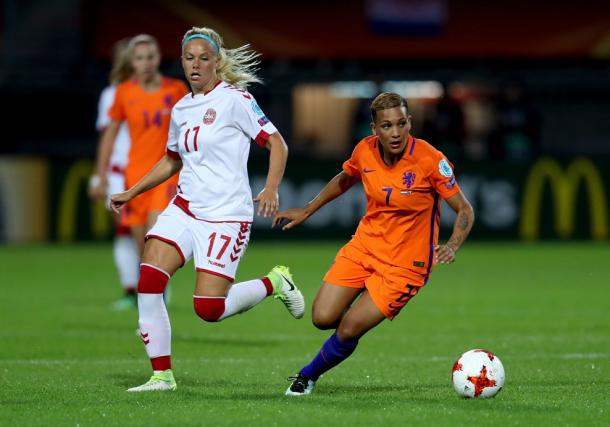 Boston Breakers' Emilie Haavi was a late substitute as Norway's awful tournament continued, with a 2-0 loss to debutants Belgium. They came into the group as the highest ranked side but are now on the brink of elimination barring a massive turnaround in both fortune and goal difference.
The biggest shock of the tournament so far came in Group C, and unfortunately for Amandine Henry and France, they were on the end of it. Austria, who had already surprised many by beating Switzerland in the previous round of fixtures, continued to impress as they held the French team to a 1-1 draw. This puts a lot of pressure on France as a loss to Switzerland this week will send them home - and even a draw isn't desirable as the runner-up in the group will probably end up facing a really strong England side in the quarter-final.
There was more Portland Thorns heartache in the other Group C match, as Dagny Brynjarsdottir and Iceland were eliminated from the competition. Fanndis Fridriksdottir got the team off to the dream start when she scored the team's first ever major tournament goal, but goals made and finished by Ramona Bachmann respectively were too good for Iceland to handle. The game grew increasingly physical and end-to-end in the second half, but ultimately Switzerland held on through the full 100 minutes - ten added on due to a bad injury to Switzerland's keeper, who bravely (or dangerously) continued.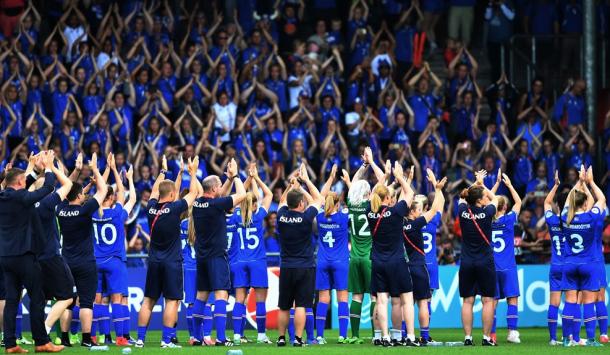 Group D providing the points
Group D pitted two NWSL stars against each other, and finally one picked up a win. Both Seattle Reign's Rachel Corsie and Boston Breakers' Amanda Dacosta started for Scotland and Portugal respectively. Both teams were making their tournament debuts and both lost their opening game, so a lot of pride was at stake. It was Dacosta's Portugal that triumphed, 2-1; they saw their first half goal cancelled out by an Erin Cuthbert goal, but they immediately retook the lead. Despite the win Portugal, as well as Scotland, will need to really upset the odds against England and Spain respectively if they are to reach the quarter-finals.
Also of interest
England, led by many former WPS and NWSL stars, are still looking really impressive, and last night they put on a defensive masterclass against a very talented Spain team. Jodie Taylor, who has played for both the Spirit and the Thorns, added to her hattrick against Scotland with another goal; she leads the goalscoring charts with four from the first two games.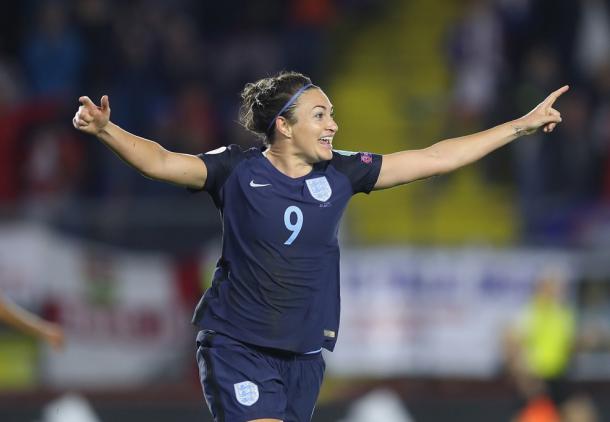 In Group B, which has no NWSL representation, there is an interesting battle between two of USWNT's biggest rivals - Germany and Sweden. After the teams played out a stalemate in the opener, they beat Italy and Russia respectively in this round of fixtures, and so barring a big upset the group will be decided on goal difference, which Sweden currently edge. Whoever these teams play in the next round they'll be favourites, but winning the group would mean avoiding playing the Netherlands, who will have a very loud home crowd behind them.