 Sports fans love to argue and to debate every single thing about every single aspect of their chosen sport, position, game, or play. Most times, this can be fun! But there are some debates that get so tedious as to be counterproductive because they're less about the issue being debated than about the attitude of the debater. Ask any American soccer fan how they feel about promotion/relegation, for instance, or grass vs. turf, and then, well, then you run away screaming because you slowly realize the horror of what you did.
As far as games, teams, and players go, those debates are just as spirited, and they're rooted just as much in emotion and passion as logic and fact. Sports is about emotion, a lot of the time; it's also, however, about facts, of which performance is one. Performance, though, is a blend of those facts (how many, how much, how often) and perception (how tough, how fast, how strong), and in that blend, sometimes, we lose a lot of perspective on the actual quality of play/player, because we tend to overvalue one set of things or the other (let's call this David Eckstein Syndrome).
It's with this in mind that I'd like to talk about the goalkeeping situation with the Portland Timbers. Currently, the Timbers' starting keeper is Jake Gleeson, a New Zealander who has been with the team since their USL days, when he was a teenager. He started the first few games of Portland's MLS career in 2011, when Troy Perkins was injured, and then largely played in the reserves and, in 2014, was loaned to USL's Sacramento Republic, where he won a USL championship.
With the Timbers, Gleeson has been stuck behind a bunch of good keepers in his career - Perkins, Donovan Ricketts, and Adam Kwarasey have all been Portland's #1 while Gleeson, who just turned 27 last month, learned his craft.
After Kwarasey helped Portland to an MLS Cup win in 2015, the keeper situation seemed settled. He was good, after all, and he was a champion. Why change? But then, in a game against San Jose in April of 2016, Kwarasey tore a ligament in his finger. Initial reports said he'd be out for a month, but the Timbers would be fine until his return because there was a capable backup in Gleeson on the bench.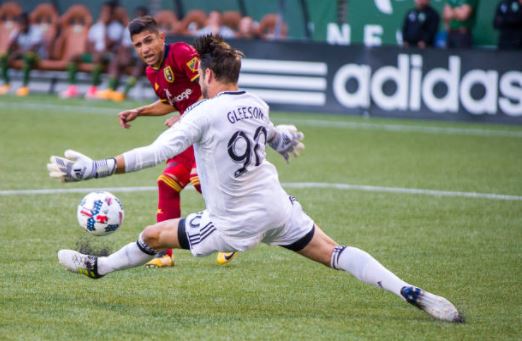 CH-CH-CH-CHANGES
Gleeson, though, had other ideas. He spent the next two months building a pretty solid case to unseat Kwarasey as Portland's #1 keeper. In his first home start, Gleeson made several fantastic saves on his way to being named MLS Player of the Week, and he was off to the races. He let a ball sneak through his legs against Vancouver a week later, but otherwise, Gleeson gave the Timbers a lot to think about.
A lot of what they thought about was a performance in relation to salary. In Kwarasey's seven 2016 games, he allowed an average of 1.86 goals per game; in seven Gleeson appearances following the injury, including the game in which he subbed for Kwarasey, he allowed 1.57 g/gm. They're not dramatically different players as far as that goes, and seven games are far too small a sample size to use if you want to draw concrete conclusions, but the difference was in the pocketbook - Kwarasey was making $335,000 a season, and Gleeson was making $97,000.
Given that they were producing at basically the same rate, and that Gleeson was younger, it seemed like a no-brainer to see if there were a market for Adam Kwarasey and give the starting job to Gleeson full time. And that's exactly what happened when Kwarasey was sold to Norwegian club Rosenborg in July of 2016. At that point, for better or worse, Jake was the #1. He took that chance and ran with it, finishing the 2016 season with the most saves in MLS (largely because of a horrifically bad defense in front of him) and, despite Portland missing the playoffs, further cementing his status as Portland's goalkeeping future.
Remember that ball through the legs that were mentioned above? Gleeson, unfortunately, has a propensity to make mistakes like that. Not in every game, and they're not always mistakes that cost the Timbers points, but still, more often than fans would like, his mistakes are highly visible and fairly costly. He also tends to punch the ball more than he catches it, and sometimes I wish he'd roll the ball to a defender rather than kicking it to some random person downfield. But those are minor quibbles with an otherwise solid player.
But that's the thing about goalkeeper mistakes: they're all like that. For every goalkeeper. Gleeson started 28 games last season and has started 18 this season. In those 46 games, I count five, maybe six mistakes of the magnitude of that Montreal walkabout. While that's not great, apply that same standard to any other player - if Darlington Nagbe or Diego Valeri make five critical mistakes in 46 games, nobody bats an eye. That's the nature of being a keeper - perception often outstrips reality for them, because of the level of visibility of their mistakes.
HERE COME THE NUMBERS
This is where I become an atypical soccer fan - I'm trying to find that reality. And the reality is that the Timbers, despite the howls of anger at Gleeson's mistakes, have a very solid goalkeeper. I'm not going to argue that Gleeson is one of the two or three best keepers in the league - he's not. But he is very good, and he's easily in the top half of MLS keepers. But for a lot of Timbers fans, he's not good enough.
There are fans who think the Timbers should have never dumped Kwarasey, because of the MLS Cup playoff shootout and subsequent Cup win. And emotionally, I get that! It was amazing! But you know what? That was lightning in a bottle. Put Kwarasey in that exact situation again, and he probably couldn't replicate it. Put Gleeson in that situation and he couldn't. Put Nick Rimando in and...well, he might, but he's Nick Rimando. The point is, a one-off shootout is not really a justification for keeping a very expensive keeper in a cost-controlled league whose production is essentially matched by a guy making a third as much.
Another thing that sports fans do is pine for a player that had the job previously, despite the fact that time is linear and always moves forward. You see this in every sport with a beloved player that moves on - the team he left behind almost always has fans who say, even years later, "I wish (player) were back, we really need him".
Let's play a little game, shall we? This game is called Player A/Player B. It involves active MLS goalkeepers with a minimum of 1080 minutes (12 games) in a season.
Can you guess who's who?
Player A: 1.76 G/90 (22nd in MLS)/3.35 sv/90 (6th)
Player B: 1.46 G/90 (10th)/4.3 sv/90 (1st)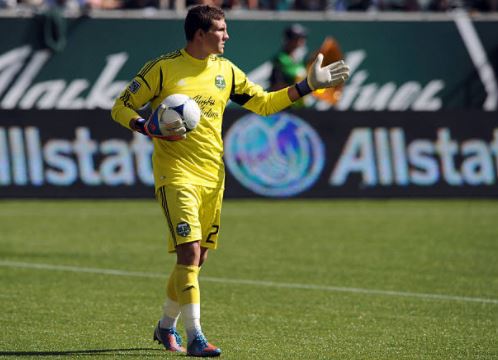 Player A is 2016 Joe Bendik, ex-Timber goalkeeper.
Player B is 2016 Jake Gleeson.
That .3 goals more per 90 minutes that Bendik gives up? That's 10 goals a season. Let's play the same game again:
Player A: 1.43 G/90 (9th)/3.48 sv/90(3rd)
Player B: 1.50 G/90 (7th)/2.61 sv/90 (14th)
Player A is 2017 Joe Bendik.
Player B is 2017 Jake Gleeson.
My point here is not to insist that Joe Bendik sucks, or that Jake Gleeson is the second coming of Gianluigi Buffon or Iker Casillas. Gleeson has clearly struggled a little more this season than last, even outside the visible mistakes. I would have loved to see Gleeson's progression over time, but USL stats are really hard to chase down.
Bendik's progression, however, is trackable: it has steadily gotten worse year over year, as far as goals per game goes. He's gone from 1.39 g/gm in 2013 to the aforementioned 1.76 last season. That's a difference of 12 goals a season worse now than he was then.
Overall, Bendik and Gleeson are not that different. Bendik's proclivity to let in more goals over the course of a season and his price tag ($175K to Gleeson's $115K), though, make Jake the logical, and correct, choice for the Timbers right now.
My point is also not that there's no better keeper the Timbers could ever get than Jake Gleeson. They clearly could decide tomorrow that they want to go after some high priced DP-level keeper this winter (using a DP slot on a keeper would be really dumb, but that's another column). But for the price they're paying, Jake is easily the best keeper the Timbers could have ended up with out of the options they've had.