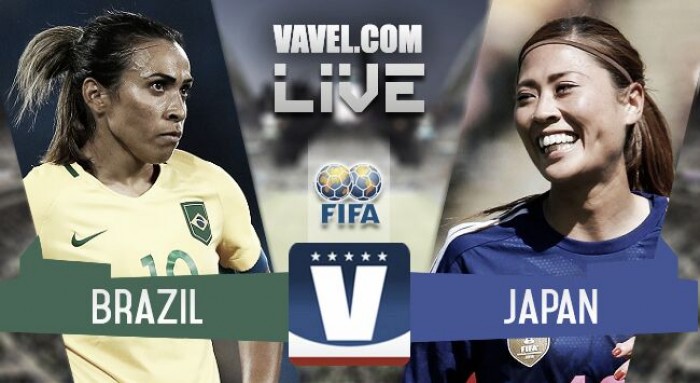 That's a wrap for Game 1 of the Tournament of Nations. Japan and Brazil both earn a point. Thank you for following along here on VAVEL USA! This has been Cindy Lara. Until next time!
90+4' - FULL TIME: Brazil 1-1 Japan
90' - Four minutes of stoppage time have been added.
87' - GOAL BRAZIL! Camila with the equalizer! Her shot soars towards the back of the net after a Japan clearance. Yamashita is unable to stop it. Game is tied 1-1.
84' - Gabi Nunes knocks down Nana Ichise in the Japan box. Japan is awarded possession.
82' - Gabi Nunes gets back up, hobbling a bit after a going down. She remains in the game.
78' - Marta making a run, but she is called offsides. Score remains 1-0, Japan.
75' - Japan is on the attacking end again. Momiki's shot goes wide left of the box.
67' - Japan almost adds another. Emi Nakajima unable to put it away after a couple of saves by Bárbara.
64' - GOAL JAPAN! Yuka Momiki, who came in in the second half, gives Japan the 1-0 lead with a perfect header that finds the back of the net.
57' - Yokoyama is called offsides.
53' - Brazil with a couple of opportunities to take the lead. Debinha's shot is saved, and Marta shoots wide. Still 0-0.
46' - The second half is underway!
Halftime
45' - The referee blows the whistle for halftime. After many chances from both sides, the score remains 0-0.
43' - Andressinha with a shot outside the box. It is tipped over the goal by Yamashita.
42' - Tanaka is onside for a wide open shot. It is deflected for a corner by Bárbara.
38' - Brazil off the corner kick is not able to take advantage. Yamashita is right on the spot to get possession back to Japan.
37' - Marta again creating an opportunity. She takes the ball from midfield, beating the defenders and takes a wide open shot. It is saved by Yamashita, deflecting for a corner kick.
33' - Marta with a shot on top of the box goes right to Yamashita.
30' - A hard tackle on Nunes earns a free kick for Brazil.
27' - Yokoyama crosses one to Hasegawa who crosses it to Yokoyama. Her opportunity for a shot is deflected for a corner. The corner results in a shot outside the box for a Brazilian goal kick.
23' - Brazil earns a corner kick after a shot taken and a deflection off Yamashita. Debinha's shot is cleared away.
19' - Tanaka is fouled, earning a free kick.
15' - Japan not wasting any time with the counter. A shot hits the outside of the net instead.
13' - Marta again with the shot after a pass from Gabi Nunes, but it is saved by Yamashita.
8' - Japan again with a wide open shot that goes high above the box.
6' - Japan with an early opportunity after a chipped pass to Yokoyama. Her shot goes wide, just missing the box.
1' - Immediately on kick-off, Marta takes it outside the box for a cross to Ludmila, who heads it high over the box.
1' - Game time!
With the completion of the national anthems, both teams are ready for kickoff!
Japan Starting XI: Yamashita, Sameshima; Manya; Utsugi (C); Nakajima; Yokoyama; Sakayuchi; Tanaka; Hasegwa; Oya; Ichise
Brazil Starting XI: Barbara (C); Tamires; Gabi Nunes; Debinha; Marta; Andreia Rosa; Leticia; Andressinha; Fran; Lumila; Monica
We're ten minutes away from the start of the Tournament of Nations with Brazil taking on Japan. Both teams are awaiting in the tunnel awaiting to take the field for the national anthems.
Brazil vs Japan Live Stream
Japan comes into the Tournament of Nations ready to prove that they are still a top team in women's international play, especially after rebuilding their program following the 2015 Women's World Cup and failing to qualify for the 2016 Rio Olympics.

Brazil, despite all of their talent and being led by five-time FIFA Women's Player of the Year Marta, has yet to win a major international tournament.
Both teams have met in elite international competition. In 1991, Brazil defeated Japan 1-0 in the first ever Women's World Cup. Four years later, in Sweden, Japan came out victorious 2-1 against its Brazilian counterpart. Brazil and Japan are one for one in Olympic play. They have met twice, each team gaining a victory in each meeting. In the 1996 Atlanta games, Brazil won 2-0 over Japan in group play, but in 2012 Japan beat Brazil in the quarterfinal match, 2-0.

Brazil and Japan, two nations with rich international history, begin the Tournament of Nations. Brazil has dominated its confederation, winning CONMEBOL championships six times (1991, 1995, 1998, 2003, 2010, 2015). On the World Cup stage, Brazil has appeared in all seven competitions, reaching the final in 2007, finishing as runners-up. The Canarinhas, as they are known in Brazil, have won Olympic silver in 2008 and 2012. Japan reached World Cup glory in 2011 by defeating the United States in penalty kicks. Ever since the World Cup victory in 2011 and reaching the final again 2015, Japan has been a team expected to do well in each tournament they participate in. Japan has also won Olympic silver in 2012.
The round-robin tournament is to be held each year that does not fall during a World Cup or Olympic year. The winner will be decided based on how many points a team earns through three games of competition - 3 points of a win, 1 for a draw, and 0 for a loss. Should teams be tied at the end in points, then the tie-breaker will first be decided by a goal differential, second in total goals scored, third by head-to-head-results, and finally by FIFA ranking, if needed.

The Tournament of Nations, announced back in May, is an elite four-nation competition featuring the United States, Brazil, Australia, and Japan. The tournament celebrates the connection between cultures, diversity, and a respect for the game of soccer, as well its ability to create competition of the women's game worldwide. Each nation has seen the growth of the women's game in their respective country over the last two decades, including the start of women's professional soccer leagues.
This match-up will feature seven players familiar to National Women's Soccer League fans, including Marta, Camila, and Monica from the Orlando Pride; Debinha from the North Carolina Courage; Andressinha and Bruna Benites from the Houston Dash; and Rumi Utsugi from the Seattle Reign.
Welcome to VAVEL USA's LIVE coverage of the 2017 Tournament of Nations Game 1 between Brazil and Japan. My name is Cindy Lara, and I'll be your host for this game. We will provide you with tournament information, including teams' background, pre-game analysis, roster updates, and news as it happens here on VAVEL. This game will be broadcasted on ESPN3.