The four teams of this 2017 Tournament of Nations have a lot of international history and player connections. Playing in this USA hosted tournament are Australia, Brazil, Japan, and the USWNT. Four teams from four different continents all have players playing club soccer in the United States' National Women's Soccer League (NWSL).
According to the FIFA rankings, these four teams are all top ten in the world. The USA is ranked first, Japan sits in sixth, while Australia and Brazil follow succession in seventh and eighth. Besides players playing together for club, they have also met on soccer's biggest stages. All these teams have some history together, all of them meeting on soccer's biggest stages before.
International History
Brazil and Japan
Brazil and Japan played each other during the first two Women's World Cups, in 1991 Brazil beat Japan, but in 1995 Japan beat Brazil. Brazil and Japan have similar results in Olympic play. They met twice, each team coming out victorious once. In 1996 group play Brazil took the win over Japan, but in 2012 Japan beat Brazil in the quarterfinal match.
USWNT and Australia
These team's met in the 2015 World Cup. On the U.S. Women's National Team road to a World Cup win, they beat Australia in group play 3-1. Besides their World Cup meeting, the USWNT has faced Australia 27 times, posting a record of 25-0-2.
Japan and Australia
Australia and Japan met just last year in February of 2016 in an Olympic qualifying match, Australia won 2-0. Japan did not ultimately qualify for the Olympics, even though a year before they were playing in the World Cup Final. On Japan's run to the 2015 World Cup Final, they beat Australia 1-0 in a quarterfinal match.
USWNT and Brazil
They have faced each other 34 times, the USWNT leads the series 26-3-5. Brazil has fallen twice to the USA in gold medal matches of the 2004 and 2008 Olympics, both in overtime. Brazil did come out on top during the 2007 World Cup when they sent the US home in the semifinal match. Four years later at the 2011 World Cup, the USWNT beat Brazil on penalty kicks during the quarterfinal match.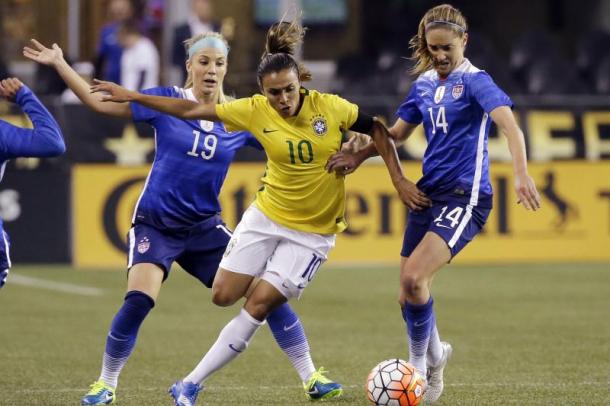 Australia and Brazil
Australia and Brazil have met on both of soccer's top tiers, at the World Cup and at the Olympics. In 2007, Brazil ended Australia's World Cup run in the quarterfinal stage. Most recently in 2016 in Rio, Australia faced Brazil once again in a quarterfinal match, the match resulted in a penalty shootout win for Brazil.
USWNT and Japan
Twice the USWNT and Japan have met in World Cup finals, in back to back cycles of 2011 and 2015. Japan became champions in 2011, but the USA was determined not to let that happen again in 2015. The USWNT scored early and often in 2015, claiming a 5-2 victory over Japan. With that result, the USWNT became World Cup champions for the third time.
Playing together and against
Besides each one of the four national teams competing all having seen each other in international play before, most of them see each other frequently in the NWSL. In the NWSL there is 22 USWNT players, 6 Brazilian internationals, 5 Australian internationals, and 1 Japan international. Some of these players play against members of different national team's in the NWSL, but more interestingly is the players that play with each other. Since every NWSL team has at least one player representing their country at the Tournament of Nations, it is broken down by team below.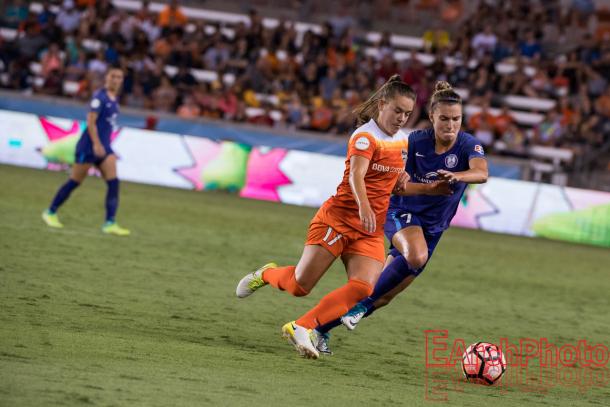 Boston Breakers: Margaret Purce (USA), Abby Smith (USA)
Chicago Red Stars: Julie Ertz (USA), Sofia Huerta* (USA), Alyssa Naeher (USA), Christen Press (USA), Casey Short (USA)
FC Kansas City: Sydney Leroux (USA), Becky Sauerbrunn (USA)
Houston Dash: Andressinha (BRA), Bruna Benites (BRA), Morgan Brian (USA), Jane Campbell (USA), Carli Lloyd (USA), Lydia Williams (AUS)
North Carolina Courage: Abby Dahlkemper (USA), Debinha (BRA), Sam Mewis (USA), Taylor Smith (USA), Lynn Williams (USA)
Orlando Pride: Camila (BRA), Steph Catley (AUS), Alanna Kennedy (AUS), Ali Krieger (USA) Marta (BRA), Monica (BRA), Alex Morgan (USA)
Portland Thorns FC: Lindsey Horan (USA), Allie Long (USA), Haley Raso (AUS)
Seattle Reign FC: Megan Rapinoe (USA), Rumi Utsugi (JPN)
Sky Blue FC: Sam Kerr (AUS), Kelley O'Hara (USA)
Washington Spirit: Mallory Pugh (USA)
*Sofia Huerta: will train with the USWNT in camp but is not eligible to play
2017 Tournament of Nations match schedule
July 27th in Seattle, Washington at CenturyLink Field: Brazil vs Japan at 7:15 pm ET
USWNT vs Australia at 10:00 pm ET
July 30th in San Diego, California at Qualcomm Stadium: Japan vs Australia at 5:15 pm ET
USWNT vs Brazil at 8:00 pm ET
August 3rd in Carson, California at the StubHub Center: Australia vs Japan at 7:15 pm ET
USWNT vs Brazil at 10:00 pm EST