USA 0 - 1 Australia
Full-time: Alen Stajcic shouts in delight as Australia pick up their first ever win against the US. It was a well-earned victory as well by the Australians. The US still have issues creating chances, which has been the story of the team for quite a few games now. Jill Ellis has a lot to thin over before the next game.
90+2' SUBSTITUTION: Princess Ibini comes in for Kerr
90+1' YELLOW CARD: Williams gets the second of the game for time wasting.
90' Rapinoe comes forward again and goes for goal but it's wide.
89' YELLOW CARD: Gorry brings down Rapinoe who was bearing down on goal. Mewis sends the free kick right into the stands.
89' Rapinoe and O'Hara have been brilliant in the last five or so minutes but no one has capitalized on their creativity yet.
86' Rapinoe plays Morgan through again with a lovely ball and Morgan holds up Williams but can't find Dunn who had joined her in the box.
85' CHANCE! How did Dunn not score? O'Hara breaks forward well again and waits before playing a fantastic cross into Dunn. The winger is in but fails to put her shot beyond Williams and into the net. Australia defend the resulting corner well.
82' The US get forward quickly and Rapinoe finds Morgan well, who holds off Catley but sends her shot into the side netting.
82' Kennedy gets the free kick over the wall but it doesn't come down quickly enough to trouble Naeher.
81' SUBSTITUTION: Emily Gielnik comes in for Foord.
80' Australia have a great position for a direct free kick after Lloyd takes out Kellond-Knight.
78' The US counter quickly and Rapinoe plays O'Hara into the attack after the right back had made a great run from the back. She cuts the ball back towards Rapinoe but Catley is there to put in the tackle and stop Rapinoe from getting her shot off.
76' SUBSTITUTION: Kelley O'Hara and Morgan Brian come in for Smith and Long.
74' Rapinoe swings in a free kick and Long is called back for a foul in the box again.
72' SUBSTITUTION: Chloe Logarzo comes in for Butt.
71' Mewis has to receive some treatment after a high kick from Butt gets her in the face. She is bleeding heavily but seems to be okay. Butt did not see her coming at all.
70' CHANCE! Lloyd almost pulls the US back into the game on two opportunities! Rapinoe gets the ball out wide and finds Lloyd at the top of the 18-yard area. Lloyd gets her shot on target and Williams pulls off a fantastic save. The rebound comes to Dunn who put the ball back into the mixer and Lloyd's header goes over the crossbar.
USA 0 - 1 Australia
The US don't deal with the corner kick well and Sauerbrunn's clearance falls right to Kellond-Knight. The left back chips the ball in and Butt finished sweetly past Naeher.
67' GOAL! Australia take the lead!
65' The referee awards the US a free kick even though she was fouled by Smith. The play is called dead as Long is adjudged to have fouled her marker in the box.
64' SUBSTITUTION: Alex Morgan replaces Press.
63' SUBSTITUTION: Carli Lloyd checks in for Horan.
63' Horan and Raso knock heads and need treatment.
60' Australia are dominating proceedings here but have not managed to test Naeher yet.
58' SUBSTITUTION: Crystal Dunn comes in for Pugh as the US' first sub of the game.
56' CHANCE! Kellond-Knight gets forward well again and finds Kerr completely unmarked in the box but the Sky Blue FC forward sends her header over the crossbar.
55' Kerr almost plays Foord in but Sauerbrunn steps in twice to stop Australia getting through on goal.
53' SUBSTITUTION: Haley Raso replaces De Vanna as Australia's first change of the game.
53' Casey Short sells herself short and allows Carpenter to combine with Foord but again, the US backline stands firm.
51' Australia are now in a 4-3-3 and attacking the US penalty area but the defense stands strong and prevents any shots from being taken on their goal.
50' Mewis comes forward from midfield and she goes for goal but her shot takes a nick off of Catley and the US get another corner. Nothing comes from that set piece either.
49' Australia win possession back and Foord finds Gorry, who spins and gets her shot away but it's well read by Naeher who gathers the ball well.
49' The offside flag goes up again but this time it's Australia who are judged to be offside.
48' The corner ends up at Long's feet just in front of Williams but she was offside so nothing further happens during that play.
47' Smith wins a corner kick which Butt gets away but the US still have the ball. Rapinoe's cross is cut out by Steph Catley but she concedes another corner.
46' No subs for either side as the second half begins.
Half-time: Rapinoe had the best chance of the half as the US started strongly but faded as the game progressed. Australia seemingly settled after the first 25 minutes and were one pass away from breaking through the US backline. Lots of things to look at during the break for both teams.
45' After another spell of possession Foord swings in a cross towards Kerr but Naeher reads the flight of the ball well and catches it with ease.
43' Kerr finds De Vanna in space out wide and she tries to swing the ball in for Foord but Naeher reads the cross well and gets on top of the ball.
41' CHANCE! Horan plays a fantastic curling ball into Press' path but it's just too long for the Chicago Red Stars striker and her touch does not beat Williams who had come out to close her down.
40' Williams plays a poor kick out which goes straight to Horan but Emily van Egmond is on hand to make a vital tackle.
40' Gorry is beginning to influence the game more and more now. This time she plays in De Vanna but the forward is offside and the attack stops again for Australia.
38' Australia attack with Kellond-Knight again and it looks like Butt is in on goal but the play is stopped as Kerr is judged to be offside.
38' Gorry finds some space outside the box and packs plenty of power into her shot but it goes straight into Naeher.
37' Abby Dahlkemper puts in a free kick into the box that Horan gets to but no one meets the second ball and Australia get a goal kick.
35' Pugh is fine to continue on and Australia try to find an opening. Kellond-Kinght is found out wide but no one attacks her cross and it goes out for a goal kick.
33' Play stops here after a coming together between Pugh and Kellond-Knight.
30' The corner is headed away but falls to Katrina Gorry who almost finds Butt sneaking in, unseen by the US defenders.
29' De Vanna and Taylor Smith go step for step and Smith concedes the corner.
28' After a spell of possession by Australia, Lisa De Vanna gives the ball away with a poor first touch and Horan gets fouled by Butt as the US try to break.
25' Rapinoe swings in a cross that falls to Horan. The Portland Thorns FC player takes a poor first touch and Australia can clear their lines.
23' Rapinoe's earlier chance is still the only chance of note so far in this game.
22' Rapinoe, who's been in great form, tries a one-time volley from a difficult angle and the ball goes straight into the stands.
21' Foord holds off Long and gets a shot away from a long way out but it doesn't trouble Naeher.
19' Alyssa Naeher has to be sharp off her line after a poor backpass by Allie Long almost allows Kerr to nip in and score.
17' Kerr gets the ball in the attacking third and finds Tameka Butt but the midfielder's shot goes high over the crossbar.
15' Pugh picks up the ball just outside the box, cuts in and tries to get a shot away with her left foot but it's deflected out for a corner. The corner again goes out for a goal kick.
11' CHANCE! Press finds Rapinoe out wide and she cuts back inside before getting a shot away that Lydia Williams has to parry out for a corner kick. The corner goes straight out for a goal kick.
10' We also had a minute's applause for former USWNT head coach Tony DiCicco who passed away recently.
10' Quick correction here: Australia are lined up in a 3-5-2 formation not a 4-3-3 as previously stated.
9' Rapinoe gets the ball in transition and plays a great ball with the outside of her foot out wide to Horan but the attack stalls as Horan is offside.
8' Sam Kerr picks up the ball in midfield and pushes forward but her pass out wide to Foord is cut out by Becky Sauerbrunn.
6' Pugh beats Elise Kellond-Knight and tries to combine with Christen Press but the attack is stopped by Alanna Kennedy. The US still have possession of the ball though.
4' Australia try to form a chance at the top of the box but Samantha Mewis steps in at a key moment and gives the US a chance to break. Australia track back well and regain possession.
3' Australia defend well and can now move up the field after Mallory Pugh fouls Caitlin Foord.
2' An tough tackle on Lindsey Horan gives the USWNT their first set piece of the game which Megan Rapinoe stands over.
1' Australia start us off!
We're just about five minutes away from kick-off as the teams come onto the field for the national anthems. Let us know who you think will come out on top over at NWSL VAVEL. The match is being broadcast on ESPN, Univision and FOX Sports in Australia.
Tonight's all-Canadian officiating team will be led by Marie-Soleil Beaudoin. The two assistant referees will be Chantal Boudeau and Marie-Han Gagnon-Chretien, with the fourth official being Marie Skeete.
Alen Stajcic looks to be going with a three-back formation and it should be fascinating to see how well the USWNT deal with the pace and the trickery Australia has in spades with this lineup.
Plenty to talk about on both lineups. Jill Ellis has shifted Lindsey Horan into a more attacking role, where she has spent most of her career playing. Taylor Smith gets the nod at right back as well, making her first senior team appearance ever.
Australia Starting XI (4-3-3): Williams; Carpenter, Kennedy, Catley, Kellond-Knight; Gorry, van Egmond, Butt; Foord, Kerr, De Vanna.
USWNT Starting XI (4-2-3-1): Naeher; Smith, Dahlkemper, Sauerbrunn, Short; Long, Mewis; Pugh, Horan, Rapinoe; Press.
Earlier today, Brazil and Japan produced some late fireworks that ended their game in 1-1 draw. Coming up next is the USWNT vs Australia in what should be a great soccer spectacle for anyone watching. Starting lineups are as follows...
Good evening everyone and welcome to the second game of the 2017 Tournament of Nations at CenturyLink Field in Seattle.
USWNT 2, Australia 2.
Prediction: The last time these two teams met, there was a different feel to the USWNT and arguably the best ever goalkeeper the women's game has ever seen stopped the Australians from running away with the game in the first half. Hope Solo is no longer with the team but Alyssa Naeher is a capable replacement for her. Both sides have great attacking threats and I expect to see plenty of goals as neither side have convinced, defensively, recently.
The USWNT will be led by head coach Jill Ellis while the Australians will be led by head coach Alen Stajcic.
Projected Lineup for Australia: Williams; Simon, Polkinghorne, Kennedy, Catley; Kellond-Knight, van Egmond, Gorry; Foord, De Vanna, Kerr.
Projected Lineup for USWNT: Naeher; O'Hara, Ertz, Sauerbrunn, Short; Dunn, Long, Brian, Rapinoe; Lloyd, Morgan.
The match will be played at CenturyLink Field in Seattle, Washington on July 27th, 2017. The game will kick off at 10:00 PM EST and will be broadcast on ESPN.
In previous matches, Australia has failed to put in a complete 90 minute performance to beat the very best teams in the league. That may have changed, and signs suggest that it has, but they will need to be on their game if they want to get the win against the USWNT on Thursday night. Lydia Williams is one of the best goalkeepers in the game right now but she can only do so much if those in front of her do not give her protection. She will be hoping that her teammates do enough to limit the opportunities that the USWNT have and this, give her an easier night in Seattle.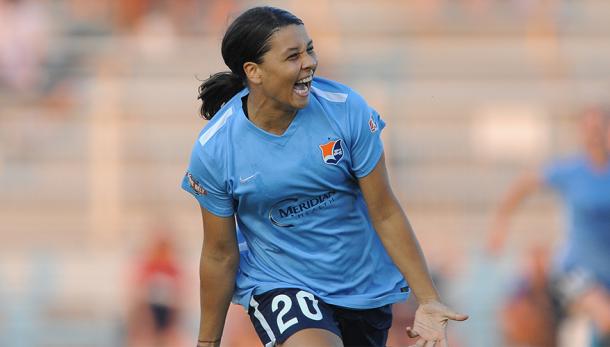 Australia should come into this game full of confidence. They have gone from strength to strength since the last time they faced the USWNT and many of their players are currently playing at the top of their game for their teams. Caitlin Foord, Emily van Egmond, Lisa De Vanna and Katrina Gorry are known names to most fans in the US but the danger "man" in attack for this upcoming game will be Sam Kerr. Kerr has eleven goals on the season for Sky Blue FC in the NWSL and has shown time and time again that she is in probably the form of her life. She doesn't need much space to score a goal and is capable of trying the audacious if needed to help her team get the win. Kerr also has great positioning, movement and pace, and when you combine that with passing from Gorry or van Egmond, you have a lethal opponent on your hands.
As previously noted, the USWNT are struggling not only defensively but in creating enough chances to score goals. Their most recent matches have been 1-0 wins but chances have come few and far in between, and in those games, they allowed their opponents far too many chances on goal. Against a team like Australia, who have the ability to score clinically, the USWNT will have to defend stoutly and make sure that they do not give the Australians too many looks on goal. A lot of the Australian attackers are coming into this game in great form and if they are given opportunities, they will punish the USWNT.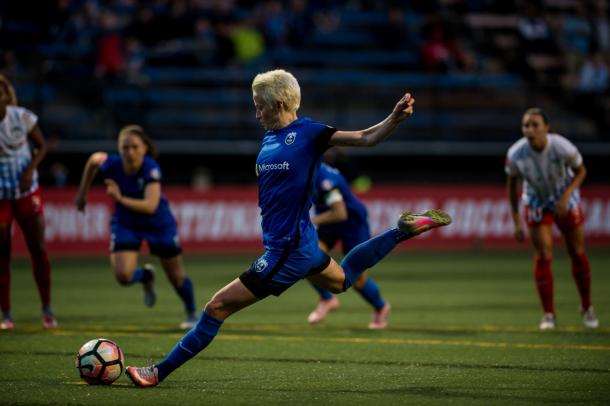 The US, who are the host nation for this competition, are coming into the game a slight favourites which is a far cry from previous match ups between the two teams. A shift in tactics has made the USWNT lose some of the steel and 'air of invincibility' that the team has been known for, and has proven to be susceptible to quick, pacy teams with good transitional play. That is not to say that the USWNT are without threats of their own as their attack is still as potent as ever. Carli Lloyd continues to make an impact on the field, Alex Morgan and Sydney Leroux are back to full fitness, while Megan Rapinoe and Crystal Dunn have been excelling in their respective leagues. Rapinoe's resurgence will be a welcome sight for USWNT fans as the team had been lacking an accurate set piece taker and Rapinoe has shown throughout this National Women's Soccer League season, and most recently last weekend, that her technique is still very much there.
In the first edition of the Tournament of Nations, the USWNT go up against the Australians, who they have not faced since that enthralling opening Group D game in the 2015 FIFA Women's World Cup. The USWNT went on to win that game, and became World Champions for a third time, but Australia made them work hard for that first win. Since then, the USWNT has seen a lot of personnel changes whereas Australia still have the same core that they used in Canada except now, this core has a lot more experience at the highest level.
Hello once again to VAVEL USA's LIVE coverage of the second match up in the 2017 Tournament of Nations. The hosts, the United States of America face off against Australia in both teams' first match of the tournament. My name is Kudzi Musarurwa and I will be your host for what should be a fantastic soccer match in Seattle, Washington.