 At the age of twenty-two, Jordan Morris has begun to form quite the trophy cabinet. In 2015, he won the NCAA Soccer National Championship with Stanford. In 2016, he became an MLS Cup Champion with the Seattle Sounders. Now, he scored the winning goal and helped his country win the 2017 CONCACAF Gold Cup.
Although Morris is young, he knows how important it is to cherish these moments. On the opposite side of the career, however, is the veteran goalkeeper Tim Howard, who also emphasized how grateful he is for moments like last night.
One of Howard's last moments
It is no secret that Tim Howard is nearing the end of his illustrious career. From being the starter at Everton to his famous performance against Belgium in the 2014 World Cup, Howard knows what it means to be in the spotlight.
Yesterday after their dramatic 2-1 win over Jamaica, both Tim Howard and Jordan Morris spoke to MLSsoccer.com. Despite the sixteen-year age difference, they both noted the importance of taking advantage of these moments.
"As you get older, you realize these come few and far between," Howard stated. "I've been very fortunate to go to quite a number of cup finals. I've not won as many as I would have liked. There's a time when you think they're going to just keep coming. And you realize now that there might not be another one after this."
Howard went on to note that since this could be his last Gold Cup, he is celebrating the moment.
"I know that this may be my last chance, so it's beautiful, it's sweet and I'll continue to celebrate."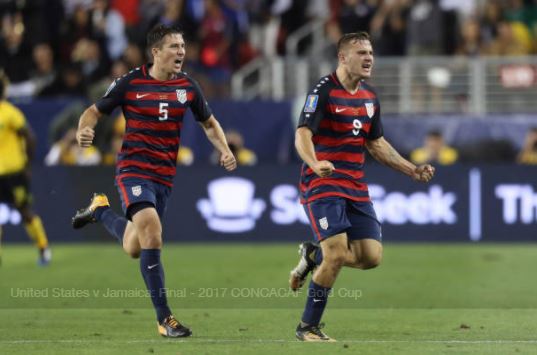 The man whose goal gave the United States the Gold Cup trophy also discussed how little these chances come to a player.
"You don't get a ton of opportunities to play for championships in your career," Morris said. "You've got to take advantage of them. For me to be a part of this team, it's so special, something you dream about."
It is a very settling feeling when a bright young player for the USMNT has the mentality that the veterans have.