The Philadelphia Union were looking to not get swept by Columbus Crew SC this season as they faced off in the second leg of the home-and-home season series at Talen Energy Stadium.
Just four days prior to the match, Crew SC defeated the Union by a score of 1-0. They weren't having another, as the Union dismantled the 9-man Crew SC squad 3-0.
Ilsinho Strikes First
Early on, it looked like Columbus were coming out as if they had unfinished business from Saturday night. Things quickly turned in favor for the home side in Philadelphia when Marcus Epps almost put the Union on the board in the 18th minute with a wicked curling shot that missed keeper Zack Steffen and hit the side of the post.
But it would get better for Philly. In the 25th minute, CJ Sapong got on his bike and assisted Ilsinho who roofed the ball into the back of the net. Suddenly, it was game on.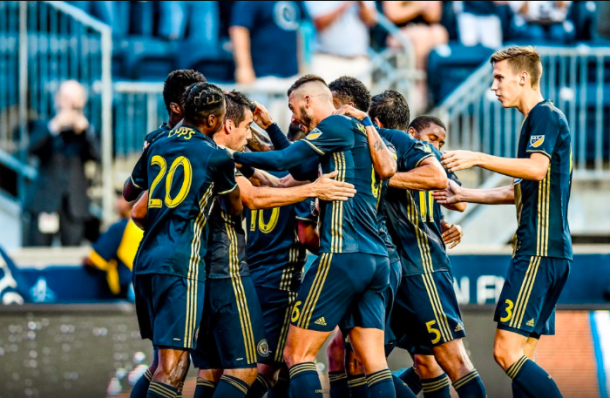 Jonathan Mensah Red Card
In the 40th minute, Crew SC center back Jonathan Mensah was shown a straight red card for taking down Sapong. Referee Ismail Elfath called the penalty kick. In real time, and given the official's angle of the foul, it's right to give the benefit of the doubt and say he was right in awarding the penalty.
However, different camera angles show that the contact was initiated just on the line outside of the 18 yard-box.
Midfielder Roland Alberg stepped up to take the spot kick. A well hit penalty kick was soon gone when Steffen was able to palm the ball off of the crossbar and out to keep the game at 1-0.
Columbus had a couple of chances created but somehow could not convert any.
Sapong Doubles Lead for DOOP
In the middle of the second half, Sapong was able to double the lead for the Union when he pounced on his own rebound that ricocheted off the post.
As if losing 2-0 wasn't bad enough, things got worse for the Black and Gold. Rookie defender Lalas Abubakar was already sitting on a yellow in a scuffle that took place just before the penalty kick in the first half. He received a straight red in the second half for hands to the head, neck, and face area of Ilsinho. Crew SC was now down two goals, and two men.
Marcus Epps Scores First Goal
Marcus Epps was creating chances all night long. His reward finally came in the 81st minute when he put the icing on the cake to score his first career MLS goal.
The final whistle blew and the Union would split the season series with Crew SC with one game apiece.
After the match, Head Coach and Sporting Director Gregg Berhalter called out Elfath saying "The official ruined the game." You can watch Berhalter call out the Professional Referee Organization (PRO) by clicking here.