On the first day of the month of July, D.C. United met with the Montreal Impact in a battle between the bottom two teams in the Eastern Conference. On Saturday, D.C. will travel to Minneapolis to face Minnesota United FC, where the two bottom teams in the entire MLS will face off.
Both teams have a goal-difference of -20. Both teams also have only five wins from their first twenty-one matches. The one-point difference between the two is because Minnesota has one more draw and United has one more loss.
The good news for United fans is that their record against expansion sides this season is great. They've faced Atlanta United twice and have won both games, but they have yet to play Minnesota United. We'll see how their record against new teams holds this Saturday.
Defensive struggles highlight struggles for both sides
The two teams have had their share of struggles this season. From scoring woes to letting in multiple goals per game, the game against each other will be a battle to start a good string of results.
There are concerning stats for both teams when it comes to defense. Minnesota has given up a goal in eight of their last nine matches, conceding nineteen total and having a record of 1-6-2. D.C. United has given up thirteen goals in four matches, but that could be attributed to the absence of starting goalkeeper Bill Hamid; who was with the United States Men's National Team for the CONCACAF Gold Cup.
Travis Worra was called to fill the big shoes of Hamid, but he has done the opposite. Worra has given up fourteen goals in five starts this year. That's an average of almost three goals given up per game. For a team that has had its bit of offensive struggles – that's not good. Especially when the one time they score three goals, they give up four to Seattle in a historic collapse.
Keys to win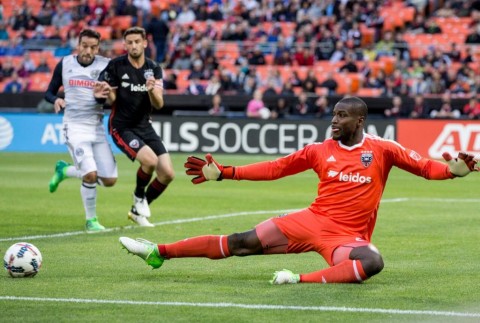 What will these teams need to do in order to win? Well for the Loons they will just have to, well, score. It's no secret that the black and red defense has been less than stellar this year. Although the match could end up being a goal-fest, the home side can control the game while making sure the chances they create are taken.
D.C. United travel to TCF Bank Stadium in hopes of continuing their scoring ways. The bad news? Their match against Houston showed if they can't get more than one goal they essentially are toast. The capital club needs to continue what they were able to do in the first half against Seattle, and that's to spread the defense apart and let Luciano Acosta dance.
The good news for D.C. United is that Ben Olsen is confident he will be fielding his best possible team this weekend.
"We'll be ok," Olsen said after D.C.'s 3-1 loss to Houston. "Next week we'll have a full starting lineup, and we'll compete in training this week. We'll put together, probably, our best lineup of the year next week and we'll be rested."
Injury Report
Minnesota United: Out: Bernardo Anor (leg), Marc Burch (hernia), Joe Greenspan (head), Rasmus Schuller (thigh), Thomas de Villardi (Achilles). Questionable: Sam Cronin (neck), Miguel Ibarra (ankle), Kevin Molino (ankle), Kevin Venegas (thigh)
D.C. United: Questionable: Nick DeLeon (abdomen), Patrick Mullins (knee), Rob Vincent (meniscus)
Match Information
Date: Saturday, July 29th
Kick-off: 8:00 PM EST
Location: TCF Bank Stadium (Minneapolis, MN)
Referee: Robert Sibiga (POL/USA)