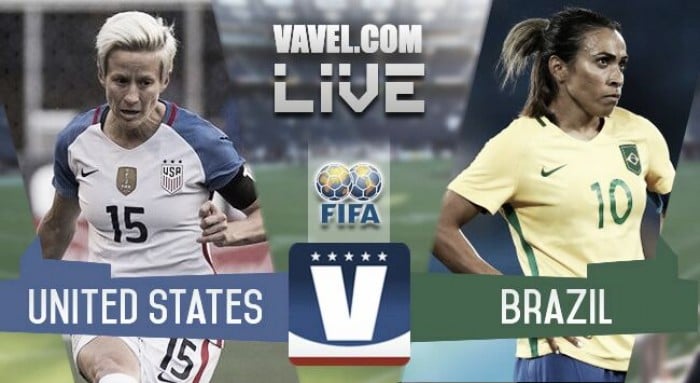 Thanks for tuning in to VAVEL USA's coverage of the 2017 Tournament of Nations! This is Bianca Verar singing off!
FULL TIME: USA 4-3 Brazil
90+3' - USA earns a corner after Press battles with defenders
90+3' - Leroux gets fouled hard from behind. Free kick USA.
90+3' - Alyssa Naeher makes the save!
90+3' - Brazil earns a corner
90+3' - USA SUBSTITUTION: Lynn Williams checks in for Rapinoe
90' - 3 minutes stoppage time
90' - USA 4-3 Brazil
89' - GOAL USA! Julie Ertz is there to finish off O'Hara's cross!
88' - USA earn a corner!
87' - BRAZIL SUBSTITUION: Ludmila in for Zaneratto
86' - USA SUBSTITUTION: Allie Long in for Sam Mewis
85' - USA 3-3 Brazil
85' - USA GOAL! Megan Rapinoe gets a ball over the top and finishes from a tight angle!
85' - Lloyd slides to meet Rapinoe's service, but it's saved
84' - Marta earns a yellow for a hard foul. Free kick for USA
82' - BRAZIL SUBSTITUTION: Andreia Rosa enters for Debinha
82' - Naeher slides to make the save and Brazil earns a corner
80' - GOAL USA! Christen Press gets one back for the US!
79' - GOAL BRAZIL! Andressinha puts away the free kick!
77' - O'Hara earns a yellow for a hard tackle outside of the box
76' - USA SUBSTIUTION: Sydney Leroux checks in for Casey Short
76' - O'Hara crosses the ball over the backline for Press, but Press' header goes over!
73' - Brazil is just in front of the goal, but Lloyd provides the diving header to clear
72' - Lloyd fouls again and Brazil earns a free kick not too far from the corner flag
71' - Lloyd trips a Brazilian up from behind and Brazil earns a free kick a few yards out of the box
71' - BRAZIL SUBSTITUTION: Maria checks in for Leticia, who collided with Sauerbrunn on a previous play
70' - Lloyd tries a volley from distance, but it's over
69' - Roars of excitement from the crowd as USA almost gets one back! Pugh charges down the field and and shoots, but Barabara blocks. Rapinoe tries the rebound but is denied. The ball is cleared to Press, who also tries her luck but once again Barbara denies her
68' - A ball is played into the box but is just too much for Mewis and Press to get on the end of
67' - Brazilian defender comes up for a high kick and ends up kicking Short in the head and the USA earn a free kick
65' - The USA earns a free kick and Rapinoe's service finds Ertz's head, but Barabara is right there
64' - USA 1-2 Brazil
63' - GOAL BRAZIL! Benites heads it past Naeher for the lead!
63' - Brazil earns a corner
60' - Ertz strips the ball from Brazil and finds Rapinoe, who makes it to the box. She crosses it to Pugh, but Pugh's shot is over the net
59' - Yellow card awarded to Zaneratto
58' - O'Hara gains possession of the ball and charges down midfield. She plays to Pugh, but she's called offside
57' - USA SUBSTITUTION: Smith out, Julie Ertz in. Morgan out, Christen Press in.
54' - Yellow card to Sauerbrunn for a foul
53' - USA SUBSTITUTION: Mallory Pugh checks in for Dunn
53' - Rapinoe's shot is saved by Barbara. It goes to Lloyd who chests it down and shoots, but its' blocked
52' - Dunn is up and walking off the field with the trainers
51' - Dunn is down for the US, play is stopped
51' - Smith threads a ball through for Dunn, but Dunn is tripped up by a Brazilian defender. Free kick for the US
46' - BRAZIL SUBSTITUTION: Tamires checks in for Jucinara
HALF TIME: USA 1-1 Brazil
44' - Leticia tries from the top of the box, but it goes out of bounds
42' - Brazil plays the ball into the box but Naeher is quick to jump onto it and collect
40' - Smith is called offside as the US try to enter their final third
39' - Quick on the attack, ball is played through for Morgan and she charges after it, going for a 1-v-1 with the keeper, but instead passes it off to a marked teammate before it's cleared
39' - Ball is threaded through for Leticia, but O'Hara is quick to slid and give Brazil a throw in
37' - Mewis crosses the ball low and hard across the box for Dunn, but she's unable to get there
26' - Jucinara earns a yellow for a tackle from behind on Lloyd. USA earns a free kick just past the half line
35' - After a bit of confusion, the ball falls to Mewis a few yards out of the box but her shot is handled by Barbara
33' - Marta tries a strike from 30 yards out, but it's over
32' - Hard collision between Lloyd and Debinha, but both are up
31' - Brazil almost gets another! Andressinha's cross finds the head of a forward, and Naeher lets it slip, but it is called offside
31' - Lloyd kicks the ball out of bounds for a corner
30' - Marta chases the ball for the counter attack, but Short beats her to it and sends the ball out for a throw in
29' - USA earn a free kick and Rapinoe's service is shielded out by Jucinara. It deflects off of the defender and the US earn a corner
28' - Dunn is dribbling to goal, but takes hesitates and passes to an unexpecting Rapinoe, giving the ball away
27' - Rapinoe's free kick is saved by a diving Barbara and goes out for a throw in
26' - Hard foul gives the USA a free kick just outside of the box
23' - Djenifer tries a shot from distance, but it goes past the goal post
22' - BRAZIL SUBSTITUTION: Nunes out, Camila in.
20' - Marta pulls a few fancy tricks and crosses the ball. It looks like Nunez will beat Naeher to it, but she misses and collides with O'hara.
19' - USA 1-1 Brazil
18' - USA GOAL! Rapinoe finds Mewis at the top of the box and she finishes!
14' - Dahlkemper tries to play the ball back to Naeher but Brazil is rushing forward and Naeher's forced to clear for a free kick
13' - Lloyd switches the ball to a wide open Rapinoe. Rapinoe chests it down and volleys, but it goes wide
11' - Morgan heads the ball, but it's caught easily by Barbara
10' - O'Hara finds an open Rapinoe, but Rapinoe's low cross is defended out for a corner
9' - Smith fights for the ball, but is called for a foul by the half line
8' - Rapinoe takes the free kick, but her service is too much for anyone and goes out for a goal kick.
7' - Rapinoe is on the run but is fouled outside of the box, earning a free kick
6' - Rapinoe takes a strike but her shot is blocked. The USWNT tries their luck again, but it's cleared away from the box
4' - USA earns an indirect kick just on the corner of the 6-yard box
3' - USA 0-1 Brazil
2' - GOAL BRAZIL! Andressinha shoots and Naeher tries to tip it over but it still falls behind her into the net
1' - A little danger for the US right away! Brazil coming down the field and US gains possession, but Dahlkemper plays a ball to Naeher who is forced to clear it for a throw in
1' - Kickoff!
Lineups and anthems are done. Kickoff here soon!
The USWNT will be playing in a 4-1-2-1-2
Brazil Starting XI: Barbara; Benites, Leticia, Monica, Jucinara; Djenifer, Nunes, Andressinha; Debinha, Marta, Zeneratto.
USA Starting XI: Naeher; Short, Sauerbrunn, Dahlkemper, Smith; Mewis; Rapinoe, O'Hara; Lloyd; Morgan, Dunn.
Brazil will want to build on their draw with Japan. Over the years, a rivalry has grown between them and the USWNT which will prove an interesting match on both sides. If Brazil can earn a win agains the host nation, they could very well be on their way to claiming the whole tournament - results between Japan and Australia pending, of course.
Not at all content with Thursday night's result, the USWNT will look to bounce back against Brazil. Although head coach Jill Ellis has made it clear she wants to try "new things" throughout the tournament, it seems like it might not earn the results she wants, especially with the way Thursday night turned out. It'll be important for the USWNT to be bale to stay in their attacking half and put away the chances they get unless they want a repeat.
USWNT vs Brazil Live Stream
There will be many NWSL players featured in this match. As expected, all but one on the USWNT roster - in Crystal Dunn, who is currently under contract with Chelsea - are in the NWSL. Brazil has six players on their roster that play in the NWSL: Andressinha and Bruna Benites of the Houston Dash, Debinha of the North Carolina Courage, and Camila, Marta, and Monica of the Orlando Pride.
The two nations have a rich history with each other, starting with the fact they've met a total of 34 times throughout the years. Brazil has fallen to the USWNT twice in Olympic gold medal matches, once in 2004 and again in 2008, and both times they lost the result in overtime. Brazil earned the win over the USWNT in the semifinal of the 2007 Women's World Cup. Four years later, in one of the most dramatic meetings between the two nations, the United States knocked Brazil out of the quarterfinals of the 2011 Women's World Cup, which went all the way to penalty kicks. They have also met more recently for a few friendlies over the years.
Brazil is tied for second in the tournament with Japan after splitting points with the Asian country on Thursday. Orlando Pride player Camila had the wonder strike to tie the game up at a one a piece in the dying minutes of the match. The draw is enough for Brazil as they head into match day against the USWNT.
Host nation the United States are coming off of a shocking 1-0 loss to Australia. This is the first time in history that the USWNT have lost to the Westfield Matildas. With so many new faces and an unclear style of play, the USWNT struggled to keep possession of the ball and be able to build threatening attacks. With only three shots on goal the whole match, they were unable to capitalize and even after going down in the 66th minute, the host nation couldn't find the urgency they needed fast enough to at least earn a point. They currently are at the bottom of the tournament, being the only team that didn't collect points for match day one.
USWNT vs Brazil Live Stream Commentary
Welcome to VAVEL USA's LIVE coverage of the 2017 Tournament of Nations match between the US Women's National Team and the Brazil Women's National Team. My name is Bianca Verar and I'll be your host for this game. We will provide you with pre-game analysis, roster updates, and news as it happens here on VAVEL. The game will be aired on ESPN2.