The two worst teams in MLS. One team is injury ridden and the other just can't get anything going for them. With all of these problems, it meant the match would be heavily fought by both sides to kick start their seasons. A beautiful day in Minnesota saw Minnesota United FC host D.C. United. One team would be thrilled by the end of the match, or both of them would come away sharing the spoils.
Luckily for the fans of Minnesota United, they were given
Loons lead early, make most of chances
Bill Hamid was back in net for United, taking back his starting spot after being on international duty with the United States. The less than stellar Travis Worra found himself on the bench, but the defensive woes weren't fixed. Kevin Molino picked out Christian Ramirez who let the ball bounce a few times before he fired it Hamid.
Down 1-0, United looked for ways to get back in the game. Luciano Acosta picked out Deshorn Brown who twisted and turned to get some space, but he was only able to send a shot that went well wide. A few minutes later, Brown picked up a loose ball and tried a near post effort, but Minnesota goalkeeper Bobby Shuttleworth was there to push it wide.
Halfway through the first half, Acosta dribbled down the middle of the field and had the option to lay it off to Brown, but he opted to try and get a goal himself. His shot was rather weak and easily saved by Shuttleworth. Seven minutes from halftime Nick DeLeon worked his way into the box and had his shot parried away from the Minnesota keeper. The black and red weren't able to get another shot in as it was easily cleared away.
The capital club would regret the missed chances as Molino pressured the D.C. defense and laid it off to the rookie Abu Danladi. His shot beat Hamid near post and doubled the Loons' lead.
United can't catch a break
As if things couldn't get worse for the black and red, manager Ben Olsen was forced to make two substitutions at halftime. Ian Harkes was replaced by Jarred Jeffrey and Lucho Acosta came off for Lamar Neagle. Things got to a decent start for United as Brown sprinted past a Minnesota centerback, but his touch that would have rounded Shuttleworth was too strong and another chance was wasted.
Minutes later Sean Franklin got on the end of a corner kick, but his header went agonizingly just above the goal.
It can't get worse, right? Think again. A cross from Minnesota's Miguel Ibarra should have been easily managed by Jared Jeffrey, but this is United we're talking about. Jeffrey mishandled the clearance and it went straight into the corner of the goal. 3-0 now, and it's starting to become impressive how unlucky United are.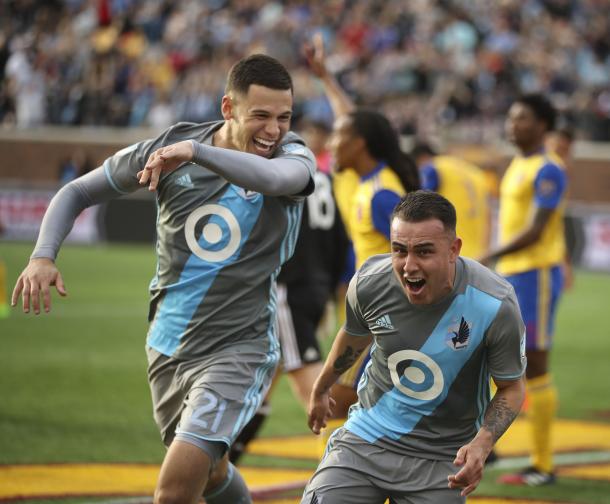 In the 65th minute, Steve Birnbaum was able to get his head on the ball and play it across the box to Brown who should have easily put it in the back of the net. Brown's header, however, went wide of the target. There was one good thing for United; Patrick Mullins made his return from injury. He came on for Nick DeLeon with 20 minutes left, giving him time to run around for the first time a while.
Mullins immediately found himself involved as he unleashed a shot from nearly thirty-yards out, but it went slightly above the crossbar. The black and red would get a few more chances, but nothing to prevent Shuttleworth getting his clean sheet. Just before what would have been the end of stoppage time, Miguel Ibarra put a shot on goal that despite Bill Hamid getting a hand on it, it snuck in by the post.
The match ended with Minnesota United coming out on top 4-0.
Takeaways
Minnesota took advantage of their chances, United didn't. Although history pointed to the visitors being able to handle the expansion side, Minnesota proved they are on the right path for the future.
United had some glimmer of hope that they could make a late push for the playoffs, or at least climb up the table. This loss really epitomizes how their season has gone, and there are no signs of it changing. The return of Bill Hamid was though to fix some issues, but instead it was the same story but different day.
What's next?
United, now 5-3-14, head back to the District to host the first place team in the Eastern conference Toronto FC. That match takes place Next Saturday, August 5.
Minnesota's win bumps them above the Colorado Rapids in the Western conference with a record of 6-4-12. They will play at home to the defending MLS Cup Champions Seattle Sounders next Saturday.