 Because I don't want to talk about it as much as the broadcast team talked about it, I'll get it out of the way up top: it was hot in Houston. Very hot. 105-ish degrees hot. But that cuts both ways; neither team looked great by the end of the game, and neither team was able to play at 100% intensity for most of the game. You could see guys picking their spots and timing their runs so as to conserve as much energy as possible.
With all that said, for the Portland Timbers to go to the toughest venue in MLS to get a result from and actually get a result, even if it wasn't the three points that looked likely in the second half, is a pretty good night's work. There are draws that feel like losses, and there are draws that feel like wins; this one was neither, but it felt like a satisfying point given that it's only the third point given up at BBVA Compass Stadium in 11 games this season.
The Good
Oh, intangibles. How you torment me with your appearance, every time I want to talk about something concrete. The Timbers' mental strength has been called into question a bunch this season, but in both the Vancouver game and this game, the Timbers showed a strength and a resilience that's been lacking for a couple months now. The Timbers gave up leads twice in this game, but didn't drop their heads; they kept working and fighting and trying to get max points from the game, where maybe a month ago this game would have turned into a slaughter after the Timbers gave up the first tying goal.
What's the cause of that? Is it all down to Caleb Porter, or are the players finally realizing they're accountable for their performances, or is it something else? I don't know, but it's nice to see some fight back in the side, and hopefully, that will continue and expand this weekend against the Galaxy.
The Bad
Nothing I wrote last week about Jake Gleeson is invalidated by Saturday night's game. But Gleeson made another high-profile mistake, which people have invariably pounced on as yet another indication that he's not good enough for the Timbers.
But here's the thing: he is. Houston's first goal came about because Gleeson took an awkward swipe at a ball he maybe should have let get past him, but given the state of Portland's defenders over the course of this season, do you blame him for wanting to clean up a ball that he may not have been confident in his backline to clear?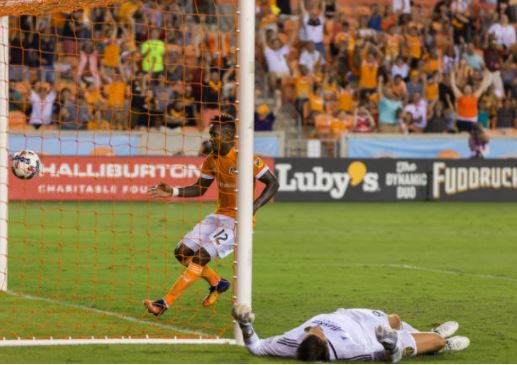 He tried, he failed, and it was a mess. But he's also going off instinct at that point, and if Larrys Mabiala and Zarek Valentin did a better job marking their men, the play might have ended in a completely different way. I still think Jake Gleeson's a good enough keeper. And his unbelievable save later in the game preserved a point for the Timbers.
The Ugly
I still heard a fair amount of a certain disgusting chant every time Gleeson took a goal kick. Reminder: it's 2017. Tighten up, Houston.