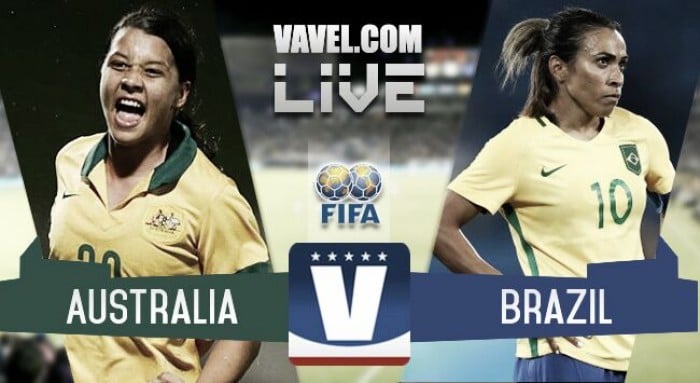 That'll do it! Australia defeats Brazil, 6-1. Australia wins the first ever Tournament of Nations! They scored 11 goals in the tournament with Kerr as their leading scorer with 4 goals. Thank you for following along here on VAVEL USA! This has been Cindy Lara. Until next time!
90+2- FULL TIME: Australia 6-1 Brazil
90' - Two minutes of stoppage time have been added.
90' - Catley takes the free kick and finds Ibini. Her header goes over the net.
89' - Foord is taken down by Maria. Free kick of Australia.
88' - Substitution for Australia. Kellond-Knight, the captain for Australia, out; Gema Simon in.
83' - And that'll do it for Sam Kerr. She is subbed by Princess Ibini. Kerr ends her Tournament of Nations with four goals.
81' - GOAL! Australia! Kerr is able to get past two defenders. 6-1 for Australia.
79' - Another substitution for Australia. Caitlin Cooper comes in for Katrina Gorry.
76' - Raso to Kerr to Foord ends up in a dead play. Foord's header misses the target.
75' - Kerr is called offside as the ball comes to her, putting the Australian attack on halt.
72' - Australia makes another change. Alana Kennedy from the Orlando Pride replaces Laura Alleway.
71' - Neuhaus with the diving save for Brazil after a shot from Kerr. The ball rebounds for a clearance.
68' - GOAL! Australia! Foord with the brace. Butt sends a ball to Foord, who beats the keeper for a wide open shot on goal. Australia inching closer to the title, 5-1.
67' - Zaneratto takes a hard shot towards the goal, but Arnold again in the way for the stop.
65' - A chip from Debinha to Ludmila ends in Arnold's hands.
63' - A lob to Kerr, who passes to Butt. Her shot goes wide.
58' - Brazil with a sub of their own. Djenifer out; Maria in.
57' - That'll be it for De Vanna after 57 minutes. The 32-year-old veteran scored two goals in this match. Hayley Raso from the Portland Thorns takes her place.
55' - Carpenter is cautioned with a yellow card.
52' - Carpenter making a run on the right side and takes a shot. It is saved by Neuhaus, which gives Australia the corner kick.
52' - Kerr for Australia now with some space. Her shot is not on target, however.
47' - Ludmila in the box with an opportunity to start off the second half, but Foord makes a tackle.
46' - We are back for the second half!
Halftime! It's been all Australia in the first half. They lead 4-1. If they maintain the lead, they will be crowned the 2017 Tournament of Nations Champions. Goals by Camila for Brazil and De Vanna (2), Foord, and Gorry for Brazil. Kerr with two assists.
45' - Three minutes of stoppage time have been added.
44' - Kerr takes a header after a De Vanna pass, but it is saved by Dani Neuhaus
41' - GOAL! Australia! Gorry with the strike, which gives Australia the 4-1 lead.
40' - Brazil makes their first substitution. Debinha, the North Carolina Courage forward, in for Fran.
36' - Zaneratto with a chance for Brazil, but her shot goes just wide.
34' - Australia with another GOAL! De Vanna scores her second the game. Australia leads 3-1.
32' - GOAL! Australia! Australia counters. Kerr takes the ball to the right and makes a cross that finds Foord. 2-1 Australia!
31' - Arnold for Australia denies Brazil a chance to take the lead.
29' - Logarzo suffers an injury on a tough challenge. She is subbed by Tameka Butt, who scored the goal against the United States a week ago.
25' - A give and go from Kerr to De Vanna back to Kerr results in a shot, but it is saved.
24' - Neuhaus with an incredible save to deny Australia its second goal on a run by De Vanna.
23' - Gorry lobs a hard shot outside the box. It just goes over the bar.
21' - A run and a pass by Lumila for Brazil to Camila nearly finds the net. It goes left.
20' - Van Egmond earns the first caution of the match. The referee shows her the yellow card for a hard tackle on Camila.
17' - Gorry with a chance for Australia, but it goes wide right. It didn't look like she took a hard of a shot as she may have intended.
13' - Australia almost took the lead, but the goal by Foord is called back due to an offside call.
7' - GOAL! Australia! De Vanna takes the penalty kick, which is blocked by Neuhaus, but De Vanna scores on the rebound. The game is all tied at 1-1.
6' - Kerr is taken down in the box, and Australia is awarded a PK.
2' - Immediately after the kick-off, on a set piece, Camila gets Brazil on the board. GOAL! 1-0, Brazil! It's Camila's second goal of the tournament.
Kickoff is underway!
Kickoff is minutes away. Notable changes for both teams at goalkeeper - Barbara for Brazil on the bench, and Lydia Williams did not dress due to a quad injury. Marta, Gabi Nunes, and Debinha all listed as substitutes for Brazil.
Brazil Starting XI: Neuhaus (C); Benites; Djenifer; Tamires; Leticia; Zaneratto; Andressinha; Fran; Ludmila; Camila; Monica
Australia Starting XI: Arnold (GK); Alleway; Logarzo; Catley; Kellond-Knight; Foord; Van Egmond; De Vanna; Gorry; Kerr; Carpenter
We're minutes away from the start of the Tournament of Nations with Australia taking on Brazil. With a win or a tie, Australia will be the first ever winners of the tournament. It would be their first piece of silverware since the Asian Cup in 2010.
Australia vs Brazil Live Stream
NWSL Players to Watch: Five players from Australia play in the National Women's Soccer League (NWSL), including Lydia Williams (Houston Dash), Haley Raso (Portland Thorns), Sam Kerr (Sky Blue FC), and Steph Catley and Alana Kennedy (Orlando Pride). Brazil has four players in the league - Marta, Camila, and Monica from the Orlando Pride and Andressinha and Bruna Benites from the Houston Dash.
Australia vs Brazil Head-to-Head: The past two meaningful meetings between the Westfield Matildas and the Canarinhas have been at the international tournament stage. At the 2015 FIFA Women's World Cup, Australia stunned Brazil in the quarterfinals with a 1-0 victory on a goal by Kyah Simon in the 80th minute. Fourteen months later at the 2016 Rio Olympics, much to the excitement of the home crowd, Brazil knocked out Australia from the quarterfinals in penalty kicks, 7-6.
Brazilian Woes: For Brazil, they look to rebound with a win after collapsing in the last nine minutes against the United States after a 3-1 lead on Sunday, losing 3-4 in a thrilling match. Brazil's Tournament of Nations experience took a turn towards disappointment after scoring in the 63rd and 78th minutes on set pieces for a 3-1 lead. They forced the United States to scramble, and Brazil was not able to stop the American comeback. A Christen Press goal in the 80th minute, two minutes after Andressinha scored her second goal of the game, giving Brazil the two-goal lead, followed by an equalizer by Megan Rapinoe in the 85th minute, and finally, the late 89th-minute leading goal by Julie Ertz spoiled another Brazil lead over the US.
Tournament of Nations Trophy Scenario: Right now, Australia goes into its final match with a great advantage, despite the United States sitting in second place, still alive for the tournament title. Here are the various scenarios: 1) An Australian win or tie against Brazil would give the Westfield Matildas the Tournament of Nations trophy, regardless of the USWNT vs Japan outcome; 2) An Australian loss, however, and a USWNT victory, plus the US overturning that three-goal difference gives the USWNT the trophy; 3) Should Australia lose and the USWNT loses as well, Australia still captures the title based on the fact that Australia will have six points, and the US will end with three; 4) If Australia loses and USWNT wins, the best goal differential will be the tie-breaker; 5) If they are tied at goal differential, then the winner is decided on total goals scored; 6) If total goals scored does not break the tie-breaker, then the Matildas win the tournament based their on head-to-head record against the US in the tournament.
What's at Stake: This is a decisive game for Australia. After a 1-0 victory over the USWNT in Seattle last Thursday and a 4-2 win over Japan on Sunday, which included another NWSL-form-type Sam Kerr hat-trick, her first of her international career, the Westfield Matildas sit comfortably at the top of the standings with six points and a three-plus goal differential.
Welcome to VAVEL USA's LIVE coverage of the 2017 Tournament of Nations between Australia and Brazil. My name is Cindy Lara, and I'll be your host for this game. We will provide you with tournament information, pre-game analysis, roster updates, and news as it happens here on VAVEL. This game will be broadcasted on ESPN3.