As if things couldn't get worse for Columbus Crew SC. During the day Thursday, midfielder Federico Higuain told Andrew Erickson of the Columbus Dispatch that the 2017 season will be his last for the Black and Gold.
2017 season to be last for Higuain, Crew SC
The decision comes after the Argentine midfielder has spent six seasons in Columbus since arriving in 2011. Fans in Crewville were devastated to hear the news and were urging the front office to find a replacement immediately. Columbus currently holds the top spot in the allocation order.
"I don't know what will happen, but I think it's the end of the cycle, you know?"
The 32-year-old midfielder has tallied up 48 regular-season goals with Columbus which is good enough for third on the club's all-team chart and also has recorded 40 assists. This season, Higuain has racked up nine goals and five assists in 18 games.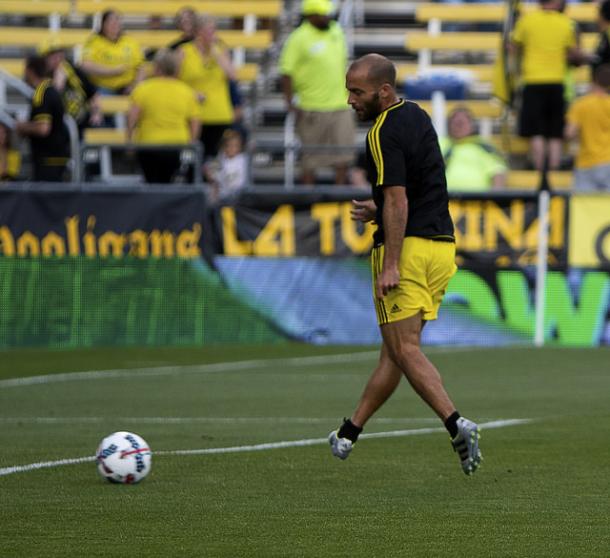 Higuain is one of two players who currently occupy a designated player spot on the team roster. He is also the teams highest paid player. Adding to his goal-scoring skills and crafty playmaking skills, he was the main key of Crew SC that helped the Black and Gold make the 2015 MLS Cup Final, where they would eventually fall to the Portland Timbers.
"I'm sure the Columbus Crew will not lose too much without me -- but maybe another team in or out of the United States will win something," Higuain added to his statement given to the media after their training session Thursday morning in Obetz, Ohio.
Head Coach and Sporting Director Gregg Berhalter had this to say about the decision:
"I don't think this is abnormal. Any player in his age profile always is concerned about their future and I think that's perfectly normal. We want to discuss it and it's something we will discuss. [Higuain] has always been a big part of this team."
Berhalter went on to add, "I think, hopefully, it's something we will be able to solve sooner rather than later, but it's something where we're focused on the transfer window and winning games."
The past three matches Higuain did not appear in, due to a knee sprain. His status, however, has been upgraded to questionable for Crew SC's upcoming match against the San Jose Earthquakes in a cross-conference clash in the Bay Area.
Kickoff from Avaya Stadium is set for 10:30 pm EST (7:30 PT | MLS Live). You can also catch the match on CW Columbus and Spectrum Sports OH.