Peruvian international Yoshimar Yotún has completed a move to Orlando City SC from Malmö FF. Yotún is a versatile player who can play anywhere from left back all the way up to left wing. Yoshimar or "Yoshi" can also play in the center of the pitch as a holding midfielder.
Yoshi's versatility is unique. You can place him anywhere on the left side of the pitch, or right in the center and you would think it is his preferred position. Yoshi has been a key figure in the Peruvian side for quite some time now. Yotún helped his side finish third place at Copa América in both 2011 and 2015.
Yoshi will occupy a designated player slot. The 27-year-old will be alongside Kaká and Carlos Rivas as the club's three designated players. Orlando used Target Allocation Money (TAM) to remove Giles Barnes' DP tag.
Orlando City SC general manager Niki Budalic said "Yoshi can play as a creative midfielder who can operate both wide and centrally, as well as cover as an attacking left back. He stands out for his passing and creative ability, as well as his versatility to play multiple positions. He is a great fit for our long-term plans and someone we've tracked since last year. We are pleased to have finally acquired him."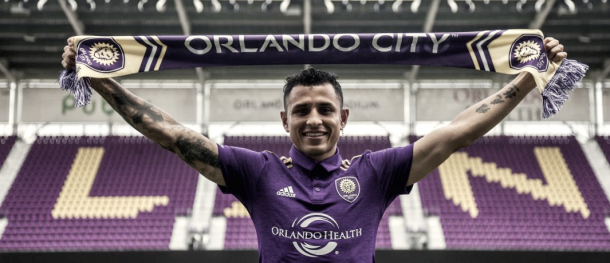 Yoshi's Past
Yoshi has a decorated past and part of that is due to playing at Sweden's most successful club. While at Malmö FF, the Peruvian made 72 total appearances, 10 of which were in the UEFA Champions League. During his spell in Sweden, Yoshi grabbed three goals and 15 assists which helped his side win the 2016 Allsvenskan championship. So far, Yoshi has made 64 appearances on the international stage with Peru.
Prior to his European success, Yoshi made a name for himself in South America. Yoshi began his professional career in his native country of Peru with Sporting Cristal Lima in 2008. During that time, the 27-year-old made 155 total appearances which resulted in him grabbing nine goals and having 12 assists to go along with that.
Yoshi had a very successful 2012. Not only did he win a league medal for the first time in his career, but he was voted into the Americas' best XI. The Americas' best XI is selected by journalists for Uruguayan newspaper El País' Equipo Ideal de América. Ronaldinho and Neymar also featured in the 2012 edition of the Americas' best XI.