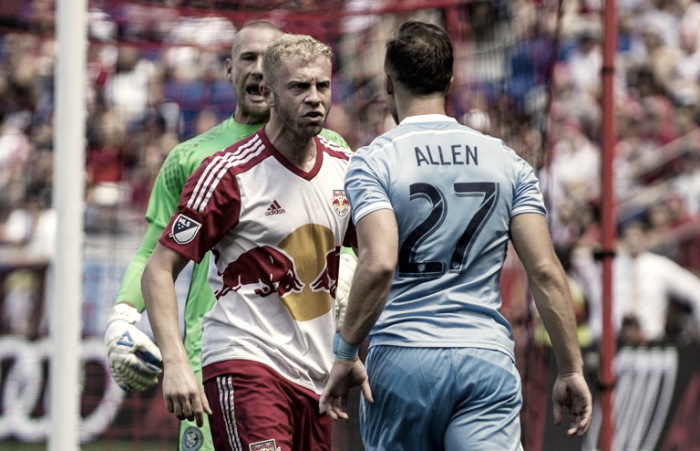 New York City FC welcome the New York Red Bulls to Yankee Stadium on Sunday for the first time in the 2017 MLS season. This is the second time the two sides will meet in MLS play this season. The first one saw the supporters in blue go home happier than the fans in red. NYCFC won the first meeting 2-0 with goals from Jack Harrison and Ben Sweat. New York City are hoping for a similar result on Sunday.
New York City currently sits ahead of the Red Bulls in the Eastern Conference but a loss on Sunday could change that. NYCFC's most recent match was an embarrassing 4-0 loss to league leaders Toronto FC. The Red Bulls on the other hand have won their last four MLS matches scoring 15 times and conceding just three times. The Red Bulls' recent form has them just two points behind NYCFC, and with a point to prove, they might find themselves on the other end come the end of Sunday.
Team News
New York City FC: Unsurprisingly, NYCFC have a longer injury list than their opponents once again. However, for the first time since April, Khiry Shelton will not be apart of that list. Khiry picked up a hamstring injury earlier in the season and has finally recovered enough to see himself off the injury list.
Despite Khiry's removal off of the injury list, NYCFC are going to be be missing some key players. Miguel Camargo who picked up an injury last month while on injury duty will miss the second Hudson River Derby of the MLS season. The Panamanian will likely miss the remainder of the season. Another NYCFC player with a long term injury is star fullback, Ronald Matarrita. Matarrita has suffered from injuries for a large portion of the season and is going to once again be forced to miss the Hudson River Derby.
New York City FC's first and so far only homegrown signing, James Sands, is also going to be unavailable for this match. The 17-year-old will continue to miss time with a right ASIS apophysitis injury. Sands is yet to make a competitive debut for the club.
Maxime Chanot is another player who will be missing the game due to injury. Chanot is an important piece to NYCFC's backline and New York City is going to have to do very well to perform without him. Rodney Wallace, who enjoyed a great start to the campaign, has been moved to the "questionable list" and may return to the lineup on Sunday.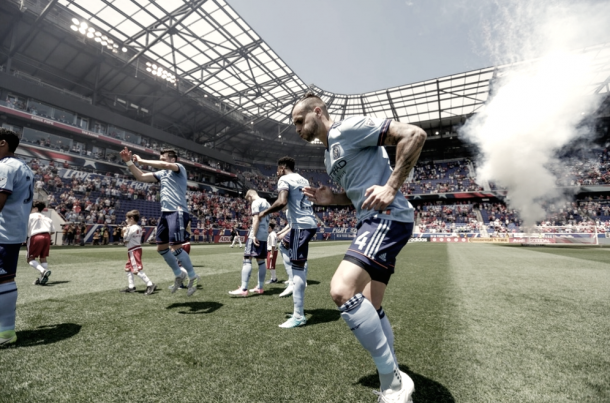 New York Red Bulls: While the Red Bulls list is shorter than their opponents, they will also be missing some key players. Mike Grella, who loves a Hudson River Derby, will be forced to miss Sundays edition. Grella, who had knee surgery, will also miss the third and final derby of the season, as his injury will keep him sidelined for the remainder of the year.
Sadly for Red Bull supporters, Grella is not the only player that will be sidelined for the rest of the season. Gideon Baah, who has spent a lot of his time in MLS injured, will miss the remainder of the season with a broken leg. Another player on the list is Aurelien Collin. Collin has a much less severe injury than his two teammates already mentioned, but will still miss Sundays match with a hamstring injury.
Key Facts
As mentioned earlier, the red side of New York has won each of their last four MLS matches. Dominating most of their opponents leading up to the Hudson River Derby, they will not want this dominance to stop. Also, losing in their last meeting against NYCFC, the players will be looking for revenge.
Another key fact is that NYCFC lost their last match 4-0. However, with Yangel Herrera absent and a lackadaisical Andrea Pirlo being the one who replaced him, NYCFC supporters were not too worried. Losing 4-0 is never fun, but NYCFC supporters truly believe it was due to the absence of Yangel Herrera who was suspended for the match but will return on Sunday. Now, a 4-0 loss is likely not entirely to blame on one player who was only on the pitch for two of the four goals conceded, but Pirlo certainly played a factor and NYCFC supporters will be much happier if they see Herrera on the pitch on Sunday.
Daniel Royer is on fire at the moment. The Austrian winger has been on a tear recently scoring six goals in his last four matches. Royer is just one goal behind Bradley Wright-Phillips this season and those two will be a scary sight for NYCFC defenders come Sunday.
Maxi Moralez, Alex Ring and Yangel Herrera are NYCFC's best midfield trio. However, the players have only started together just four times, and one of those times Yangel Herrera was sent off just 12 minutes in. Despite that, the trio has not lost a single game together and that should have Red Bulls supporters worried. The three man midfield is very well balanced, but will it be enough on Sunday?