An Original Six matchup was set up in the Bay Area of California when the San Jose Earthquakes hosted Columbus Crew SC. The Quakes, however, defeated their Eastern conference counterparts by a score of 2-1.
Lackluster First Half
Chris Wondolowski almost put the home side up when his rising header went just left of the near post only 45 seconds into the first half. Wondolowski again had a good look on goal in the 11th minute, but his shot was deflected out by keeper Zack Steffen and San Jose was awarded their second corner of the night.
Forward Ola Kamara came very close to giving Columbus the advantage when a centered ball went under the outstretched foot of the Norweigan forward.
Again, Wondolowski heads a corner kick on goal, but Steffen parries it out for another corner kick. On the opposite end, Columbus wasted a counter attack when Artur started the build up, but a Wil Trapp shot went wide of the frame.
Michael Urena Goal
Problems in the midfield from Crew SC saw the Quakes counter fast, and Michael Urena was able to slide the ball past Steffen to give the Quakes a 1-0 lead.
San Jose took the 1-0 lead into the half as the teams went to their respective locker rooms.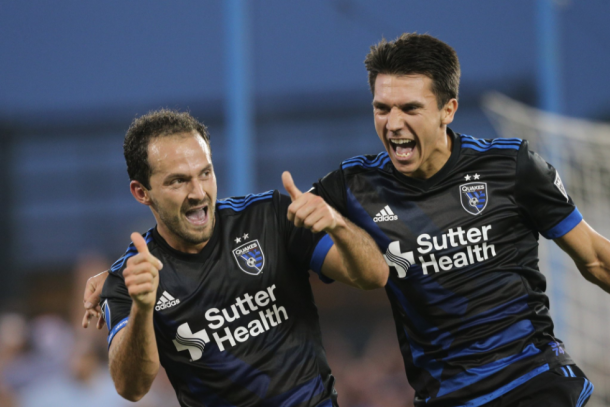 Columbus had a great opportunity to level the game when Artur led Justin Meram out on a counter attack. The Iraq international had options in Kamara and Kekuta Manneh but Meram slipped inside of the penalty area and lose the ball.
Wondolowski finally found the back of the net when Tommy Thompson found him right on the penalty spot and was able to roof the ball into the net to double the Earthquakes lead.
Kamara had his first look on goal of the night when he had a good shot on keeper David Bingham but the save was better to keep the clean sheet intact.
Adam Jahn Homecoming
It was a homecoming event for former Quakes forward Adam Jahn, and no love lost it seemed. Jahn brought Columbus within one when he converted a loose ball inside of the six-yard box to get Crew SC on the board.
Vako almost got his first goal of the night when his shot deflected off of Steffen and rolled to the net but it went just wide and out for yet another San Jose corner kick.
The Original Six battle came to an end and the San Jose Earthquakes saw the win column as they defeated Columbus Crew SC 2-1.
Next, for San Jose, they will travel to the Midwest for a visit to Sporting KC while Crew SC goes back home to host rival Chicago Fire in their last meeting of the regular season.