On a warm night at RFK Stadium, fans gathered in to see their beloved D.C. United take on the league leaders Toronto FC. While many expected the visitors to come in and thrash the black and red, Ben Olsen's side had other plans.
United's dominating start lead to a goal in the sixth minute from Kofi Opare. The game leveled itself out, leading to a few big stops by the D.C. goalkeeper Bill Hamid. Right before halftime saw a change in fortune as Lloyd Sam was sent off. It didn't take long for Toronto to equalize, as they were able to bring the score to 1-1 via a Steve Birnbaum own goal. Fortunately that was it, and United's six-game MLS losing streak came to an end.
D.C. scores early, remains strong
It was a different D.C. United right from the start. They were creating chances, having good pass flow, and most importantly - they scored.
In the sixth minute D.C. United were awarded a corner. It was met by the rising head of Kofi Opare, who's effort went past the Toronto keeper Alexander Bono. This set the stage for Opare to put out a great performance, and he very much did.
The D.C. defense remained strong for the most part of the first half, but it eventually was snapped by none other than Sebastian Giovinco. The Italian made a run into the box that set him up with a glorious opportunity to put it past Hamid, but Hamid made a brilliant save that kept the black and red in the lead.
Although the night started well, everyone knew it wouldn't be easy for D.C. to hold on. Right before halftime Lloyd Sam's challenge on Chris Mavinga prompted the referee to give Sam a straight red card, leaving United with ten men for the remaining 46 minutes.
The sending off didn't deter fans from cheering on their team as they walked to the locker rooms at halftime.
Toronto equalizes, but can't steal the win
For a few moments it seemed like a Seattle-esque meltdown was on hand for D.C. United, but luckily they remained calm.
In the 52nd minute a scramble in the box lead to United's Jared Jeffrey attempting to clear the ball from danger. His clearance, however, struck United captain Steve Birnbaum and went past agonizingly behind Hamid and into the net. Jeffrey, who scored an own goal in United's last match against Minnesota, was lucky that it wasn't his name on the opposing team's scoresheet once again.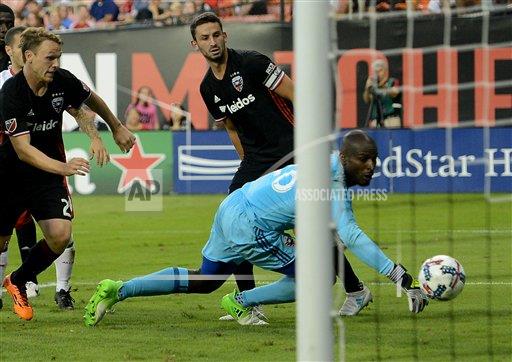 The remaining 38 minutes saw the away side put many attempts towards goal, but none of them actually on target. Despite owning the ball for 80% of the second half, Toronto did not record a shot on target. The match went on to end in a 1-1 draw.
Post match notes
For the first time in weeks D.C. United's defense stepped up. Lloyd Sam being sent off didn't help their effort to win, but the black and red did not back down. They kept their heads on and grinded out a well deserved draw.
As for Toronto, it was a bit shocking to see them not be able to put any sort of effort on target. Without the own goal, however, they might have pressed a bit more. They still were able to create many chances, but they must regain their goal-scoring mentality.
What's next?
D.C. United, now 5-14-4, host Real Salt Lake next Saturday. United will try to recreate the goal-fest of a match that saw them win 6-4, but Bill Hamid might want to keep the RSL scoreline much lower. D.C. are still in last place in the Eastern Conference and the MLS, but this draw gives them plenty of momentum moving forward.
Toronto FC's schedule doesn't get easier. They will host the Portland Timbers next Saturday; and if Chicago wins their game in hand it would mean Toronto is tied for first place. Their record is now 12-3-8.