For the second time this season, New York City FC has beaten their rivals, the New York Red Bulls. This time, however, it was the blue side of New York who hosted the battle. The Red Bulls crossed state borders to take on NYCFC for the first time this season. Despite a change in location, the Red Bulls came up short for the second time this season.
Heading into the match the Red Bulls were probably feeling very confident as they have won each of their last four MLS matches. On the other hand, NYCFC was probably feeling quite the opposite, as their last MLS match ended in a 4-0 loss to Toronto FC. However, like any other derby game, past results don't matter and NYCFC proved just that.
David Villa Grabs The First
In a match full of star players David Villa shined brightest once again. The Spanish striker opened the scoring in the 28th minute after rounding Luis Robles and slotting it into the empty net. Damien Perrinelle tried to play a ball forward from his own half which was intercepted by Alex Ring which eventually lead to the David Villa chance.
Prior to the goal NYCFC had made plenty of chances for themselves and were probably unlucky to not find themselves ahead. Maxi Moralez flew highest in an aerial battle and nearly scored from a Jonathan Lewis cross. David Villa had an early opportunity in front of goal but some good defensive work from Sal Zizzo helped Luis Robles make a big save. However, once David Villa got his second chance, there was never a doubt.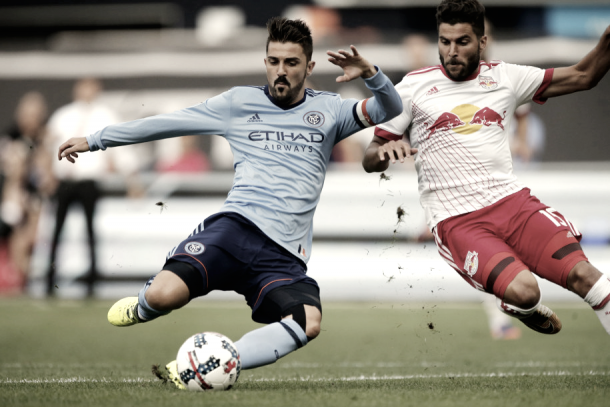 Bradley Wright-Phillips Joins Fun
David Villa is not the only star striker in New York and Bradley Wright-Phillps made sure people knew that. Sacha Kljestan has been on a tear since the last Hudson River Derby and that didn't chance on Sunday either.Moments before halftime, Sacha picked the ball up, quickly turned and laid it off to Sean Davis who immediately played BWP and just like Villa, he made no mistake. Wright-Phillips hit the ball across his body and just out of the reach of NYCFC goalkeeper Sean Johnson.
With David Villa and Bradley Wright-Phillps being each side's main source of goals, and each having a goal in the match, of course, they wanted to outdo each other. BWP grabbed his second goal of the game and his 10th against NYCFC in the 64th minute. Once again, it was Kljestan pulling the strings as he played Tyler Adams out wide and the 18-year-old picked out BWP who grabbed his second goal of the match.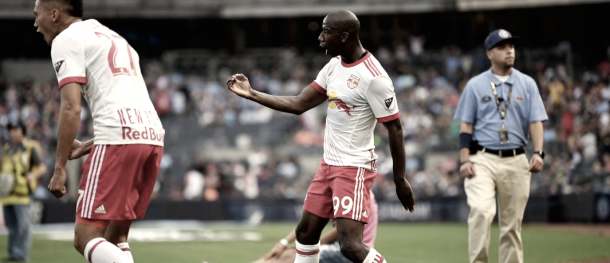 David Villa Strikes Again and Again
A man on a mission with the capabilities of David Villa is a man who can not be stopped. David Villa scored the equalizer in the 72nd minute of the match. "El Guaje" picked the ball up at midfield and took off. The captain ran straight at Red Bull defender Aaron Long and completely spun him around before striking home the equalizer. The strike was too difficult to handle for Luis Robles and David Villa and the rest of his NYCFC teammates ran off in celebration.
"Two goals is cool, but why not score three?" This must have been exactly what was going through David Villa's head right after scoring his second goal. One point was not enough for the 2016 MLS MVP. Just minutes after his second goal, David Villa won his side a penalty and we all know the outcome of this one. The striker grabbed his league leading 17th goal of the season from the spot and fell to his knees in celebratory fashion. This was David Villa's first MLS hat trick and he could not have picked a better day to do it.
NYCFC played well for the rest of the match. Sal Zizzo was eventually shown his second yellow of the match after a late challenge on Yangel Herrera and was sent off. Following that, David Villa left the pitch to a roar of cheering from New York City FC supporters in the 90th minute and put them armband on NYCFC youngster Jack Harrison. The final whistle eventually blew and the Red Bulls faced a second derby loss in two MLS meetings this season.
What's Next?
New York City FC will travel to Los Angeles for their match against the LA Galaxy. NYCFC will go in with high expectations after Sunday's win in the Derby. LA has just one home win this season but with the hiring of Sigi Schmid and the signing of Jonathan dos Santos, they should be an improved side. NYCFC sit four points off league leaders Toronto FC and LA Galaxy sits just four points ahead of the last place in MLS.
New York Red Bulls will be hoping to get right back on track as they will welcome Orlando City SC to Red Bull Arena in a Saturday night showdown. After a great start to the season, Orlando has quickly spiraled downhill. Despite that, they have brought in MLS superstar Dom Dwyer and have made another DP signing in Yoshimar Yotún who may make his debut for the club in New Jersey vs the Red Bulls. After their loss vs NYCFC, the Red Bulls plan on going back to winning ways.