On a warm-but-not-brutal morning at Providence Park, the Portland Timbers welcomed the shell of what used to be the LA Galaxy to town as both teams attempt to right their listing ships. The good ship Galaxy's is already taking on a ton of water, though, while the Timbers seem to have patched theirs up OK for now, but it's safe to say both teams were looking for max points from this game and nobody was going to be content with a draw.
The Timbers got to play with a full toybox Sunday for the first time in months, with Liam Ridgewell finally back in the starting lineup. I've been very hit and miss with Ridgewell the last couple seasons, and I feel like his time in Portland will end after this season, but seeing him back in the defense, directing traffic and being a very vocal presence, was refreshing. His play might not be the best, but his coordination skills are top notch still, and the Timber defense desperately needs that.
With that full squad in tow, the Timbers made short work of the Galaxy, winning 3-1 and never really feeling particularly threatened by an LA attack that was missing most of its best players. With the win, the Timbers sit in a four-way tie behind Sporting Kansas City in the West on points with 34, technically in fifth on GD but only three points off the top.
The Good
Ease of use. The Timbers, for the first time in recent memory, didn't really struggle to beat a team they should beat. Whether that's down to having a full squad to choose from, having the belief that they are a pretty good team finally take hold, or some other mysterious reason, they never really broke a sweat against the Galaxy.
"They shouldn't!" you say. "The Galaxy are terrible!" Well, you're right, they are. You know who else is terrible? Minnesota United. You know who else is terrible? Colorado Rapids. The Timbers lost to them both. So, right now, any victory over a beatable team is definitely cause for optimism. MLS is a league that definitely rewards streaky play - just ask the Seattle Sounders, who are now above the Timbers in the table - and if your streaks are timed right, good things can happen (like 2015).
Diego Valeri. I mean, just look at this goal.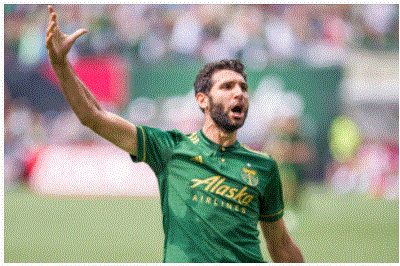 VAR. A lot of people complain about VAR. Do not listen to these people. Anything that can help referees get more things right in a game should be embraced without a second thought because it's more important to get things right than it is to have Hot Take Talking Points for after the match. And in this game, VAR got it exactly right, waving off a Gyassi Zardes goal for a handball (and giving him a yellow) after a review.
The Fanendo Adi penalty claim was not reviewed, but when VAR was used, it was used correctly, it was used quickly, and it caused a very minimal amount of disruption. Overall, league-wide, VAR's introduction couldn't have gone much better.
The Bad
Defensive letdowns. The Timbers scored their first goal a mere five minutes into the game, and it seemed a safe bet that they'd just cruise from there because the Galaxy was almost instantly on the back heel every possession. And then the Galaxy kicked off after the goal and promptly scored. The goal was down to a combination of individual errors, the last of which was Roy Miller being a step slow to react once Emmanuel Boateng got the ball; at that point, it was off to the races and Miller was still in the warmups.
Since before the season even started, the book on the Timbers was "they'll score a ton, but they'll concede a ton", and that is exactly how this season is playing out. Granted, the Timbers haven't had their first choice defense much this season, but until they do tighten up at the back, this team will flirt with missing the playoffs more often than they'll comfortably make them.
The Ugly
As LA gets worse, they get more physical. They're becoming a very chippy, unpleasant-to-watch team, which is perfect timing for them with LAFC starting up next season. I like any MLS era that results in the Galaxy being bad, but it's kinda ugly to watch.