The 2016 MLS MVP is making a case for himself to win the award for a second consecutive season. David Villa of New York City FC showed up when his club needed him most. In a showdown between the two New York sides, it was Villa who proved to be the best. On a cool night in the Bronx, the World Cup winner proved why he was voted as the league's best player last season. Heading into the match David Villa had struggled a bit in Hudson River Derby matches but in Sunday's edition, David Villa did everything but struggle.
Hat-Trick Hero
In a match where the 2016 Golden Boot winner Bradley Wright-Phillips scored two goals, Villa decided to outdo him. Villa opened the scoring in the 28th minute when he found himself alone with New York Red Bulls goalkeeper Luis Robles. The Spanish striker rounded the 'keeper and slotted it into the empty net and ran off in celebration. Once Villa was played through on goal there was never a doubt.
A couple of Wright-Phillips goals later and Villa found himself down 2-1 with a lot of work to do. With just under twenty minutes to play in the match, Villa found an equalizer. However, this goal was not quite as simple as his first. The MVP picked the ball up at midfield and sprinted straight towards goal. After completely spinning Aaron Long around, Villa banged home the equalizer and for the second time of the night ran off in celebration.
Spain's all-time leading goal scorer did not want to go home with just one point, so he decided to grab a third goal. Just moments after bagging his second goal of the night Villa won his side a penalty. Almost as if it was written in the stars, Villa converted from the spot and for the third and final time of the night, David Villa celebrated a goal.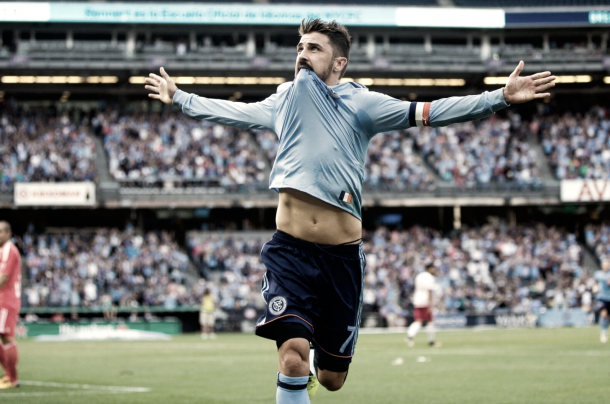 What's Next?
Villa and the rest of his New York City teammates will travel to Los Angeles to take on a struggling LA Galaxy side at the StubHub Center. New York City is four points off the very top of MLS and LA Galaxy is four points above the bottom of MLS. LA has struggled at home this season with just one win and it might be fair to say New York City are favorites to win this match. If Villa puts in a performance similar to the one he did in the Hudson River Derby it might just be impossible to beat this NYCFC side.