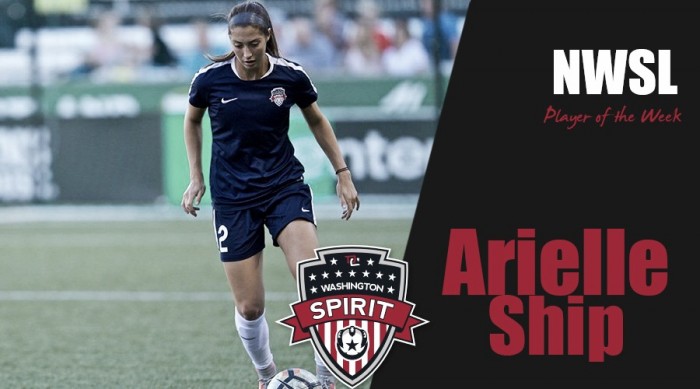 Arielle Ship, the 22-year-old rookie from the Washington Spirit, was named the National Women's Soccer League Player of the Week by the NWSL Media Association for Week 15. She is the first member of the 2017 draft class to receive the honors. Ship also joins the list of youngest players to be recognized, becoming only the fourth-youngest player to be voted as the Player of the Week.
Ship's Player of the Week Performance vs Sky Blue FC
Such an accolade is reserved for a player who made an impact for her team. Ship's goal in the 51st minute against Sky Blue FC, when they were trailing by 1-0, began the four unanswered goals overpowering by the Spirit over the New Jersey-side.
Ship took the ball up the right flank and blasted her shot that seared towards the net into the upper left-hand corner for her first career NWSL goal. The goal tied the game and began the Spirit's road to victory.


The California native's goal wasn't the only way she impacted the game. Ship finished the game with two assists as well. In the 61st minute, she set up the Spirit's second goal when she went against the defense, using her speed to get a touch on the ball to set up Cheyna Williams for the goal, giving the Spirit the 2-1 lead. Later in the 73rd minute, Ship's second assist came when she passed through traffic to find fellow rookie Meggie Dougherty Howard, who also scored her first-ever NWSL career goal. Ship's short pass to Howard created the opportunity for Howard to beat double coverage and put the Spirit at a 3-1 advantage.
Ship was selected as the number 26 overall player in the 2017 NWSL College Draft in January by the Seattle Reign FC. Two weeks later, she was traded to the Spirit for a third-round pick in the 2018 college draft and for Canadian international Diana Matheson. Ship has made 10 appearances for the Spirit this NWSL season.
The rookie forward and her teammates are set to play two games this week - one against the Orlando Pride on Tuesday night, and their second one against the Boston Breakers in the NWSL Game of the Week on Lifetime.
Previous Winners
The NWSL Player of the Week is selected each week of the regular season by the NWSL Media Association, a collection of writers that cover the league on a consistent basis.