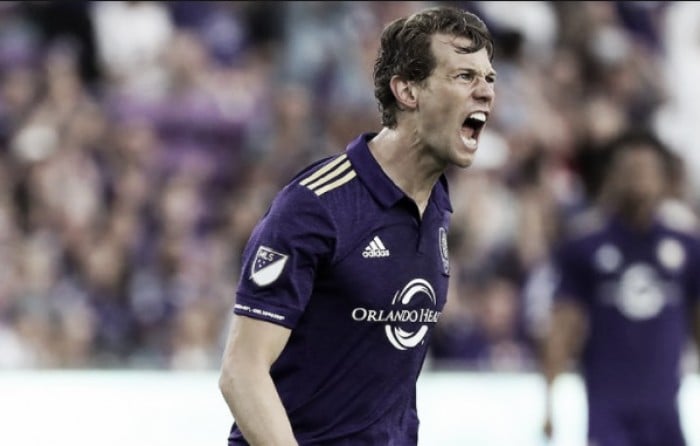 During Tuesday's training session, Orlando City SC defender Jonathan Spector left training due to injury. It appeared that Spector injured his knee during a routine drill. He sat off to the side then was later taken off the field by a golf cart.
Wednesday, the club medical staff performed multiple tests. Results and updates would become available Thursday.
Spector to miss up to three weeks
Results came back Thursday during the day to determine the injury of Spector. The U.S. Men's National Team product sprained his Lateral Collateral Ligament or LCL. This runs along the outside of the knee and also connects the thigh and shin bones.
The timeline for him to recover means Spector will miss Orlando's match Saturday against the New York Red Bulls (7:30 pm EST | MLS Live) and home matches the next two weekends against Columbus Crew SC and the Vancouver Whitecaps.
If by chance Spector takes the full three weeks to rehab his knee, he could possibly miss the match against the New England Revolution on Sept. 2 away from home.
Spector isn't the only player to have suffered injuries. Multiple players from City have suffered injuries through the first few months of the season. Most recently, the squad has been predominately healthy.
They do get good news that full back Rafael Ramos has been cleared to play. Other full back Victor Giro is still listed as day-to-day with a muscle injury.
The injury to Spector hits hard for the Lions at the wrong time. He is a leader of the City backline and has been the most consistent defensive player on the roster. He has also recorded more field time than any other player. He's also been credited with turning around a backline that conceded the most goals in the league, just last year.
Besides goalkeeper Joe Bendik, Spector leads the team in minutes played, registering 1,890 across 21 games. He missed two matches in may -- a 4-0 loss to the Houston Dynamo and a 1-1 draw against the San Jose Earthquakes -- due to an ankle injury and rotating roster spots.
Any replacements?
Well, of course, Orlando has replacements for Spector. Including, but not limited to, Jose Aja and Tommy Redding, who has fully recovered from a bout of plantar fasciitis. The Lions also have Leo Pereira, who has performed well in his three appearances just a few months ago.
Orlando currently sits in seventh place in the Eastern Conference with an 8-9-6 record and 30 points. Orlando City looks to make the MLS Cup Playoffs for the first time in history since joining the league back in 2015 with New York City FC. In order to make the playoffs, a team needs to be in sixth place or better.