MLS veteran Dilly Duka has signed a deal with the New York Red Bulls after training with the club for a few weeks.
The 27-year-old was drafted by Columbus Crew SC in 2010 and has since made 138 league appearances with multiple clubs. Duka was waived by Columbus on July 10th after not playing a single match all season and an ugly ending. Dilly will be hoping for a different outcome in New York.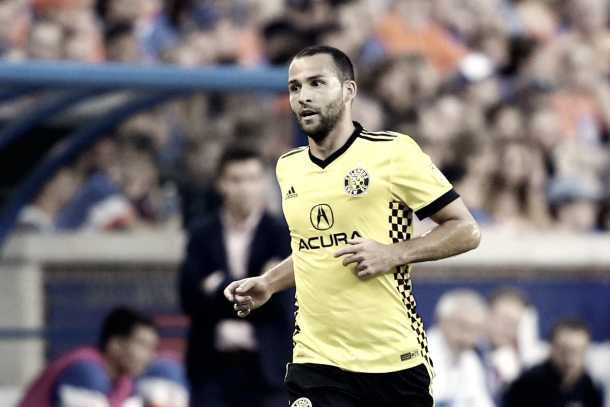 Who is Dilly Duka?
Dilly Duka was born in Montville, New Jersey, the home state of the Red Bulls. Duka attended Rutgers University for two years before entering the MLS SuperDraft in 2010 where he was drafted as the eighth overall pick by Columbus. After three seasons with the club he moved to the Chicago Fire where he had one of his best seasons.
In his debut season in 2013 with Chicago he played in 31 league games, which is a career high and also had his career high in goals with four, as well as added three assists. Following that he had a less successful season in Chicago before moving up north to join the Montreal Impact. With less than half the appearances he had in 2013, he still managed to grab another three assists and add another three goals to that. After one more year in Montreal he returned to the club who drafted him, Columbus. He joined the club during the 2016 season where he made his final 15 appearances for the club. Duka has not played a single MLS minute in 2017.
Back Home
The New Jersey native will go back to his home state in hopes of a better end to the season than the way it started in Columbus. Having trained with the club for a few weeks already Red Bulls Sporting Director Denis Hamlett said, "Dilly is a veteran player, and our staff is very familiar with him." He went on to say, "We've been able to have him in training for a few weeks and we've liked what he has shown. He brings attacking quality and experience to our roster, and we expect him to contribute moving forward."
Red Bull manager Jesse Marsch said, "We knew he was a talented, quality player and he has shown well in his time here. He's also a veteran of the league that we think improves our roster both on game day and in training. We look forward to integrating him into our team."
The Red Bulls will host Orlando City SC on Saturday hoping to bounce back from a Hudson River Derby defeat against New York City FC. Kickoff is at 7:30 p.m. ET.