The Portland Timbers have, obviously, had a very up and down season. I think we all want the March Timbers back and want never to see the June-July Timbers again. Fortunately, they have kinda arrested their tailspin a bit - seven points from their last nine have helped ease the many pains of the early summer, and the team's return to health is a big part of that.
From here on in, hopefully, the Timbers have made whatever sacrifices to whatever health idols they feel necessary because the West is so tight that they can't afford to drop many points and still stay in playoff contention.
Speaking of dropping points, Saturday's opponent, Toronto FC, doesn't do that much at home. They haven't lost at BMO Field yet, they've drawn three times, and in those 11 games, they have only surrendered seven goals. So it's fair to say the Timbers, they of the three wins in 12 on the road, have their work cut out for them.
The Timbers can score goals for fun - they also scored two goals in notoriously tough Houston, after all - but they concede goals just as rapidly as they score them. After 24 games, their goal difference is a mere +3, worst among the four teams tied at 34 points and why they're in fifth instead of second right now. And while putting a 4-0 hurting on Toronto at home would set that right, it's also not super realistic to think that'll happen.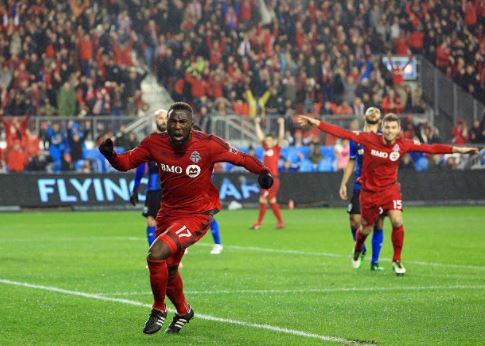 Damage Control
So the Timbers' job in Toronto will be simple; limit the damage that both Sebastian Giovinco and Michael Bradley can do to a leaky defense. The best way to do that is to shut Bradley down; get up in his face, deny him his usual multitude of passing options, and make sure he's not playing a big part in Toronto's attack. All while keeping an eye on Giovinco. Easy! But then when you're over there keying on Giovinco, there's Jozy Altidore, who is having a monster year this year, ready to strike.
In other words, the Timbers will have to be at the absolute top of their defensive game on Saturday, particularly Larrys Mabiala - who will have to stop or coordinate the stopping of both Giovinco and Altidore - and David Guzmán, who will probably be primarily tasked with that job of shutting down Bradley. While he's doing that, Diego Chará will be keeping an eye on the rest of Toronto's midfield, hoping to contain one of the most consistent, potent attacks in MLS.
Team News/Lineups
Liam Ridgewell and Fanendo Adi are still questionable after picking up minor knocks on Sunday against the LA Galaxy, and Roy Miller is suspended for yellow card accumulation, so if Ridgewell can't go, Amobi Okugo may get a start at CB.
Toronto, meanwhile, is almost fully healthy.
Toronto:
Alex Bono; Chris Mavinga, Drew Moor, Eriq Zavaleta; Justin Morrow, Victor Vazquez, Michael Bradley, Marky Delgado, Raheem Edwards; Jozy Altidore, Sebastian Giovinco
Portland:
Jake Gleeson. Vytas, Amobi Okugo, Larrys Mabiala, Alvas Powell; David Guzmán, Diego Chará; Sebastián Blanco, Diego Valeri, Darlington Nagbe; Darren Mattocks
Referee:
Kevin Stott
What/Where/When/How
Toronto FC vs Portland Timbers
BMO Field, Toronto
Saturday, August 12, 2017
3 PM PT/6 PM ET
Toronto: TSN
Portland: Root Sports
Streaming: MLS Live (subscription required, subject to blackout)