 New York City FC travel to Los Angeles to take on a struggling LA Galaxy at the StubHub Center for the first and only time this season. The last meeting between the two sides saw David Villa score the only goal in a 1-0 win at Yankee Stadium.
The Los Angeles did not get off to the best of starts but with the recent appointment of Sigi Schmid and the signing of Jonathan dos Santos, they are hoping all of this changes. Jonathan dos Santos made his first appearance for the club in a 3-1 loss to Portland in LA's most recent match but could start his first MLS match on Saturday. The Mexican international is capable of giving structure to a weak LA midfield and that is exactly what Sigi Schmid will hope he will do.
New York City FC on the other hand are far from struggling. The blue side of New York won their most recent match 3-2 against their rivals, the New York Red Bulls. David Villa's hat-trick put him atop the golden boot race with 17 goals and he certainly shows no signs of slowing down. NYCFC has only lost two MLS matches since May and they'll hope Saturday is no different.
Team News
LA Galaxy: Los Angeles will be missing three players in their meeting with NYCFC. The first, and probably biggest miss is Sebastian Lletget. Lletget was forced to undergo foot surgery after picking up an injury during a World Cup qualifier with USA. The 24-year-old midfielder is closer to full recovery by the day and he'll be a great piece to get back for Sigi Schmid.
Baggio Husidic is out against NYCFC as he is still recovering from a fractured left fibula that he picked up against Minnesota United FC in a 2-1 win back in May. Like Lletget, Husidic is hoping to be fully recovered as soon as possible.
LA Galaxy fullback, Robbie Rodgers, is also sidelined yet again. Rodgers has an ankle injury that will keep him out for the rest of the season. Rodgers is now striving to get ready for the start of the 2018 MLS season.
New York City FC: The New York side is going to be forced to play a weakened team yet again. NYCFC has had injury issues for a majority of the season and didn't use the secondary transfer window to address these issues.
Ronald Matarrita also had foot surgery just like Sebastian Lletget and will miss out on action yet again. The Costa Rican international is a huge miss in the backline for NYCFC. Matarrita's Costa Rican teammate Rodney Wallace has been on the injury list with Matarrita for a few weeks but has now been removed from the list. During Wallace's absence, Jonathan Lewis has stepped up in his position and he may have to battle his way back into the team.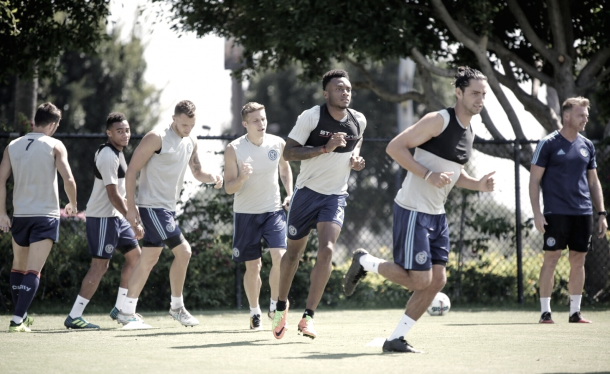 Another big miss in NYCFC's backline is Maxime Chanot. The 27-year-old defender is suffering from osteitis pubis inflammation and will likely be replaced by Frederic Brillant in Los Angeles.
Miguel Camargo, who showed flashes of brilliance at the CONCACAF Gold Cup will miss Saturday's match as picked up a non-displaced hip fracture while on international duty with Panama. Another player that will be forced to the sidelines is 17-year-old homegrown, James Sands. The youth international has an ASIS apophysitis injury and will be hoping to make his competitive debut for NYCFC in the near future.
The biggest miss vs Los Angeles will be NYCFC playmaker Maxi Moralez. The Argentinian DP has seven assists this season and has formed an excellent trio with his midfield partners Alex Ring and Yangel Herrera. Maxi will serve his one game suspension that he picked up after grabbing his fifth yellow card of the season in NYCFC's most recent game.
Key Facts
LA Galaxy have struggled to win home games all season, and with just one with at the StubHub Center, they'll be looking to turn things around. Despite going winless in their last eight home games, they'll gain confidence in knowing NYCFC have conceded seven times in their last two games away from home and lost both of them.
The absence of Maxi Moralez can not be stressed enough. Maxi has created 52 chances this season which is the third most in NYCFC history for a single season and their are still 11 games remaining. NYCFC manager Patrick Vieira will have to decide who the best possible replacement for Moralez is.
David Villa's hat-trick heroics in the Hudson River Derby put him at the top of the golden boot race and people are now wondering if he can break the single season scoring record. With 17 goals on the season it is definitely possible but a goal against LA will almost be necessary if he wants to keep on track.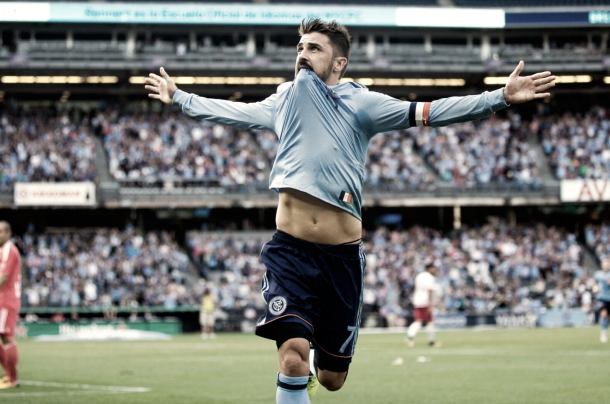 What's Next?
Following the match against NYCFC, LA will travel to Columbus to take on Columbus Crew SC at Mapfre Stadium. LA will have to take on a Columbus side who recently added Pedro Santos as a Designated Player. Los Angeles, who are better away from home, are looking to grab all three points before coming back home to welcome the San Jose Earthquakes for a Cali Clasico.
New York City FC will travel back home after their match against LA and prepare to take on the New England Revolution. Following the match at Yankee Stadium vs the Revs, NYCFC will travel to New Jersey for the final Hudson River Derby of the MLS season where they will be looking for their first ever season sweep vs the Red Bulls.
New York City FC vs LA Galaxy takes place at the StubHub Center at 11 p.m. ET on ESPN2.