FULL TIME: Columbus Crew SC take a full three points against rivals Chicago Fire, as they win 3-1!
Three minutes of stoppage time.
Matt Lampson also was shown a yellow card after the penalty kick.
87' PENALTY! Lampson takes down Kamara inside of the box! Keep in mind, penalty kicks fall under the Match Changing Incidents that are VAR applicable. But Kamara converts the penalty! 3-1!!!
86' Mensah collects the ball inside of the box but is whistled for offside.
79' de Leeuw has a good look at Steffen, but sky rockets his attempt.
Francis does a great job on recovering a wide open Nikolic who was looking at a shot on goal. At the other end, Kamara tries to chip Lampson but it hits the roof of the net. Just seconds later, Meram is back at it again but his chance just misses the far post.
73' Yellow card caution to #cf97 Matt Polster.
73' GOAL! Justin Meram scores his tenth of the season! Crew SC take the lead 2-1!
18,690 is tonight's attendance from MAPFRE Stadium.
Kamara could have been in on goal had Artur put a little more mustard on that pass.
65' Martinez replaces Manneh for #CrewSC.
62' Jimenez sneaks in behind the defense, but Trapp's pass finds Lampson.
60' Arturo Alvarez replaces Luis Solignac.
59' Yellow card caution to Justin Meram of #CrewSC.
56' Artur takes a shot but it hits the side netting.
53' Schweinsteiger hits a shot that sees's I-71. Goal kick Columbus.
Second half kickoff just getting started. Teams have switched sides to start the half.
45' Columbus make a halftime substitution. Hector Jimenez replaces Afful.
New #CrewSC DP Pedro Santos being introduced to the stadium. Don't know who he is? Read up on the $2.4 million signing by clicking here.
HT: #CrewSC and #cf97 are tied 1-1 as both teams head into their respective locker rooms.
45' One minute of stoppage time.
40' Five minutes until halftime. Questions? Comments? Concerns? Throw them at me on Twitter (@LWOS_TylerF) and I'll be happy to answer!
30' Williams is able to muscle Accam off of the ball and clear it out.
26' Yellow card caution to #cf97 defender Joao Meira
23' Manneh tries to catch Lampson off of his line to double #CrewSC's lead, but it goes over the crossbar.
18' GOAL! Columbus equalizer! Kekuta Manneh jumps on the loose ball in front of Lampson and chips him to tie the game! 1-1!
13' GOAL! Chicago gain the lead from a de Leeuw header! Columbus thought they were playing an offside trap, but the home side held their position to keep the Men In Red onside!
12' Columbus has a great attack; Artur and Kamara converge to poach the ball home but it's deflected out for a corner kick. Their third of the game so far. Not even 15 minutes in.
5' Artur has a golden opportunity to put the Black and Gold up early, but his header goes wide of the net.
3' Kamara attacking but has the ball pushed away by Schweinsteiger.
2' Early corner for #CrewSC
1' David Accam already attacking hard. Steffen is there to clean up the loose ball.
1' KICKOFF!
Columbus attacking the North end of the stadium, Chicago vice versa. IT's also a homecoming for Fire goalkeeper Matt Lampson.
7:33 PM EST: Teams and officials take the field, National Anthem coming up next.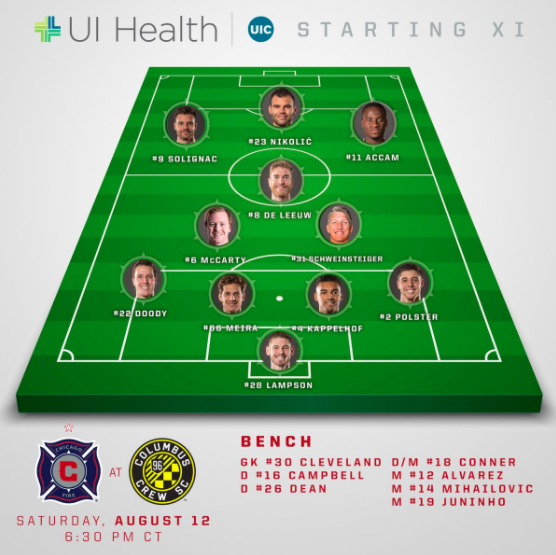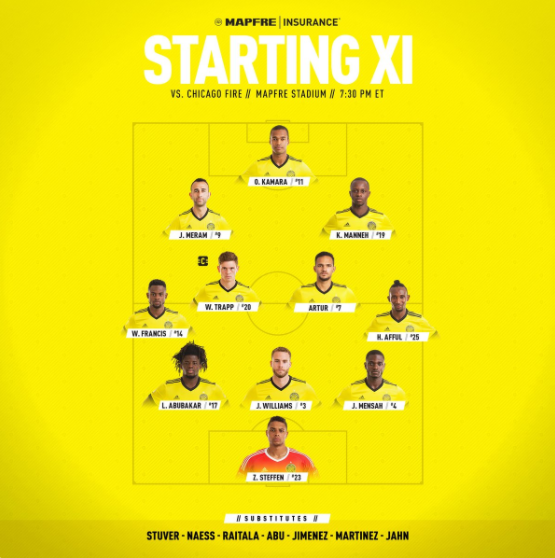 LINEUPS ARE RELEASED
6:19 PM EST: Great weather here for the match today! Stay tuned for more photos coming soon!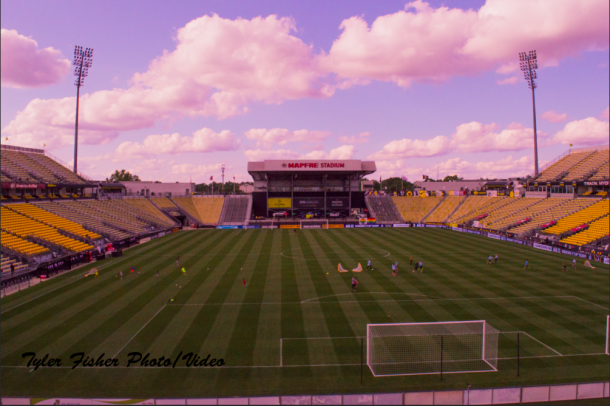 6:03 PM EST: I'm all settled in here at MAPFRE Stadium, ready to cover #CLBvCHI. Be sure to share this live commentary inline with your friends who can't make it to a tv!
11:09 AM EST: Good morning! It's match day here in Columbus, Ohio. What are your thoughts and predictions on the game ahead? Let me know on Twitter (@LWOS_TylerF).
Columbus Crew SC 1-3 Chicago Fire
A bold prediction for this match would say something along the lines of Columbus winning the match. Almost as if I was being optimistic. But I'm a realist, so my prediction for this match will see the Chicago Fire pull out a 3-1 victory over Crew SC. Bastian Schweinsteiger scores a brace, while Dax McCarty provides the icing on the cake to seal a full three points for the Fire and keep their playoff hopes alive.
The matchup will be held at MAPFRE Stadium in Columbus, Ohio. The scheduled kickoff time is set for 7:30 PM EST/6:30 PM CST.
Lampson; Doody, Meira, Kappelhoff, Polster; Juninho, McCarty, Schweinsteiger; de Leeuw, Nikolic, Accam
Chicago will more than likely line up in a 4-3-3 formation.They are led by Head Coach Veljko Paunovic.
Steffen; Naess, Crognale, Mensah; Raitala, Trapp, Artur, Jimenez; Meram, Manneh; Kamara
Columbus will most likely sport a 3-4-2-1 (or 3-4-3) lineup. Columbus is led by Head Coach and Sporting Director Gregg Berhalter.
Here is how the teams will lineup.
The match officials for this match are listed as follows: Armando Villareal as the head referee. His assistants are Corey Parker and Kevin Klinger. The fourth official is Younes Marrakchi. Running the VAR booth is Hilario Grajeda.
The All-Time series leans in favor of the Chicago Fire. Overall, the Fire is 25-17-17. At MAPFRE Stadium, Chicago is 10-11-7.
The defense has to step up. Past matches, they have been caught flat footed and sleeping, allowing soft goals to sneak past keeper Zack Steffen. Mensah in particular needs to stay sharp and not lose his cool anymore.
Here is a key for Columbus if they want to win.
Not only did they sign Santos, but they acquired Targeted and General Allocation Money from the Revolution. To get that deal done, Crew SC had acquired Kristian Nemeth, then subsequently traded him to the Revs. They also were able to land an international roster spot from the Philadelphia Union.
Columbus also made some moves during the summer transfer window. First, they signed Portuguese winger Pedro Santos from SC Braga to a designated player deal. Santos takes up the third DP slot on the roster. This $2.4 million deal is the largest in club history, and also marks the first time Crew SC has had three DP's on their roster (Federico Higuain and Jonathan Mensah are the other two).
After gaining one point on their three-game road stretch, Columbus just wants points to stay above the playoff line. They currently sit in sixth place with a 10-12-2 record.
With a win against the Fire, Columbus has a chance to leapfrog the New York Red Bulls for fourth place, if the Red Bulls were to lose to Orlando City SC.
Now, let's take a look at Columbus.
One key matchup to look for is the pairing of David Accam against Kekuta Manneh. Although they don't get that man-to-man position on the field, this match could be huge for two of the leagues paciest playmakers. During recent weeks, Crew SC Head Coach and Sporting Director Gregg Berhalter has shuffled through many line-ups. If they choose to stick with the three-man backline, this could give Accam the golden opportunity to get in behind the backline and be on the end of a counter attack.
Columbus comes back home after their three game road trip having earned just one point in their 2-2 draw with Real Salt Lake. This resembles the same timeline of events that Chicago encountered last month. Columbus is desperate to turn the tide and start separating themselves from the teams below the red line. Columbus is currently 7-3-1 at home. Chicago looks to snap a winless skid in Ohio in order to keep their playoff hopes up.
Here's a key factor that Chicago has to take into consideration if they plan to win.
Chicago is unbeaten against their rivals in two meetings this season. On opening day, the Fire was able to steal a point on the road as both teams played out to a 1-1 draw in March. In April, the Fire took all three points at home against Columbus with a 1-0 win at Toyota Park.
The Chicago Fire have been, well, on fire this year. Currently sitting in second place in the East, the Fire looks to keep their winning ways alive and hopeful to snag an MLS Cup Playoff berth. Not only that, but they look to keep pace as they sit atop the Supporter's Shield standings if they win against Crew SC.
Hello and welcome to VAVEL USA's live coverage of the 2017 MLS Regular Season. Today's matchup brings you Columbus Crew SC as they host Midwest rival Chicago Fire. It's derby day in the Buckeye State! So sit back, relax, and enjoy the show!!