History
New Jersey's Sky Blue FC will travel to Florida to face the Orlando Pride for the first time at Orlando City Stadium. This Week 16 matchup will be the third time these teams have met this season. They're tied with each other, Sky Blue having beat the Pride in New Jersey in May, only to have the Orlando come back and beat them in June, 3-2. Overall though, Sky Blue has a winning record over the Pride, 2-1-1.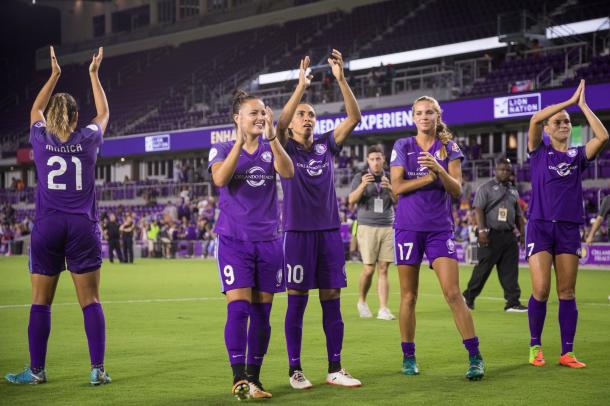 Deciding Factors
The Pride are going into this home match with an uplifting win that came earlier in the week as they beat the Washington Spirit, 3-0. Sky Blue is also coming off a match against the Spirit, except they fell to them, 3-1. Along with that loss to the Spirit, Sky Blue has not won in the last three games they've played, finding themselves at a low point in the season. The Pride are growing into a stronger team, coming from a loss, then a draw, then a win in the last three weeks. They are looking to keep their momentum growing heading into the match against the New Jersey team.
Sky Blue will head down to Orlando, missing a few key players. Kelley O'Hara, who has been confirmed to have a strained adductor, will sit out. She will be joining Leah Galton, who has been recovering from a back strain, and Erin Simon who has a left foot fracture. O'Hara and Galton have been solid parts of the strong Sky Blue attack, as well as Sam Kerr whose appearance for the match has been labeled "questionable." Kerr, who has been one of the strongest parts of Sky Blue's offense, is confirmed to have a left hip contusion. It is unknown if Kerr will play in the most important match of the season thus far. Rookie goalkeeper Sky Blue, Kailen Sheridan is probable for tomorrow's game, nursing a sprained ankle.
Though the Pride are only missing two players heading into this match (rookie, Rachel Hill and McKenzie Berryhill, who has been out indefinitely since preseason with concussion-related issues), it will be the final time one of their players steps onto the pitch. Maddy Evans announced her retirement a day before the match. Evans, has appeared 27 times for the Pride since being acquired through the 2015 Expansion Draft, coming from the Boston Breakers where she had a stellar career.
The Pride have two people on their list of those injured, but someone who has been taken off that list this week is goalkeeper Ashlyn Harris. She has been out with an injury since Week 6 against Seattle, but is looking to make an appearance in Saturday's game.
Stakes Are High
Both teams are looking to make playoff runs this year, after being denied every year (although Sky Blue finished fourth their first season in the NWSL). With their position in the standings being so close, this is a crucial match to win for both teams. For those gearing up to watch one of the most, if not the most, important matches of the season, expect a high-intensity, highly entertaining game. It will be shown on the go90 app at 7:30pm ET.